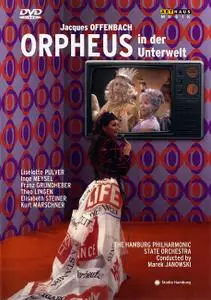 Marek Janowski, Philharmoniker der Staatsoper Hamburg - Offenbach: Orpheus in der Unterwelt (2008)
NTSC 4:3 (720x480) | Deutsch (LinearPCM, 2 ch) | 101 min | 6,87 Gb (DVD9)
Classical | Label: Arthaus Musik | Sub: English, Deutsch, Francais, Espanol, Italiano | Recorded: 1971
Orpheus in the Underworld represents a quantum leap in Offenbach's operetta output, for it would have been unthinkable to have created a stage work of such opulence and extravagance in Paris prior to that time. Strict regulations dating from the era of Napoleon I assigned to each of the city's theatres a specific dramatic genre and a proportionate number of employees and performers. For Offenbach this meant writing for no more than three actors on stage at any one time. He openly flouted the regulations, however, ingeniously increasing his dramatic possibilities by adding puppets to his cast list and conveying what he had to say by means of banners held up by mute actors.