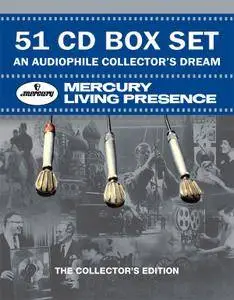 Mercury Living Presence - The Collector's Edition Vol.1: Box Set 51CDs (2012)
Classical | MP3 CBR 320 kbps | 8,14 Gb | Covers 130 Mb
Label: Decca | Release Year: 2012
The Collector's Edition - Celebrating a groundbreaking label - The true legacy of a legendary label. Long hailed as an audiophile's label, Mercury represents an important milestone in the history of classical recordings. A s The New York Times described, 'One feels oneself in the living presence of the orchestra'. 60 years after the landmark first recording, Mercury Living Presence: The Collector's Edition celebrates this special anniversary.