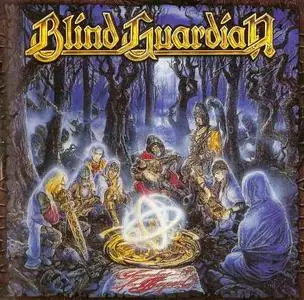 Blind Guardian - Somewhere Far Beyond (1992) (2007 Remastered)
Germany | MP3 CBR 320 Kbps | 158 MB
Speed/Power Metal | Label : Virgin Records
Somewhere Far Beyond is the fourth studio album by German power metal band Blind Guardian. It was released in 1992 and produced by Kalle Trapp. The cover artwork was created by Andreas Marschall, who also drew the artwork for other Blind Guardian's releases (Tales from the Twilight World, Nightfall in Middle-Earth, etc.). The album saw the band creating its own original sound, while still employing most of their speed/power metal techniques. "The Piper's Calling" contains the first 3 parts of the Great Highland Bagpipe 2/4 March, "The 79th's Farewell to Gibraltar", written by Pipe Major John MacDonald of the 79th Regiment of Foot (Cameronian Volunteers). Part of this composition also appears as a section of the title track, this time played on a different type of bagpipe. The album was acclaimed by power metal fans all across Europe and especially Japan, allowing them to tour for the first time outside Germany. Somewhere Far Beyond was remastered and re-released, with bonus tracks, on 15 June 2007.