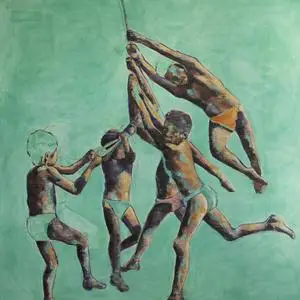 The Slow Show - Subtle Love (2023)
WEB FLAC (tracks) - 189 MB | MP3 CBR 320 kbps - 79 MB
34:19 | Indie Pop | Label: [PIAS] Recordings Holland
No band smoulders quite like The Slow Show. The Manchester four-piece have built a reputation for soaring crescendos and deep emotional canyons, making music for romantic souls and wounded hearts. As they return with their fifth album, Subtle Love, they do so with their strongest and most expansive collection of songs to date. "The record is an ode to love in all its guises," reveals singer Rob Goodwin. Subtle Love not only distils The Slow Show's sumptuous indie pop formula, but it casts the group's net into exciting fresh waters, incorporating winsome folk (Royal Blue) and anthemic, widescreen rock (One Shot) too. Across ten songs, the listener is taken on an amble through the band's past and into a tantalising future. It is a highly melodic and moving affair, made by kindred spirits and lifelong friends.
Tracklist
1 Roulette
2 Tides
3 Learning to Dance
4 Subtle Love
5 Royal Blue
6 One Shot
7 Lament
8 Builder Boy
9 Trainride
10 Pale
–––––––––––-
DON'T MODIFY THIS FILE
–––––––––––-
PERFORMER: auCDtect Task Manager, ver. 1.6.0 RC1 build 1.6.0.1
Copyright © 2008-2010 y-soft. All rights reserved
http://y-soft.org
ANALYZER: auCDtect: CD records authenticity detector, version 0.8.2
Copyright © 2004 Oleg Berngardt. All rights reserved.
Copyright © 2004 Alexander Djourik. All rights reserved.
FILE: 10. Pale.flac
Size: 16400272 Hash: A302FC4D31901F4828379A47E49ED3F7 Accuracy: -m40
Conclusion: CDDA 100%
Signature: B2511F38836C4348A8994E75D3061E0D9142238A
FILE: 09. Trainride.flac
Size: 20816692 Hash: 73C334D05F58057F058CC3EE515A2367 Accuracy: -m40
Conclusion: CDDA 100%
Signature: C47F6727C1E99C0D2268207CA24FA4C0D28EB133
FILE: 08. Builder Boy.flac
Size: 18579487 Hash: 379B66EBD69CB0176445445BA5EEB564 Accuracy: -m40
Conclusion: CDDA 100%
Signature: 34D03D4C0839953315050EAF63950D14553709DA
FILE: 07. Lament.flac
Size: 20364175 Hash: AB5CFA915B7C6532A60867062AD92325 Accuracy: -m40
Conclusion: CDDA 100%
Signature: 52199177EFCF81D2B108E0F02F1F8FE30053B2B1
FILE: 06. One Shot.flac
Size: 26692832 Hash: 12784EC2DABC82D277A529B543AA3923 Accuracy: -m40
Conclusion: CDDA 100%
Signature: 0DF877D203077CC424D9C5B8E126E109A311FBFB
FILE: 05. Royal Blue.flac
Size: 13255412 Hash: EC4DE00180F9E742DD1E7550C2FF090E Accuracy: -m40
Conclusion: CDDA 100%
Signature: 3C93803C65B4031FAC033BB528E0A5966F2D9BD9
FILE: 04. Subtle Love.flac
Size: 17465074 Hash: D908B80AEFE7DA8BA797F4D6AACB244D Accuracy: -m40
Conclusion: CDDA 100%
Signature: F6BD7434A070405890590AFFA5A9F367CA07B762
FILE: 03. Learning To Dance.flac
Size: 23307761 Hash: 6914F98E5CA240C05E5FB188C182B572 Accuracy: -m40
Conclusion: CDDA 100%
Signature: 9A0F0DACD245977FBF856E773B356A75EDD59FC9
FILE: 02. Tides.flac
Size: 17791302 Hash: 1D807D3BDCA7AE03F2D41FDA89EDC145 Accuracy: -m40
Conclusion: CDDA 100%
Signature: 757861E944F18C097986238D0B1396454575B491
FILE: 01. Roulette.flac
Size: 23913928 Hash: 7BBADC1E01B44E568A4B26C20313FA2B Accuracy: -m40
Conclusion: CDDA 100%
Signature: 699561962E7A528324CC9D0DDED1217CE80196D7