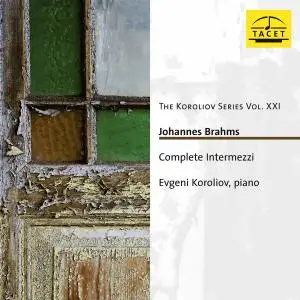 Evgeni Koroliov - The Koroliov Series, Vol. 21: Brahms – Complete Intermezzi (2019)
WEB FLAC (tracks+booklet) - 210 MB | Tracks: 23 | 81:23 min
Style: Classical | Label: TACET Musikproduktion
Andreas Spreer writes: "No. 21, the 21st recording of Evgeni Koroliov for the TACET label is available! What I particularly love in the playing of Koroliov: his ability to work out under a veil of objectivity, faithfulness to the text and modesty details of such sensibility and expressivity that make me believe listening for the first time to that piece of music. The 19 Intermezzi by Johannes Brahms offer plenty of opportunity for that." Russian pianist Evgeni Koroliov studied at the Moscow Conservatory, and since 1978 has been a teacher at the Hochschule fur Musik und Theater Hamburg. He is mainly known for his performances of the keyboard repertoire of J.S. Bach, as well as the music of Haydn, Chopin, Debussy, Mozart, and Schumann.
Tracklist:
CD1:
01. Intermezzo in B Minor, Op. 10 No
02. Intermezzo in A-Flat Major, Op. 76 No
03. Intermezzo in B-Flat Major, Op. 76 No
04. Intermezzo in A Major, Op. 76 No
05. Intermezzo in A Minor, Op. 76 No
06. Intermezzo in A Minor, Op. 116 No
07. Intermezzo in E Major, Op. 116 No
08. Intermezzo in E Minor, Op. 116 No
09. Intermezzo in E Major, Op. 116 No
10. Intermezzo in E-Flat Major, Op. 117 No
11. Intermezzo in B-Flat Minor, Op. 117 No
12. Intermezzo in C-Sharp Minor, Op. 117 No


FILE: 01. Intermezzo in B Minor, Op. 10 No. 3.flac
Size: 12682390 Hash: 1B22ADEA7F94C3F8800AE29FEF8CDBCE Accuracy: -m0
Conclusion: CDDA 100%
Signature: 369BE59879507128DF1CD45F9277D33345A54CBA
FILE: 02. Intermezzo in A-Flat Major, Op. 76 No. 3.flac
Size: 5896377 Hash: 82F1B29E446BA183A7615670449B50F2 Accuracy: -m0
Conclusion: CDDA 100%
Signature: 8EF809E8E38D232E4C2BB0D0C32F007334571F47
FILE: 03. Intermezzo in B-Flat Major, Op. 76 No. 4.flac
Size: 6606171 Hash: C788929E1CF96BC63B816D89CA040434 Accuracy: -m0
Conclusion: CDDA 100%
Signature: 15938DDF1C5C6A2A4F28B91F750ED0FBBCA17650
FILE: 04. Intermezzo in A Major, Op. 76 No. 6.flac
Size: 11665125 Hash: C621BCE4D6F1821E92CBC6B911A3B679 Accuracy: -m0
Conclusion: CDDA 100%
Signature: 492B7E2BC8EBEFB88752E8AB865898E5FDEE9237
FILE: 05. Intermezzo in A Minor, Op. 76 No. 7.flac
Size: 11537511 Hash: 078E482143120285271A99F732DB115A Accuracy: -m0
Conclusion: CDDA 99%
Signature: 6359D448BE4F4FA50B546AC11A8C95DDAD563962
FILE: 06. Intermezzo in A Minor, Op. 116 No. 2.flac
Size: 10782215 Hash: DF669BF8E4EE629EEE148C3AC12AF759 Accuracy: -m0
Conclusion: CDDA 99%
Signature: A390482739EF12FC6A7BF5DA07EDC2CFCD2665F8
FILE: 07. Intermezzo in E Major, Op. 116 No. 4.flac
Size: 11525663 Hash: 96F65F9D7A7919D36C19E634F63BFACD Accuracy: -m0
Conclusion: CDDA 100%
Signature: B2320864BDC1B190190D5E906FA0A7E439B00D41
FILE: 08. Intermezzo in E Minor, Op. 116 No. 5.flac
Size: 9731984 Hash: 3AE758B0FB9CD50ABDB8A38C2394D424 Accuracy: -m0
Conclusion: CDDA 100%
Signature: AD154064229C3D75BDFAB9197C323859735D20C3
FILE: 09. Intermezzo in E Major, Op. 116 No. 6.flac
Size: 9581387 Hash: 8C47168E986C52067A6E042D0EA7F8B8 Accuracy: -m0
Conclusion: CDDA 100%
Signature: 801B73A590CAF30B158977E9A623A709DA6CCAAD
FILE: 10. Intermezzo in E-Flat Major, Op. 117 No. 1.flac
Size: 12705638 Hash: 30BA260D999AD1E1B74D15A5A67DF78F Accuracy: -m0
Conclusion: CDDA 100%
Signature: A28B8D3DD29DF77DA634A97EBE8A5A3C090BE0DC
FILE: 11. Intermezzo in B-Flat Minor, Op. 117 No. 2.flac
Size: 14145712 Hash: 237B27E04AB770508223475273D3ABF3 Accuracy: -m0
Conclusion: CDDA 100%
Signature: 16F577764B0B07B38229A48AF0E56024871D622C
FILE: 12. Intermezzo in C-Sharp Minor, Op. 117 No. 3.flac
Size: 19097595 Hash: 43645CB81F3AE375657394EE6994D946 Accuracy: -m0
Conclusion: CDDA 100%
Signature: B433413F8FD935AA948173B572C088352E3BBC30
CD2:
01. Intermezzo in A Minor, Op. 118 No. 1
02. Intermezzo in A Major, Op. 118 No. 2
03. Intermezzo in F Minor, Op. 118 No. 4
04. Intermezzo in E-Flat Minor, Op. 118 No. 6
05. Intermezzo in B Minor, Op. 119 No. 1
06. Intermezzo in E Minor, Op. 119 No. 2


FILE: 01. Intermezzo in A Minor, Op. 118 No. 1.flac
Size: 7808386 Hash: 999A8C01D45B88748036D62AF0CE59C1 Accuracy: -m0
Conclusion: MPEG 90%
Signature: 8F5FE5C86046B72A8DD1203ACAF6529783B76DD4
FILE: 02. Intermezzo in A Major, Op. 118 No. 2.flac
Size: 16550729 Hash: 800E17FB62025D465C7F4F80FBFC9E7B Accuracy: -m0
Conclusion: CDDA 100%
Signature: F73CD8517236ADFE9E06BF4A220491D6DC76E069
FILE: 03. Intermezzo in F Minor, Op. 118 No. 4.flac
Size: 9676109 Hash: 739E3DB5E566D97C1E667170262DB65F Accuracy: -m0
Conclusion: CDDA 99%
Signature: 03C11245FB6ED47EDC0E42FF9FE997474473BE0C
FILE: 04. Intermezzo in E-Flat Minor, Op. 118 No. 6.flac
Size: 15650226 Hash: 7CC070ED51ABE8EA014D2A74E95892E8 Accuracy: -m0
Conclusion: CDDA 100%
Signature: D03DADA50DAF7611114C1B1390AF4717D2899B27
FILE: 05. Intermezzo in B Minor, Op. 119 No. 1.flac
Size: 9418254 Hash: 998A98EE0CABBD7F12D7E820C81E708E Accuracy: -m0
Conclusion: CDDA 100%
Signature: 9C9C271AA4D4360DCE9FACA9B95F9AB1E8DF6B42
FILE: 06. Intermezzo in E Minor, Op. 119 No. 2.flac
Size: 15404939 Hash: 8ECAEE1695325F1E914E468AF82C9176 Accuracy: -m0
Conclusion: CDDA 100%
Signature: 6C4BC5636A7097C88E282EDE7EB6A0BB754BB8D6
FILE: 07. Intermezzo in C Major, Op. 119 No. 3.flac
Size: 6579156 Hash: AE01E63ABC58851C7014BC887F6FEFD7 Accuracy: -m0
Conclusion: CDDA 100%
Signature: 38543FB3F4DA394C78E8D55C3AAA600F6B89DBC5