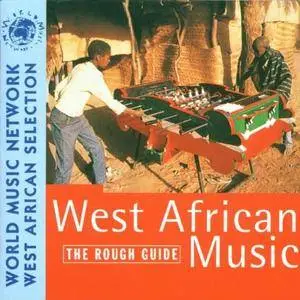 VA - The Rough Guide to West African Music (1995)
Afro-Pop, African Folk, Highlife, African Traditions, West African, Worldbeat | 01:11:17 | Mp3, 320 kbps | 163 MB
Label: World Music Network | Year Of Release: 1995
How do you try to capture the music of such a large, rich area as West Africa on one disc? The answer, of course, is that you can't, although this compilation does glide over some of the high spots – but only some. So there are classic performances by Mali's Super Rail Band and Ali Farka Toure, plus Orchestra Baobob, revealing the influence Cuban music had on the nascent homegrown scenes in both Senegal and Mali. Altogether, it offers some semblance of a picture, fleshed out by the thrilling kora work of Toumani Diabate on "Djelika" and the south Mali wassoulou vocals of the excellent Oumou Sangare, who brings a rougher dimension to the proceedings. There's no Youssou N'Dour or Baaba Maal to show their stuff as Senegal's brightest stars (West Africa's biggest names, in fact), but Maal's sidekick, griot Mansour Seck, is represented. Perhaps one of the oddest choices is the inclusion of Dimi Mint Abba from Mauritania. Granted, she's the country's most famous singer, but there are others artists of greater stature from the region not included. E.T. Mensah is an astute pick for Ghanaian highlife, and Kante Manfila is probably a fair nominee for mande music. The real problem with this album isn't the music, which is glorious throughout, but the fact that it suffers from the size of its ambition and the inability to full realize it. Within a small range – Ghana, Mali, Senegal, and Mauritania – it does a partial job, but to call it a summing up of West African music is neither fair to the geographic area nor the listener.
Tracks:
01. Foliba (Mali) (07:51)
02. Djelika (Mali) (07:14)
03. Roucky (Mali) (08:18)
04. Toro (Niger) (04:44)
05. M'Bore (Guinea) (06:09)
06. Djama Kaissoumou (Mali) (06:46)
07. I Ka Di Nye (Mali) (05:19)
08. 205 (Ghana) (03:05)
09. Utru Horas (Senegal) (08:41)
10. Almamy Bocoum (Senegal) (04:57)
11. Mauritania My Beloved Country (Mauretanien) (03:32)
12. Agne Anko (Guinea) (04:37)