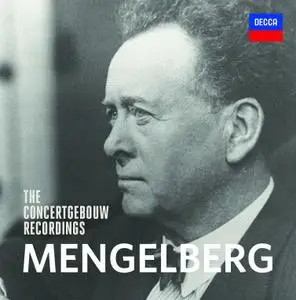 Willem Mengelberg - The Concertgebouw Recordings (2013) {15CD Box Set Decca rec 1939-1941}
XLD rip (secure mode) | FLAC (tracks)+CUE+LOG -> 2.85 Gb | MP3 @320 -> 2.01 Gb
Full Artwork @ 300 dpi (jpg) -> 41 Mb | 5% repair rar
© 1939-41, 2013 Decca / Universal Music | 0289 480 7636 9
Classical / Orchestral
Mengelberg attached huge importance to what he considered a link between Beethoven and himself. For through his studies in conducting, theory and composition in Cologne under Franz Wullner, a friend of Anton Schindler who in turn had been a friend, secretary, biographer and pupil of Beethoven himself, he felt that there was a oral tradition passed down to him. At times the conductor does get near to Beethoven's metronome markings with his swift tempi. Well, Mengelberg is not boring.

Also, from 1902 when Mahler met Mahler they had an enduring friendship that lasted until the composers death in 1911. Mahler had mentioned to his wife Alma, that Mengelberg was the only conductor he felt he could trust his work to with total confidence. Mahler's conducting has been said to be have the warmth of Walter and the swiftness of Toscanini. Thus, in the Mahler 4th in this box set, you may get some idea as to how the composer sounded when he conducted. Mengelberg spent his entire life promoting Mahler's symphonies. Hans Richter, the conductor of the Premiere of the Ring Cycle at Bayreuth in 1876, was very impressed with Mengelberg's Concertgebouw orchestra when he guest conducted it. Richard Strauss dedicated his tone poem Ein Heldenleben, to Mengelberg because he admired his conducting. So there is a lot of history in this set.

Mengelberg conducted the Concertgebouw for 50 years 1895-1945, and he was able to change their style to the composer he was conducting. For example, from Bach to Stravinsky. But to this conductor rhythmic precision was everything, and he asked the orchestra to play on his beat. He left all tradition behind, with his impassioned performances. He was virtually indifferent to the metronome marking accept where Beethoven's symphonies were concerned. Mengelberg's interpretations were full of alterations, tempo fluctuations and various liberties and tampering. The power and drive of the orchestra, knocked the socks off composers like R.Strauss. In the Beethoven 3rd Symphony, NBC Orchestra conducted Toscanini (1949), here are the Movements times. 1st Mov: 13.47. 2nd Mov: 14.34. 3rd Mov: 5.12. 4th Mov 11.11. But Mengelberg in the same symphony, 1940. Ist Mov: 14.12. 2nd Mov: 15.47. 3rd Mov: 3.56. 4th Mov: 10.56. In the 3rd and 4th Movements Mengelberg tempi is quicker than Toscanini and he was very swift.

The St Matthew Passion is a legend amongest Mengelberg fans. The Bartok Violin concerto No 2 is the premiere of the piece, but the recording is taken from the radio and the sound could be better. The Schubert No 9, Mengelberg seems to glide into the swift movements, whereas Furtwangler in the 1944 live recording, simply gets faster and faster and seems to fly. Both conductors had distinctive styles.(see my review Furtwangler Legacy.) These recordings from 1939-1941 are live and at times you can hear the audience. Also, between movements, is the tap of Mengelbergs baton against the wooden rail, to notify the orchestra to begin the next movement. The Beethoven 9th is swift, like the 1942 live version conducted by Furtwangler.

As to the sound, there is some hiss. It all depends on if you are an experienced collector of old recordings. If you only collect Stereo and Digital, and not old Mono, this set may come as a surprise. I have been collecting singers of the past from 1901 upwards for years, and the sound is varied. For example, the Claudio Muzio, complete HMV 1911 and Edison 1920-25 recordings, remastered by Ward Marston, allows for the clicks and hiss. It is the best he can do. And he is a legend amongest those who collect old recordings. So for me, the only problem I have with this box set is with the Bartok violin concerto. Another tip, when listening to these old recordings use earphones; the best you can afford. I use a Sennheiser HDR 170.

The 15 CD box is made of tough Cardboard and opens sideways, where you can place the CDs you want to play. The back has black lettering on a creamy white background. The composers and music to be played, and soloists. The Sleeves creamy white front, has the Concertgebouw Recordings, Mengelberg in big lettering. The composer, music to be played and soloists with CD number at the top. The back, same colour, with CD number, composer, track numbers and movements. CD has it's number, Composer, music to be played. You cannot get lost. Sound ADD. The booklet has Composer, music to be played, track numbers etc. Then an essay "the Art of Willem Mengelberg" by Massimo Zegna, also in Italian.

Works on This Recording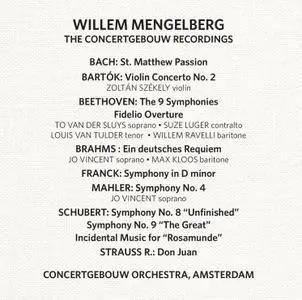 X Lossless Decoder version 20131102 (145.0)

XLD extraction logfile from 2013-11-15 01:44:46 +0100

Willem Mengelberg/Concertgebouw Orchestra / Mengelberg - The Concertgebouw Recordings [Decca]

Used drive : TSSTcorp CDDVDW SE-S084D (revision TS01)
Media type : Pressed CD

Ripper mode : XLD Secure Ripper
Disable audio cache : OK for the drive with a cache less than 1375KiB
Make use of C2 pointers : NO
Read offset correction : 6
Max retry count : 100
Gap status : Analyzed, Appended (except HTOA)

TOC of the extracted CD
Track | Start | Length | Start sector | End sector
––––––––––––––––––––––––––––-
1 | 00:00:00 | 10:56:30 | 0 | 49229
2 | 10:56:30 | 01:05:10 | 49230 | 54114
3 | 12:01:40 | 01:28:22 | 54115 | 60736
4 | 13:29:62 | 00:35:48 | 60737 | 63409
5 | 14:05:35 | 00:16:45 | 63410 | 64654
6 | 14:22:05 | 00:37:05 | 64655 | 67434
7 | 14:59:10 | 00:37:62 | 67435 | 70271
8 | 15:36:72 | 02:22:73 | 70272 | 80994
9 | 17:59:70 | 01:18:20 | 80995 | 86864
10 | 19:18:15 | 05:24:25 | 86865 | 111189
11 | 24:42:40 | 00:51:35 | 111190 | 115049
12 | 25:34:00 | 05:47:65 | 115050 | 141139
13 | 31:21:65 | 00:17:30 | 141140 | 142444
14 | 31:39:20 | 00:28:45 | 142445 | 144589
15 | 32:07:65 | 02:28:10 | 144590 | 155699
16 | 34:36:00 | 01:46:50 | 155700 | 163699
17 | 36:22:50 | 04:35:55 | 163700 | 184379
18 | 40:58:30 | 01:50:32 | 184380 | 192661
19 | 42:48:62 | 04:44:10 | 192662 | 213971
20 | 47:32:72 | 01:45:15 | 213972 | 221861
21 | 49:18:12 | 02:00:55 | 221862 | 230916
22 | 51:18:67 | 01:34:58 | 230917 | 238024

AccurateRip Summary (DiscID: 002b89e3-02a2451f-3e0c6516)
Track 01 : OK (v2, confidence 1/5)
Track 02 : OK (v2, confidence 1/5)
Track 03 : OK (v2, confidence 1/5)
Track 04 : OK (v2, confidence 1/5)
Track 05 : OK (v2, confidence 1/5)
Track 06 : OK (v2, confidence 1/5)
Track 07 : OK (v2, confidence 1/5)
Track 08 : OK (v2, confidence 1/5)
Track 09 : OK (v2, confidence 1/5)
Track 10 : OK (v2, confidence 1/5)
Track 11 : OK (v2, confidence 1/5)
Track 12 : OK (v2, confidence 1/5)
Track 13 : OK (v2, confidence 1/5)
Track 14 : OK (v2, confidence 1/5)
Track 15 : OK (v2, confidence 1/5)
Track 16 : OK (v2, confidence 1/5)
Track 17 : OK (v2, confidence 1/5)
Track 18 : OK (v2, confidence 1/5)
Track 19 : OK (v2, confidence 1/5)
Track 20 : OK (v2, confidence 1/5)
Track 21 : OK (v2, confidence 1/5)
Track 22 : OK (v2, confidence 1/5)
->All tracks accurately ripped.

All Tracks
Album gain : -3.13 dB
Peak : 0.920532
Statistics
Read error : 0
Jitter error (maybe fixed) : 0
Retry sector count : 0
Damaged sector count : 0

Track 01
Filename : /Volumes/HGST Touro Desk 4TB 1/CD rips/Mengelberg - The Concertgebouw Recordings [Decca]/CD 1/01 Matthäus Passion BWV 244 - Part I: 1. Coro: Kommt, ihr Töchter, helft mir klagen.flac
Pre-gap length : 00:02:00

Track gain : -4.30 dB
Peak : 0.886475
CRC32 hash (test run) : 889A40EE
CRC32 hash : 889A40EE
CRC32 hash (skip zero) : 8F4C94FA
AccurateRip v1 signature : 789DBCDD
AccurateRip v2 signature : 55C9A9E5
->Accurately ripped (v2, confidence 1/5)
Statistics
Read error : 0
Jitter error (maybe fixed) : 0
Retry sector count : 0
Damaged sector count : 0

Track 02
Filename : /Volumes/HGST Touro Desk 4TB 1/CD rips/Mengelberg - The Concertgebouw Recordings [Decca]/CD 1/02 Matthäus Passion BWV 244 - Part I: 2. Recitativo (Evangelist, Jesus): Da Jesus diese Rede vollendet hatte.flac
Pre-gap length : 00:03:68

Track gain : 8.19 dB
Peak : 0.235229
CRC32 hash (test run) : 014301CF
CRC32 hash : 014301CF
CRC32 hash (skip zero) : 2725A7D3
AccurateRip v1 signature : 33F7C9D2
AccurateRip v2 signature : A07B45C1
->Accurately ripped (v2, confidence 1/5)
Statistics
Read error : 0
Jitter error (maybe fixed) : 0
Retry sector count : 0
Damaged sector count : 0

Track 03
Filename : /Volumes/HGST Touro Desk 4TB 1/CD rips/Mengelberg - The Concertgebouw Recordings [Decca]/CD 1/03 Matthäus Passion BWV 244 - Part I: 3. Corale: Herzliebster Jesu, was hast du verbrochen.flac

Track gain : 9.83 dB
Peak : 0.329376
CRC32 hash (test run) : 8C4DC0C4
CRC32 hash : 8C4DC0C4
CRC32 hash (skip zero) : FCB53B7E
AccurateRip v1 signature : B58BB9E9
AccurateRip v2 signature : 4D5EF5CC
->Accurately ripped (v2, confidence 1/5)
Statistics
Read error : 0
Jitter error (maybe fixed) : 0
Retry sector count : 0
Damaged sector count : 0

Track 04
Filename : /Volumes/HGST Touro Desk 4TB 1/CD rips/Mengelberg - The Concertgebouw Recordings [Decca]/CD 1/04 Matthäus Passion BWV 244 - Part I: 4. Recitativo (Evangelist): Da versammleten sich die Hohenpriester.flac

Track gain : 4.13 dB
Peak : 0.321320
CRC32 hash (test run) : CCF1E1CB
CRC32 hash : CCF1E1CB
CRC32 hash (skip zero) : CA6EC203
AccurateRip v1 signature : 14F4DC2F
AccurateRip v2 signature : 2D0C6C6B
->Accurately ripped (v2, confidence 1/5)
Statistics
Read error : 0
Jitter error (maybe fixed) : 0
Retry sector count : 0
Damaged sector count : 0

Track 05
Filename : /Volumes/HGST Touro Desk 4TB 1/CD rips/Mengelberg - The Concertgebouw Recordings [Decca]/CD 1/05 Matthäus Passion BWV 244 - Part I: 5. Coro: Ja nicht auf das Fest.flac

Track gain : -5.83 dB
Peak : 0.828857
CRC32 hash (test run) : B644A276
CRC32 hash : B644A276
CRC32 hash (skip zero) : CEDCF533
AccurateRip v1 signature : 5456DF83
AccurateRip v2 signature : 8EE31EFA
->Accurately ripped (v2, confidence 1/5)
Statistics
Read error : 0
Jitter error (maybe fixed) : 0
Retry sector count : 0
Damaged sector count : 0

Track 06
Filename : /Volumes/HGST Touro Desk 4TB 1/CD rips/Mengelberg - The Concertgebouw Recordings [Decca]/CD 1/06 Matthäus Passion BWV 244 - Part I: 6. Recitativo (Evangelist): Da nun Jesus war zu Bethanien.flac

Track gain : 3.32 dB
Peak : 0.316071
CRC32 hash (test run) : 343A30B9
CRC32 hash : 343A30B9
CRC32 hash (skip zero) : E5EAEF82
AccurateRip v1 signature : DBDE13AD
AccurateRip v2 signature : F479C573
->Accurately ripped (v2, confidence 1/5)
Statistics
Read error : 0
Jitter error (maybe fixed) : 0
Retry sector count : 0
Damaged sector count : 0

Track 07
Filename : /Volumes/HGST Touro Desk 4TB 1/CD rips/Mengelberg - The Concertgebouw Recordings [Decca]/CD 1/07 Matthäus Passion BWV 244 - Part I: 7. Coro: Wozu dienet dieser Unrat.flac

Track gain : -5.60 dB
Peak : 0.832184
CRC32 hash (test run) : 237EF2E1
CRC32 hash : 237EF2E1
CRC32 hash (skip zero) : 2E0EBD53
AccurateRip v1 signature : 63BC566D
AccurateRip v2 signature : 9607CAF7
->Accurately ripped (v2, confidence 1/5)
Statistics
Read error : 0
Jitter error (maybe fixed) : 0
Retry sector count : 0
Damaged sector count : 0

Track 08
Filename : /Volumes/HGST Touro Desk 4TB 1/CD rips/Mengelberg - The Concertgebouw Recordings [Decca]/CD 1/08 Matthäus Passion BWV 244 - Part I: 8. Recitativo (Evangelist, Jesus): Da das Jesus merkete.flac

Track gain : 3.24 dB
Peak : 0.636383
CRC32 hash (test run) : 2B2DB5C2
CRC32 hash : 2B2DB5C2
CRC32 hash (skip zero) : 03691F7E
AccurateRip v1 signature : BE031364
AccurateRip v2 signature : 1147FCAA
->Accurately ripped (v2, confidence 1/5)
Statistics
Read error : 0
Jitter error (maybe fixed) : 0
Retry sector count : 0
Damaged sector count : 0

Track 09
Filename : /Volumes/HGST Touro Desk 4TB 1/CD rips/Mengelberg - The Concertgebouw Recordings [Decca]/CD 1/09 Matthäus Passion BWV 244 - Part I: 9. Recitativo (Alto): Du lieber Heiland du.flac

Track gain : -3.95 dB
Peak : 0.716644
CRC32 hash (test run) : 3E0D6A04
CRC32 hash : 3E0D6A04
CRC32 hash (skip zero) : 6734C901
AccurateRip v1 signature : 76A83D48
AccurateRip v2 signature : 057277B2
->Accurately ripped (v2, confidence 1/5)
Statistics
Read error : 0
Jitter error (maybe fixed) : 0
Retry sector count : 0
Damaged sector count : 0

Track 10
Filename : /Volumes/HGST Touro Desk 4TB 1/CD rips/Mengelberg - The Concertgebouw Recordings [Decca]/CD 1/10 Matthäus Passion BWV 244 - Part I: 10. Aria (Alto): Buß' und Reu'.flac
Pre-gap length : 00:00:58

Track gain : -0.70 dB
Peak : 0.555145
CRC32 hash (test run) : 6B249F92
CRC32 hash : 6B249F92
CRC32 hash (skip zero) : FFC17A8D
AccurateRip v1 signature : 9E54C6F7
AccurateRip v2 signature : 75654B82
->Accurately ripped (v2, confidence 1/5)
Statistics
Read error : 0
Jitter error (maybe fixed) : 0
Retry sector count : 0
Damaged sector count : 0

Track 11
Filename : /Volumes/HGST Touro Desk 4TB 1/CD rips/Mengelberg - The Concertgebouw Recordings [Decca]/CD 1/11 Matthäus Passion BWV 244 - Part I: 11. Recitativo (Evangelist, Judas): Da ging hin der Zwölfen einer.flac

Track gain : -0.34 dB
Peak : 0.611359
CRC32 hash (test run) : 5F774A32
CRC32 hash : 5F774A32
CRC32 hash (skip zero) : EAACBBED
AccurateRip v1 signature : 9B6D9028
AccurateRip v2 signature : E7BEADE5
->Accurately ripped (v2, confidence 1/5)
Statistics
Read error : 0
Jitter error (maybe fixed) : 0
Retry sector count : 0
Damaged sector count : 0

Track 12
Filename : /Volumes/HGST Touro Desk 4TB 1/CD rips/Mengelberg - The Concertgebouw Recordings [Decca]/CD 1/12 Matthäus Passion BWV 244 - Part I: 12. Aria (Soprano): Blute nur.flac

Track gain : -1.72 dB
Peak : 0.786102
CRC32 hash (test run) : DCE16255
CRC32 hash : DCE16255
CRC32 hash (skip zero) : A50D05DC
AccurateRip v1 signature : A3527460
AccurateRip v2 signature : 64B4560A
->Accurately ripped (v2, confidence 1/5)
Statistics
Read error : 0
Jitter error (maybe fixed) : 0
Retry sector count : 0
Damaged sector count : 0

Track 13
Filename : /Volumes/HGST Touro Desk 4TB 1/CD rips/Mengelberg - The Concertgebouw Recordings [Decca]/CD 1/13 Matthäus Passion BWV 244 - Part I: 13. Recitativo (Evangelist): Aber am ersten Tage der süßen Brot'.flac

Track gain : 10.10 dB
Peak : 0.264252
CRC32 hash (test run) : 47454974
CRC32 hash : 47454974
CRC32 hash (skip zero) : 9C60804B
AccurateRip v1 signature : 20C751E4
AccurateRip v2 signature : F4749304
->Accurately ripped (v2, confidence 1/5)
Statistics
Read error : 0
Jitter error (maybe fixed) : 0
Retry sector count : 0
Damaged sector count : 0

Track 14
Filename : /Volumes/HGST Touro Desk 4TB 1/CD rips/Mengelberg - The Concertgebouw Recordings [Decca]/CD 1/14 Matthäus Passion BWV 244 - Part I: 14. Coro: Wo willst du, daß wir dir bereiten.flac

Track gain : -2.43 dB
Peak : 0.671356
CRC32 hash (test run) : C4CC8D72
CRC32 hash : C4CC8D72
CRC32 hash (skip zero) : 0AF6CF3C
AccurateRip v1 signature : E7B42E26
AccurateRip v2 signature : 29A7356C
->Accurately ripped (v2, confidence 1/5)
Statistics
Read error : 0
Jitter error (maybe fixed) : 0
Retry sector count : 0
Damaged sector count : 0

Track 15
Filename : /Volumes/HGST Touro Desk 4TB 1/CD rips/Mengelberg - The Concertgebouw Recordings [Decca]/CD 1/15 Matthäus Passion BWV 244 - Part I: 15. Recitativo (Evangelist, Jesus): Er sprach: Gehet hin in die Stadt - Coro: Herr, bin ich's?.flac

Track gain : -3.45 dB
Peak : 0.920532
CRC32 hash (test run) : DD817426
CRC32 hash : DD817426
CRC32 hash (skip zero) : 8062693B
AccurateRip v1 signature : C2F10AE4
AccurateRip v2 signature : 35F11763
->Accurately ripped (v2, confidence 1/5)
Statistics
Read error : 0
Jitter error (maybe fixed) : 0
Retry sector count : 0
Damaged sector count : 0

Track 16
Filename : /Volumes/HGST Touro Desk 4TB 1/CD rips/Mengelberg - The Concertgebouw Recordings [Decca]/CD 1/16 Matthäus Passion BWV 244 - Part I: 16. Corale: Ich bin's, ich sollte büßen.flac

Track gain : -5.20 dB
Peak : 0.830109
CRC32 hash (test run) : 1B9D3727
CRC32 hash : 1B9D3727
CRC32 hash (skip zero) : 1DD45FF9
AccurateRip v1 signature : 3E46E6CA
AccurateRip v2 signature : 5C5F6B2F
->Accurately ripped (v2, confidence 1/5)
Statistics
Read error : 0
Jitter error (maybe fixed) : 0
Retry sector count : 0
Damaged sector count : 0

Track 17
Filename : /Volumes/HGST Touro Desk 4TB 1/CD rips/Mengelberg - The Concertgebouw Recordings [Decca]/CD 1/17 Matthäus Passion BWV 244 - Part I: 17. Recitativo (Evangelist, Jesus, Judas): Er antwortete und sprach: Der mit der Hand.flac

Track gain : -0.97 dB
Peak : 0.638641
CRC32 hash (test run) : 45BED710
CRC32 hash : 45BED710
CRC32 hash (skip zero) : F4BA945F
AccurateRip v1 signature : FD3CBF09
AccurateRip v2 signature : 79460D1B
->Accurately ripped (v2, confidence 1/5)
Statistics
Read error : 0
Jitter error (maybe fixed) : 0
Retry sector count : 0
Damaged sector count : 0

Track 18
Filename : /Volumes/HGST Touro Desk 4TB 1/CD rips/Mengelberg - The Concertgebouw Recordings [Decca]/CD 1/18 Matthäus Passion BWV 244 - Part I: 18. Recitativo (Soprano): Wiewohl mein Herz in Tränen schwimmt.flac
Pre-gap length : 00:02:23

Track gain : -4.01 dB
Peak : 0.649323
CRC32 hash (test run) : 57944D4A
CRC32 hash : 57944D4A
CRC32 hash (skip zero) : DB90D9A3
AccurateRip v1 signature : ECD4AA3E
AccurateRip v2 signature : 9BC983BA
->Accurately ripped (v2, confidence 1/5)
Statistics
Read error : 0
Jitter error (maybe fixed) : 0
Retry sector count : 0
Damaged sector count : 0

Track 19
Filename : /Volumes/HGST Touro Desk 4TB 1/CD rips/Mengelberg - The Concertgebouw Recordings [Decca]/CD 1/19 Matthäus Passion BWV 244 - Part I: 19. Aria (Soprano): Ich will dir mein Herze schenken.flac

Track gain : -1.48 dB
Peak : 0.654114
CRC32 hash (test run) : A37844FE
CRC32 hash : A37844FE
CRC32 hash (skip zero) : 7666141B
AccurateRip v1 signature : E8ECE71F
AccurateRip v2 signature : 7116027F
->Accurately ripped (v2, confidence 1/5)
Statistics
Read error : 0
Jitter error (maybe fixed) : 0
Retry sector count : 0
Damaged sector count : 0

Track 20
Filename : /Volumes/HGST Touro Desk 4TB 1/CD rips/Mengelberg - The Concertgebouw Recordings [Decca]/CD 1/20 Matthäus Passion BWV 244 - Part I: 20. Recitativo (Evangelist, Jesus): Und da sie den Lobgesang gesprochen hatten.flac

Track gain : -0.18 dB
Peak : 0.676331
CRC32 hash (test run) : 440C87F9
CRC32 hash : 440C87F9
CRC32 hash (skip zero) : D7236BEC
AccurateRip v1 signature : 4AD2E190
AccurateRip v2 signature : 114E72DC
->Accurately ripped (v2, confidence 1/5)
Statistics
Read error : 0
Jitter error (maybe fixed) : 0
Retry sector count : 0
Damaged sector count : 0

Track 21
Filename : /Volumes/HGST Touro Desk 4TB 1/CD rips/Mengelberg - The Concertgebouw Recordings [Decca]/CD 1/21 Matthäus Passion BWV 244 - Part I: 21. Corale: Erkenne mich, mein Hüter.flac

Track gain : -5.62 dB
Peak : 0.894470
CRC32 hash (test run) : C210923A
CRC32 hash : C210923A
CRC32 hash (skip zero) : 46D9F2A8
AccurateRip v1 signature : 24E4FB9C
AccurateRip v2 signature : CE78C035
->Accurately ripped (v2, confidence 1/5)
Statistics
Read error : 0
Jitter error (maybe fixed) : 0
Retry sector count : 0
Damaged sector count : 0

Track 22
Filename : /Volumes/HGST Touro Desk 4TB 1/CD rips/Mengelberg - The Concertgebouw Recordings [Decca]/CD 1/22 Matthäus Passion BWV 244 - Part I: 22. Recitativo (Evangelist, Petrus, Jesus): Petrus aber antwortete.flac

Track gain : 1.89 dB
Peak : 0.574982
CRC32 hash (test run) : CB0BD0DE
CRC32 hash : CB0BD0DE
CRC32 hash (skip zero) : E4359DA1
AccurateRip v1 signature : 5D0176E9
AccurateRip v2 signature : 305ED765
->Accurately ripped (v2, confidence 1/5)
Statistics
Read error : 0
Jitter error (maybe fixed) : 0
Retry sector count : 0
Damaged sector count : 0

No errors occurred

End of status report

––-BEGIN XLD SIGNATURE––-
2ndJuX05ySmE0FM5gOhjkixFmisd8J5LQz5est1vyrpjlgXc.9yF9iPXzrCf62Qlg2Oa8X.WajCyqBF9EPf4obym7JQT.Asaa3Y3k74
––-END XLD SIGNATURE––-
X Lossless Decoder version 20131102 (145.0)

XLD extraction logfile from 2013-11-15 02:14:30 +0100

Willem Mengelberg/Concertgebouw Orchestra / Mengelberg - The Concertgebouw Recordings [Decca]

Used drive : TSSTcorp CDDVDW SE-S084D (revision TS01)
Media type : Pressed CD

Ripper mode : XLD Secure Ripper
Disable audio cache : OK for the drive with a cache less than 1375KiB
Make use of C2 pointers : NO
Read offset correction : 6
Max retry count : 100
Gap status : Analyzed, Appended (except HTOA)

TOC of the extracted CD
Track | Start | Length | Start sector | End sector
––––––––––––––––––––––––––––-
1 | 00:00:00 | 02:43:60 | 0 | 12284
2 | 02:43:60 | 02:59:17 | 12285 | 25726
3 | 05:43:02 | 06:06:60 | 25727 | 53236
4 | 11:49:62 | 01:14:15 | 53237 | 58801
5 | 13:04:02 | 01:30:13 | 58802 | 65564
6 | 14:34:15 | 02:06:55 | 65565 | 75069
7 | 16:40:70 | 02:09:45 | 75070 | 84789
8 | 18:50:40 | 03:41:02 | 84790 | 101366
9 | 22:31:42 | 05:20:08 | 101367 | 125374
10 | 27:51:50 | 03:35:52 | 125375 | 141551
11 | 31:27:27 | 08:24:33 | 141552 | 179384
12 | 39:51:60 | 04:51:72 | 179385 | 201281
13 | 44:43:57 | 00:49:35 | 201282 | 204991
14 | 45:33:17 | 00:54:18 | 204992 | 209059
15 | 46:27:35 | 01:42:22 | 209060 | 216731
16 | 48:09:57 | 02:00:53 | 216732 | 225784
17 | 50:10:35 | 00:42:65 | 225785 | 228999
18 | 50:53:25 | 01:50:27 | 229000 | 237276

List of alternate offset correction values
# | Absolute | Relative | Confidence
–––––––––––––––––––––
1 | 670 | 664 | 3

AccurateRip Summary (DiscID: 002557b3-01f20dad-070c5b12)
Track 01 : OK (v2, confidence 3/3, with different offset)
Track 02 : OK (v2, confidence 3/3, with different offset)
Track 03 : OK (v2, confidence 3/3, with different offset)
Track 04 : OK (v2, confidence 3/3, with different offset)
Track 05 : OK (v2, confidence 3/3, with different offset)
Track 06 : OK (v2, confidence 3/3, with different offset)
Track 07 : OK (v2, confidence 3/3, with different offset)
Track 08 : OK (v2, confidence 3/3, with different offset)
Track 09 : OK (v2, confidence 3/3, with different offset)
Track 10 : OK (v2, confidence 3/3, with different offset)
Track 11 : OK (v2, confidence 3/3, with different offset)
Track 12 : OK (v2, confidence 3/3, with different offset)
Track 13 : OK (v2, confidence 3/3, with different offset)
Track 14 : OK (v2, confidence 3/3, with different offset)
Track 15 : OK (v2, confidence 3/3, with different offset)
Track 16 : OK (v2, confidence 3/3, with different offset)
Track 17 : OK (v2, confidence 3/3, with different offset)
Track 18 : OK (v2, confidence 3/3, with different offset)
->All tracks accurately ripped.

All Tracks
Album gain : -2.42 dB
Peak : 0.899384
Statistics
Read error : 0
Jitter error (maybe fixed) : 0
Retry sector count : 0
Damaged sector count : 0

Track 01
Filename : /Volumes/HGST Touro Desk 4TB 1/CD rips/Mengelberg - The Concertgebouw Recordings [Decca]/CD 2/01 Matthäus Passion BWV 244 - Part I: 24. Recitativo (Evangelist, Jesus): Da kam Jesus mit ihnen zu einem Hofe.flac
Pre-gap length : 00:02:00

Track gain : 7.48 dB
Peak : 0.551270
CRC32 hash (test run) : 2E394C81
CRC32 hash : 2E394C81
CRC32 hash (skip zero) : A77D40CE
AccurateRip v1 signature : F4DDB23E
AccurateRip v2 signature : 73A8E335 (019F67CF w/correction)
->Accurately ripped with different offset (v2, confidence 3/3, offset +664)
Statistics
Read error : 0
Jitter error (maybe fixed) : 0
Retry sector count : 0
Damaged sector count : 0

Track 02
Filename : /Volumes/HGST Touro Desk 4TB 1/CD rips/Mengelberg - The Concertgebouw Recordings [Decca]/CD 2/02 Matthäus Passion BWV 244 - Part I: 25. Recitativo (Tenore): with Corale: O schmerz! hier zittert das gequälte Herz!.flac
Pre-gap length : 00:00:73

Track gain : -2.01 dB
Peak : 0.809204
CRC32 hash (test run) : 365A04D1
CRC32 hash : 365A04D1
CRC32 hash (skip zero) : 15B18F89
AccurateRip v1 signature : CBDCB921
AccurateRip v2 signature : 13D8CE63 (B5BC91AC w/correction)
->Accurately ripped with different offset (v2, confidence 3/3, offset +664)
Statistics
Read error : 0
Jitter error (maybe fixed) : 0
Retry sector count : 0
Damaged sector count : 0

Track 03
Filename : /Volumes/HGST Touro Desk 4TB 1/CD rips/Mengelberg - The Concertgebouw Recordings [Decca]/CD 2/03 Matthäus Passion BWV 244 - Part I: 26. Aria (Tenore) con Coro: Ich will bei meinem Jesu wachen.flac

Track gain : -1.04 dB
Peak : 0.703674
CRC32 hash (test run) : 8C905ED0
CRC32 hash : 8C905ED0
CRC32 hash (skip zero) : 02770320
AccurateRip v1 signature : 7FE36215
AccurateRip v2 signature : 67CCFC8D (F6A428E1 w/correction)
->Accurately ripped with different offset (v2, confidence 3/3, offset +664)
Statistics
Read error : 0
Jitter error (maybe fixed) : 0
Retry sector count : 0
Damaged sector count : 0

Track 04
Filename : /Volumes/HGST Touro Desk 4TB 1/CD rips/Mengelberg - The Concertgebouw Recordings [Decca]/CD 2/04 Matthäus Passion BWV 244 - Part I: 27. Recitativo (Evangelist, Jesus): Und ging hin ein wenig.flac
Pre-gap length : 00:03:02

Track gain : 5.91 dB
Peak : 0.347565
CRC32 hash (test run) : F9D55F0B
CRC32 hash : F9D55F0B
CRC32 hash (skip zero) : 2BCEA7CB
AccurateRip v1 signature : A87C3651
AccurateRip v2 signature : 5FBAEF5A (D46C7482 w/correction)
->Accurately ripped with different offset (v2, confidence 3/3, offset +664)
Statistics
Read error : 0
Jitter error (maybe fixed) : 0
Retry sector count : 0
Damaged sector count : 0

Track 05
Filename : /Volumes/HGST Touro Desk 4TB 1/CD rips/Mengelberg - The Concertgebouw Recordings [Decca]/CD 2/05 Matthäus Passion BWV 244 - Part I: 28. Recitativo (Basso): Der Heiland fällt vor seinem Vater nieder.flac

Track gain : 0.31 dB
Peak : 0.479767
CRC32 hash (test run) : 22B27508
CRC32 hash : 22B27508
CRC32 hash (skip zero) : C7F38195
AccurateRip v1 signature : F1086AC0
AccurateRip v2 signature : 900B00FD (595853C4 w/correction)
->Accurately ripped with different offset (v2, confidence 3/3, offset +664)
Statistics
Read error : 0
Jitter error (maybe fixed) : 0
Retry sector count : 0
Damaged sector count : 0

Track 06
Filename : /Volumes/HGST Touro Desk 4TB 1/CD rips/Mengelberg - The Concertgebouw Recordings [Decca]/CD 2/06 Matthäus Passion BWV 244 - Part I: 30. Recitativo (Evangelist, Jesus): Und er kam zu seinen Jüngern.flac

Track gain : 2.07 dB
Peak : 0.563751
CRC32 hash (test run) : 0A7B1561
CRC32 hash : 0A7B1561
CRC32 hash (skip zero) : 531EA107
AccurateRip v1 signature : 1D831D7A
AccurateRip v2 signature : 51058280 (9EFF9532 w/correction)
->Accurately ripped with different offset (v2, confidence 3/3, offset +664)
Statistics
Read error : 0
Jitter error (maybe fixed) : 0
Retry sector count : 0
Damaged sector count : 0

Track 07
Filename : /Volumes/HGST Touro Desk 4TB 1/CD rips/Mengelberg - The Concertgebouw Recordings [Decca]/CD 2/07 Matthäus Passion BWV 244 - Part I: 31. Corale: Was mein Gott will.flac

Track gain : -4.57 dB
Peak : 0.750519
CRC32 hash (test run) : 9AEB5ABC
CRC32 hash : 9AEB5ABC
CRC32 hash (skip zero) : 8BE95189
AccurateRip v1 signature : 2EA666BF
AccurateRip v2 signature : D57C303E (E086CB6E w/correction)
->Accurately ripped with different offset (v2, confidence 3/3, offset +664)
Statistics
Read error : 0
Jitter error (maybe fixed) : 0
Retry sector count : 0
Damaged sector count : 0

Track 08
Filename : /Volumes/HGST Touro Desk 4TB 1/CD rips/Mengelberg - The Concertgebouw Recordings [Decca]/CD 2/08 Matthäus Passion BWV 244 - Part I: 32. Recitativo (Evangelist, Jesus, Judas): Und er kam und fand sie aber schlafend.flac

Track gain : 2.47 dB
Peak : 0.530273
CRC32 hash (test run) : 10149949
CRC32 hash : 10149949
CRC32 hash (skip zero) : C42AB1ED
AccurateRip v1 signature : B93B7F11
AccurateRip v2 signature : 82659B4F (337729B3 w/correction)
->Accurately ripped with different offset (v2, confidence 3/3, offset +664)
Statistics
Read error : 0
Jitter error (maybe fixed) : 0
Retry sector count : 0
Damaged sector count : 0

Track 09
Filename : /Volumes/HGST Touro Desk 4TB 1/CD rips/Mengelberg - The Concertgebouw Recordings [Decca]/CD 2/09 Matthäus Passion BWV 244 - Part I: 33. Duetto (Soprano, Alto) con Coro: So ist mein Jesus nun gefangen! - Coro: Sind Blitze, sind Donner.flac

Track gain : -4.05 dB
Peak : 0.899384
CRC32 hash (test run) : EDC63A71
CRC32 hash : EDC63A71
CRC32 hash (skip zero) : 8CB9AD1C
AccurateRip v1 signature : E34E8060
AccurateRip v2 signature : C9C67D0F (CF8CEB3D w/correction)
->Accurately ripped with different offset (v2, confidence 3/3, offset +664)
Statistics
Read error : 0
Jitter error (maybe fixed) : 0
Retry sector count : 0
Damaged sector count : 0

Track 10
Filename : /Volumes/HGST Touro Desk 4TB 1/CD rips/Mengelberg - The Concertgebouw Recordings [Decca]/CD 2/10 Matthäus Passion BWV 244 - Part I: 34. Recitativo (Evangelist, Jesus): Und siehe, einer aus denen, die mit Jesu waren.flac

Track gain : 2.33 dB
Peak : 0.688019
CRC32 hash (test run) : 43678BE1
CRC32 hash : 43678BE1
CRC32 hash (skip zero) : E145F49B
AccurateRip v1 signature : 37316F83
AccurateRip v2 signature : F5AF6EB9 (0F21EBFF w/correction)
->Accurately ripped with different offset (v2, confidence 3/3, offset +664)
Statistics
Read error : 0
Jitter error (maybe fixed) : 0
Retry sector count : 0
Damaged sector count : 0

Track 11
Filename : /Volumes/HGST Touro Desk 4TB 1/CD rips/Mengelberg - The Concertgebouw Recordings [Decca]/CD 2/11 Matthäus Passion BWV 244 - Part I: 35. Corale: O Mensch, bewein' dein' Sünde groß.flac
Pre-gap length : 00:00:17

Track gain : -3.23 dB
Peak : 0.796173
CRC32 hash (test run) : 7C55C7E6
CRC32 hash : 7C55C7E6
CRC32 hash (skip zero) : 67BFEE85
AccurateRip v1 signature : F6F99853
AccurateRip v2 signature : 063E5AD5 (BB7375EE w/correction)
->Accurately ripped with different offset (v2, confidence 3/3, offset +664)
Statistics
Read error : 0
Jitter error (maybe fixed) : 0
Retry sector count : 0
Damaged sector count : 0

Track 12
Filename : /Volumes/HGST Touro Desk 4TB 1/CD rips/Mengelberg - The Concertgebouw Recordings [Decca]/CD 2/12 Matthäus Passion BWV 244 - Part II: 36. Aria (Alto)con Coro: Ach, nun ist mein Jesus hin'.flac
Pre-gap length : 00:08:45

Track gain : -2.01 dB
Peak : 0.768402
CRC32 hash (test run) : CBC3FCB9
CRC32 hash : CBC3FCB9
CRC32 hash (skip zero) : ECE18A8F
AccurateRip v1 signature : F49E7195
AccurateRip v2 signature : 1419C622 (C7C5C45A w/correction)
->Accurately ripped with different offset (v2, confidence 3/3, offset +664)
Statistics
Read error : 0
Jitter error (maybe fixed) : 0
Retry sector count : 0
Damaged sector count : 0

Track 13
Filename : /Volumes/HGST Touro Desk 4TB 1/CD rips/Mengelberg - The Concertgebouw Recordings [Decca]/CD 2/13 Matthäus Passion BWV 244 - Part II: 37. Recitativo (Evangelist): Die aber Jesum gegriffen hatten.flac

Track gain : 4.34 dB
Peak : 0.352264
CRC32 hash (test run) : 03E55427
CRC32 hash : 03E55427
CRC32 hash (skip zero) : 3A2A6DF7
AccurateRip v1 signature : 77E4E868
AccurateRip v2 signature : 430B473E (C859A9F3 w/correction)
->Accurately ripped with different offset (v2, confidence 3/3, offset +664)
Statistics
Read error : 0
Jitter error (maybe fixed) : 0
Retry sector count : 0
Damaged sector count : 0

Track 14
Filename : /Volumes/HGST Touro Desk 4TB 1/CD rips/Mengelberg - The Concertgebouw Recordings [Decca]/CD 2/14 Matthäus Passion BWV 244 - Part II: 39. Recitativo (Evangelist, Hohepriester): Und der Hohepriester stand auf.flac

Track gain : 5.47 dB
Peak : 0.330292
CRC32 hash (test run) : 16D4776C
CRC32 hash : 16D4776C
CRC32 hash (skip zero) : 0570CD9B
AccurateRip v1 signature : 94966F73
AccurateRip v2 signature : F4559258 (CC700C2D w/correction)
->Accurately ripped with different offset (v2, confidence 3/3, offset +664)
Statistics
Read error : 0
Jitter error (maybe fixed) : 0
Retry sector count : 0
Damaged sector count : 0

Track 15
Filename : /Volumes/HGST Touro Desk 4TB 1/CD rips/Mengelberg - The Concertgebouw Recordings [Decca]/CD 2/15 Matthäus Passion BWV 244 - Part II: 40. Recitativo (Tenore): Mein Jesus schweigt.flac

Track gain : 5.56 dB
Peak : 0.331879
CRC32 hash (test run) : D93CACD8
CRC32 hash : D93CACD8
CRC32 hash (skip zero) : 3E958D05
AccurateRip v1 signature : 19D53497
AccurateRip v2 signature : 1EBFE8CA (C6B07D7E w/correction)
->Accurately ripped with different offset (v2, confidence 3/3, offset +664)
Statistics
Read error : 0
Jitter error (maybe fixed) : 0
Retry sector count : 0
Damaged sector count : 0

Track 16
Filename : /Volumes/HGST Touro Desk 4TB 1/CD rips/Mengelberg - The Concertgebouw Recordings [Decca]/CD 2/16 Matthäus Passion BWV 244 - Part II: 42. Recitativo (Evangelist, Hohepriester, Jesus): Und der Hohepriester antwortete - Coro: Er ist des Todes schuldig!.flac

Track gain : -2.44 dB
Peak : 0.687592
CRC32 hash (test run) : 561B974C
CRC32 hash : 561B974C
CRC32 hash (skip zero) : CC7C7E72
AccurateRip v1 signature : 1F04F558
AccurateRip v2 signature : 083D5EA8 (D31EC4F6 w/correction)
->Accurately ripped with different offset (v2, confidence 3/3, offset +664)
Statistics
Read error : 0
Jitter error (maybe fixed) : 0
Retry sector count : 0
Damaged sector count : 0

Track 17
Filename : /Volumes/HGST Touro Desk 4TB 1/CD rips/Mengelberg - The Concertgebouw Recordings [Decca]/CD 2/17 Matthäus Passion BWV 244 - Part II: 43. Recitativo (Evangelist): Da speieten sie aus in sein Angesicht - Coro: Weissage.flac

Track gain : -4.12 dB
Peak : 0.831390
CRC32 hash (test run) : 7A85F56D
CRC32 hash : 7A85F56D
CRC32 hash (skip zero) : BE5689BF
AccurateRip v1 signature : 17C78906
AccurateRip v2 signature : 08019468 (66435674 w/correction)
->Accurately ripped with different offset (v2, confidence 3/3, offset +664)
Statistics
Read error : 0
Jitter error (maybe fixed) : 0
Retry sector count : 0
Damaged sector count : 0

Track 18
Filename : /Volumes/HGST Touro Desk 4TB 1/CD rips/Mengelberg - The Concertgebouw Recordings [Decca]/CD 2/18 Matthäus Passion BWV 244 - Part II: 44. Corale: Wer hat dich so geschlagen.flac

Track gain : 0.04 dB
Peak : 0.599213
CRC32 hash (test run) : F2F9D5C3
CRC32 hash : F2F9D5C3
CRC32 hash (skip zero) : D1F5CE84
AccurateRip v1 signature : 7F2DA65B
AccurateRip v2 signature : 8F12450D (22FA0945 w/correction)
->Accurately ripped with different offset (v2, confidence 3/3, offset +664)
Statistics
Read error : 0
Jitter error (maybe fixed) : 0
Retry sector count : 0
Damaged sector count : 0

No errors occurred

End of status report

––-BEGIN XLD SIGNATURE––-
l8Ziv8oj.vrtaC4o0Zd49Ep51pSmpajLrZVD6b_ppJAtsMW52pd01LhYUMLgqzhQNX_bTL5oCHMvdPf1IaFidk1fIiu_j9fqlukNHIm
––-END XLD SIGNATURE––-
X Lossless Decoder version 20131102 (145.0)

XLD extraction logfile from 2013-11-15 16:08:42 +0100

Willem Mengelberg/Concertgebouw Orchestra / Mengelberg - The Concertgebouw Recordings [Decca]

Used drive : TSSTcorp CDDVDW SE-S084D (revision TS01)
Media type : Pressed CD

Ripper mode : XLD Secure Ripper
Disable audio cache : OK for the drive with a cache less than 1375KiB
Make use of C2 pointers : NO
Read offset correction : 6
Max retry count : 100
Gap status : Analyzed, Appended (except HTOA)

TOC of the extracted CD
Track | Start | Length | Start sector | End sector
––––––––––––––––––––––––––––-
1 | 00:00:00 | 17:26:65 | 0 | 78514
2 | 17:26:65 | 08:21:27 | 78515 | 116116
3 | 25:48:17 | 21:25:48 | 116117 | 212539
4 | 47:13:65 | 09:53:40 | 212540 | 257054

List of alternate offset correction values
# | Absolute | Relative | Confidence
–––––––––––––––––––––
1 | 670 | 664 | 4

AccurateRip Summary (DiscID: 000a22a3-00284bb1-2c0d6304)
Track 01 : OK (v1+v2, confidence 4/4, with different offset)
Track 02 : OK (v1+v2, confidence 4/4, with different offset)
Track 03 : OK (v2, confidence 2/2, with different offset)
Track 04 : OK (v2, confidence 2/2, with different offset)
->All tracks accurately ripped.

All Tracks
Album gain : 1.04 dB
Peak : 0.909576
Statistics
Read error : 0
Jitter error (maybe fixed) : 0
Retry sector count : 0
Damaged sector count : 0

Track 01
Filename : /Volumes/HGST Touro Desk 4TB 1/CD rips/Mengelberg - The Concertgebouw Recordings [Decca]/CD 14/01 Symphony No. 4 in G: I. Bedächtig. Nicht eilen - Recht gemächlich.flac
Pre-gap length : 00:02:00

Track gain : -0.05 dB
Peak : 0.897400
CRC32 hash (test run) : AC4C5552
CRC32 hash : AC4C5552
CRC32 hash (skip zero) : CC177314
AccurateRip v1 signature : CAFE2B79 (8885B448 w/correction)
AccurateRip v2 signature : 45C94E10 (746383B1 w/correction)
->Accurately ripped with different offset (v1+v2, confidence 2+2/4, offset +664)
Statistics
Read error : 0
Jitter error (maybe fixed) : 0
Retry sector count : 0
Damaged sector count : 0

Track 02
Filename : /Volumes/HGST Touro Desk 4TB 1/CD rips/Mengelberg - The Concertgebouw Recordings [Decca]/CD 14/02 Symphony No. 4 in G: II. In gemächlicher Bewegung.flac
Pre-gap length : 00:10:65

Track gain : 3.66 dB
Peak : 0.604614
CRC32 hash (test run) : BEBBA680
CRC32 hash : BEBBA680
CRC32 hash (skip zero) : F729FD43
AccurateRip v1 signature : 0AE1FCE8 (39E16226 w/correction)
AccurateRip v2 signature : 044FDFED (C2B6A1B3 w/correction)
->Accurately ripped with different offset (v1+v2, confidence 2+2/4, offset +664)
Statistics
Read error : 0
Jitter error (maybe fixed) : 0
Retry sector count : 0
Damaged sector count : 0

Track 03
Filename : /Volumes/HGST Touro Desk 4TB 1/CD rips/Mengelberg - The Concertgebouw Recordings [Decca]/CD 14/03 Symphony No. 4 in G: III. Ruhevoll (Poco adagio).flac
Pre-gap length : 00:04:02

Track gain : 1.98 dB
Peak : 0.909576
CRC32 hash (test run) : 21444D7E
CRC32 hash : 21444D7E
CRC32 hash (skip zero) : 37099B01
AccurateRip v1 signature : CDBA7752
AccurateRip v2 signature : 91077496 (6ED04C1D w/correction)
->Accurately ripped with different offset (v2, confidence 2/2, offset +664)
Statistics
Read error : 0
Jitter error (maybe fixed) : 0
Retry sector count : 0
Damaged sector count : 0

Track 04
Filename : /Volumes/HGST Touro Desk 4TB 1/CD rips/Mengelberg - The Concertgebouw Recordings [Decca]/CD 14/04 Symphony No. 4 in G: IV. Sehr behaglich.flac
Pre-gap length : 00:01:35

Track gain : 0.46 dB
Peak : 0.788239
CRC32 hash (test run) : D49B03E4
CRC32 hash : D49B03E4
CRC32 hash (skip zero) : 74B42528
AccurateRip v1 signature : 14CDC4A2
AccurateRip v2 signature : 3A2BE6F2 (1E53EAE2 w/correction)
->Accurately ripped with different offset (v2, confidence 2/2, offset +664)
Statistics
Read error : 0
Jitter error (maybe fixed) : 0
Retry sector count : 0
Damaged sector count : 0

No errors occurred

End of status report

––-BEGIN XLD SIGNATURE––-
2d77_Xtsw8cRvjLOf83R6f2p3gp.pSbd8hEa0THCMjPw_PkDpvA6i7HxEhFSw3B5Ihs.qUjSGzqy0Scoi5x24o_cI1rPusKpiMyPqvO
––-END XLD SIGNATURE––-
X Lossless Decoder version 20131102 (145.0)

XLD extraction logfile from 2013-11-15 16:59:20 +0100

Willem Mengelberg/Concertgebouw Orchestra / Mengelberg - The Concertgebouw Recordings [Decca]

Used drive : TSSTcorp CDDVDW SE-S084D (revision TS01)
Media type : Pressed CD

Ripper mode : XLD Secure Ripper
Disable audio cache : OK for the drive with a cache less than 1375KiB
Make use of C2 pointers : NO
Read offset correction : 6
Max retry count : 100
Gap status : Analyzed, Appended (except HTOA)

TOC of the extracted CD
Track | Start | Length | Start sector | End sector
––––––––––––––––––––––––––––-
1 | 00:00:00 | 14:17:47 | 0 | 64321
2 | 14:17:47 | 11:10:58 | 64322 | 114629
3 | 25:28:30 | 12:11:65 | 114630 | 169519
4 | 37:40:20 | 13:15:67 | 169520 | 229211
5 | 50:56:12 | 10:49:00 | 229212 | 277886
6 | 61:45:12 | 11:36:13 | 277887 | 330099

AccurateRip Summary (DiscID: 00121787-005fbe89-4e113106)
Track 01 : OK (v2, confidence 1/1)
Track 02 : OK (v2, confidence 1/1)
Track 03 : OK (v2, confidence 1/1)
Track 04 : OK (v2, confidence 1/1)
Track 05 : OK (v2, confidence 1/1)
Track 06 : OK (v2, confidence 1/1)
->All tracks accurately ripped.

All Tracks
Album gain : -3.03 dB
Peak : 1.000000
Statistics
Read error : 0
Jitter error (maybe fixed) : 0
Retry sector count : 0
Damaged sector count : 0

Track 01
Filename : /Volumes/HGST Touro Desk 4TB 1/CD rips/Mengelberg - The Concertgebouw Recordings [Decca]/CD 15/01 Symphony No. 8 in B minor D. 759 "Unfinished": I. Allegro moderato.flac
Pre-gap length : 00:02:00

Track gain : -2.96 dB
Peak : 0.921021
CRC32 hash (test run) : 13E0B027
CRC32 hash : 13E0B027
CRC32 hash (skip zero) : B9B88A3B
AccurateRip v1 signature : 1E935BBC
AccurateRip v2 signature : 9ABE1816
->Accurately ripped (v2, confidence 1/1)
Statistics
Read error : 0
Jitter error (maybe fixed) : 0
Retry sector count : 0
Damaged sector count : 0

Track 02
Filename : /Volumes/HGST Touro Desk 4TB 1/CD rips/Mengelberg - The Concertgebouw Recordings [Decca]/CD 15/02 Symphony No. 8 in B minor D. 759 "Unfinished": II. Andante con moto.flac

Track gain : -2.15 dB
Peak : 0.873352
CRC32 hash (test run) : 67FD9EC6
CRC32 hash : 67FD9EC6
CRC32 hash (skip zero) : 0C2BCAE6
AccurateRip v1 signature : D54A0904
AccurateRip v2 signature : F74B7BAD
->Accurately ripped (v2, confidence 1/1)
Statistics
Read error : 0
Jitter error (maybe fixed) : 0
Retry sector count : 0
Damaged sector count : 0

Track 03
Filename : /Volumes/HGST Touro Desk 4TB 1/CD rips/Mengelberg - The Concertgebouw Recordings [Decca]/CD 15/03 Symphony No. 9 in C D. 944 "The Great": I. Andante - Allegro ma non troppo.flac
Pre-gap length : 00:08:73

Track gain : -3.74 dB
Peak : 0.851929
CRC32 hash (test run) : B0A83169
CRC32 hash : B0A83169
CRC32 hash (skip zero) : 22235D22
AccurateRip v1 signature : 6B51B3E7
AccurateRip v2 signature : 6BF6300B
->Accurately ripped (v2, confidence 1/1)
Statistics
Read error : 0
Jitter error (maybe fixed) : 0
Retry sector count : 0
Damaged sector count : 0

Track 04
Filename : /Volumes/HGST Touro Desk 4TB 1/CD rips/Mengelberg - The Concertgebouw Recordings [Decca]/CD 15/04 Symphony No. 9 in C D. 944 "The Great": II. Andante con moto.flac

Track gain : -2.89 dB
Peak : 0.934265
CRC32 hash (test run) : F0B60FE7
CRC32 hash : F0B60FE7
CRC32 hash (skip zero) : 8F5896BA
AccurateRip v1 signature : 7EA49ABB
AccurateRip v2 signature : F88F79CE
->Accurately ripped (v2, confidence 1/1)
Statistics
Read error : 0
Jitter error (maybe fixed) : 0
Retry sector count : 0
Damaged sector count : 0

Track 05
Filename : /Volumes/HGST Touro Desk 4TB 1/CD rips/Mengelberg - The Concertgebouw Recordings [Decca]/CD 15/05 Symphony No. 9 in C D. 944 "The Great": III. Scherzo (Allegro vivace).flac

Track gain : -0.95 dB
Peak : 0.721497
CRC32 hash (test run) : 906EEE65
CRC32 hash : 906EEE65
CRC32 hash (skip zero) : FA905E52
AccurateRip v1 signature : D96E48A0
AccurateRip v2 signature : 6CC745F2
->Accurately ripped (v2, confidence 1/1)
Statistics
Read error : 0
Jitter error (maybe fixed) : 0
Retry sector count : 0
Damaged sector count : 0

Track 06
Filename : /Volumes/HGST Touro Desk 4TB 1/CD rips/Mengelberg - The Concertgebouw Recordings [Decca]/CD 15/06 Symphony No. 9 in C D. 944 "The Great": IV. Allegro vivace.flac

Track gain : -4.04 dB
Peak : 1.000000
CRC32 hash (test run) : 5CC505A9
CRC32 hash : 5CC505A9
CRC32 hash (skip zero) : 9CAC7AAA
AccurateRip v1 signature : 1DBE5F57
AccurateRip v2 signature : 0E900A1B
->Accurately ripped (v2, confidence 1/1)
Statistics
Read error : 0
Jitter error (maybe fixed) : 0
Retry sector count : 0
Damaged sector count : 0

No errors occurred

End of status report

––-BEGIN XLD SIGNATURE––-
wVQUn0l1RgkghlJWN0.4.9GEOtLZ6bYl2OoGaI.pMsSK2hK_swlr7KG7ajCU20sMJowqq6jQ6BeOem6yoGZdGBRgMzCDa8fsU72IXwq
––-END XLD SIGNATURE––-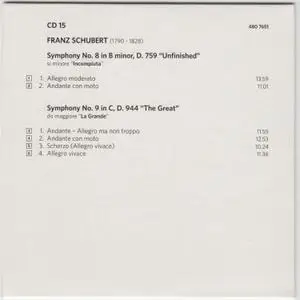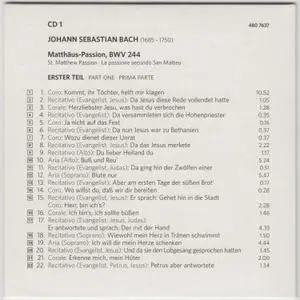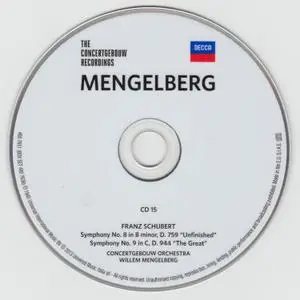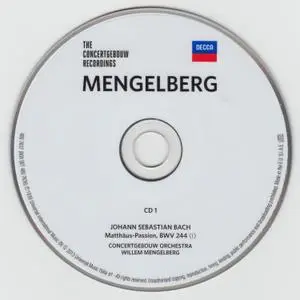 see more Royal Concertgebouw Orchestra…NEXT -> more Royal Concertgebouw Orchestra on the way…
===