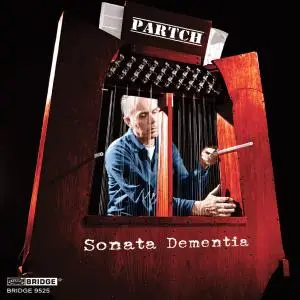 Partch - Music of Harry Partch, Vol. 3: Sonata Dementia (2019)
WEB FLAC (tracks) - 363 MB | Tracks: 21 | 75:06 min
Style: Classical | Label: Bridge
Did you know that the legendary American maverick Harry Partch wrote music for West Coast jazz icons Chet Baker and Gerry Mulligan? They never got a chance to play his smart and funny Ulysses at the Edge of the World, but this 'Minor Adventure in Rhythm' really swings in time signatures that would have made Dave Brubeck blush. So opens a collection of Partch classics that no one has really heard before. His score for the film Windsong was edited for the soundtrack, and though music lovers will recognize the material from the subsequently expanded Daphne of the Dunes, the symphonically structured original is much more dramatically crafted, and is presented here for the first time. It turns out that there are actually Twelve Intrusions, too, not eleven.
And a demented sonata? Oh yes! Though the composer never performed or recorded it, his 1950 composition Sonata Dementia is in three movements: I. Abstraction & Delusion, II. Scherzo Schizophrenia, and III. Allegro Paranoia. Filled to the brim with humour, flights of fancy, and a febrile imagination, it was later reworked as 'Ring Around the Moon', but what a treat to hear the original in all its zany glory.
The bonus tracks reveal even more lost treasures: here is the original 1904 Edison recording of the Native American 'Cançion' that Partch had transcribed in the 1930s and used to close his final Intrusion 'Cloud Chamber Music'. But best of all, the first-ever recording of Partch as performer, playing what is probably his most famous piece, Barstow: 8 Hitchhiker Inscriptions in front of a live audience in 1942, just a year after it was written.
Tracklist:
01. Ulysses at the Edge of the World (A Minor Adventure in Rhythm)
02. 12 Intrusions: No. 1, Study on Olympus' Pentatonic
03. 12 Intrusions: No. 2, Study on Archytas' Enharmonic
04. 12 Intrusions: No. 3, The Rose
05. 12 Intrusions: No. 4, The Crane
06. 12 Intrusions: No. 5, The Waterfall
07. 12 Intrusions: No. 6, The Wind
08. 12 Intrusions: No. 7, The Street
09. 12 Intrusions: No. 8, The Letter
10. 12 Intrusions: No. 9, Lover
11. 12 Intrusions: No. 10, Soldiers - War - Another War
12. 12 Intrusions: No. 11, Vanity
13. 12 Intrusions: No. 12, Cloud Chamber Music
14. Windsong: I. Narration
15. Windsong: II. Windsong
16. Sonata Dementia: I. Abstraction & Delusion
17. Sonata Dementia: II. Scherzo Schizophrenia
18. Sonata Dementia: III. Allegro Paranoia
19. Canción de los Muchachos
20. The Wayward, Pt. 1 :8 Inscriptions from a Highway Railing at Barstow, California:: Introduction (Live)
21. The Wayward, Pt. 1 :8 Inscriptions from a Highway Railing at Barstow, California:: No. 1, Barstow (Live)

FILE: 01. Ulysses at the Edge of the World (A Minor Adventure in Rhythm).flac
Size: 31605375 Hash: 7F7D903CE8EA8AC385819E17BDEE7978 Accuracy: -m0
Conclusion: CDDA 43%
Signature: 1CC9241D2BA4E48C1856F87F5D0D2B0304374D9C
FILE: 02. 12 Intrusions_ No. 1, Study on Olympus' Pentatonic.flac
Size: 6662732 Hash: 8816BD0CECB0A5AE3000371D0539A06B Accuracy: -m0
Conclusion: MPEG 80%
Signature: F0DE23A82471022483CC7B98E6F05CC47836A3AC
FILE: 03. 12 Intrusions_ No. 2, Study on Archytas' Enharmonic.flac
Size: 11432562 Hash: FABF86705CD97EF86AD7D631A6F2308C Accuracy: -m0
Conclusion: MPEG 97%
Signature: B73283BE0554D53D5F6DD134AAA653480FBAB405
FILE: 04. 12 Intrusions_ No. 3, The Rose.flac
Size: 8375984 Hash: E12B4363A4F0ED533F2C4A2939FDC6ED Accuracy: -m0
Conclusion: MPEG 100%
Signature: 4A57B64D9966B0C060E58B04B4A7E1CA3F953700
FILE: 05. 12 Intrusions_ No. 4, The Crane.flac
Size: 7935761 Hash: F40F83AEA99D020C3478DA261EA3A98C Accuracy: -m0
Conclusion: MPEG 100%
Signature: F7C23388AEA3C87A801E44A8F089C5B5C9501AB7
FILE: 06. 12 Intrusions_ No. 5, The Waterfall.flac
Size: 6261423 Hash: 165FC0CBE07CE260665E836F007D4C1F Accuracy: -m0
Conclusion: CDDA 86%
Signature: 2AF0036A0AE15DA3C45913916EE596AB34A8381C
FILE: 07. 12 Intrusions_ No. 6, The Wind.flac
Size: 9472959 Hash: ACD4203097915146160C5B1588D6FA9D Accuracy: -m0
Conclusion: MPEG 89%
Signature: CAB6AEF7B5A63A64A64909CCA16F2AF54169536B
FILE: 08. 12 Intrusions_ No. 7, The Street.flac
Size: 16049472 Hash: C4A5436AB541C9332B7CC07805467125 Accuracy: -m0
Conclusion: CDDA 43%
Signature: EA03D10BC766721500AFA8E2F5F4859E7A1F33C9
FILE: 09. 12 Intrusions_ No. 8, The Letter.flac
Size: 15184648 Hash: A942DC434B4C87E30849E37AF66DE78F Accuracy: -m0
Conclusion: CDDA 54%
Signature: D52DA1AD7D833BBEB8278D76799BEE23AC23E064
FILE: 10. 12 Intrusions_ No. 9, Lover.flac
Size: 11938381 Hash: 7204A276131C4C6B78C21CC262E92705 Accuracy: -m0
Conclusion: MPEG 90%
Signature: F4EB038C6D65CD505DE29AFBDAAAB7E1D10FCCF2
FILE: 11. 12 Intrusions_ No. 10, Soldiers - War - Another War.flac
Size: 12298294 Hash: 7B09F27935401B0ED911F64DA8E594CA Accuracy: -m0
Conclusion: MPEG 93%
Signature: 47F501A826B6F2458074D21DA86E7C3A35004292
FILE: 12. 12 Intrusions_ No. 11, Vanity.flac
Size: 4216998 Hash: 26769A3C3ABD8A31810212F5E3D6080D Accuracy: -m0
Conclusion: CDDA 100%
Signature: DB17D6D1C88CCB4560873CBAD02112C7C579C255
FILE: 13. 12 Intrusions_ No. 12, Cloud Chamber Music.flac
Size: 21257310 Hash: DD462BA3036A5BEBAD828231ABD55AE1 Accuracy: -m0
Conclusion: MPEG 89%
Signature: ED9957E6E2F5A4B7D0E458A8EC1E4E687C87F708
FILE: 14. Windsong_ I. Narration.flac
Size: 5685920 Hash: A44454383B9AE3B1D53FC8EDD54F5B95 Accuracy: -m0
Conclusion: CDDA 100%
Signature: 4C8D8A2199819F4F20FA77620347DA9C983775B8
FILE: 15. Windsong_ II. Windsong.flac
Size: 98502722 Hash: 4E5F7926E41D5319EB2A9645D2739B73 Accuracy: -m0
Conclusion: CDDA 42%
Signature: 3C5F33BB18C406639952874232B31CEE25DAC4F1
FILE: 16. Sonata Dementia_ I. Abstraction & Delusion.flac
Size: 15753338 Hash: EAF199A071A1785F63C39F8B15803B06 Accuracy: -m0
Conclusion: CDDA 54%
Signature: 80833DBC889014411AA144EDFCA8ED2A11A8A0A1
FILE: 17. Sonata Dementia_ II. Scherzo Schizophrenia.flac
Size: 11465863 Hash: 276015909A83F41EEBA9710569074142 Accuracy: -m0
Conclusion: CDDA 87%
Signature: 88A154C4E5DD018C008E75F766D549D0404A65AF
FILE: 18. Sonata Dementia_ III. Allegro Paranoia.flac
Size: 23566582 Hash: 18D4C2525222D68DDD10408D4D7C8A75 Accuracy: -m0
Conclusion: CDDA 100%
Signature: 6F28D8E25EB13D6BB14BFD474A75246975A1EB48
FILE: 19. Canción de los Muchachos.flac
Size: 7134725 Hash: 613D421357CD1AC167F639F513995FE5 Accuracy: -m0
Conclusion: CDDA 58%
Signature: 009F99CD8E93CCFC941B5BC51039026DD2D6F744
FILE: 20. The Wayward, Pt. 1 _8 Inscriptions from a Highway Railing at Barstow, California__ Introduction (Live).flac
Size: 12813131 Hash: 60C671C4DC36C6006B47F4604DDF0597 Accuracy: -m0
Conclusion: MPEG 90%
Signature: 14DF47E686FABEF8CEB4331DA467FC17337DF8E1
FILE: 21. The Wayward, Pt. 1 _8 Inscriptions from a Highway Railing at Barstow, California__ No. 1, Barstow (Live).flac
Size: 42956031 Hash: 5C304783A629F1C03087FC1CE31475DC Accuracy: -m0
Conclusion: MPEG 99%
Signature: BB7B5D8C8844B2817439EC7E9E88BCD0E565633F