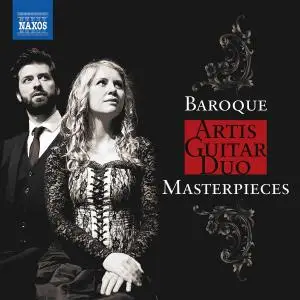 Julia Zielinski - Baroque Masterpieces (2019)
WEB FLAC (tracks+booklet) - 189 MB | Tracks: 18 | 50:50 min
Style: Classical | Label: Naxos
It's amazing what sounds good on a guitar. Arrangements belong here to the fixed repertoire, and when it comes to baroque music, this procedure is a common procedure anyway. Some examples of this have been recorded by the ARTIS guitar duo here. The repertoire ranges from George Frideric Handel to Johann Sebastian Bach. Of course, Antonio Vivaldi should not miss the lute composer Silvius Leopold Weiss and, as representative of the French Baroque, François Couperin.
The result is convincing. Although the guitar is far from being able to record it with the sonic splendor of a keyboard instrument or even a baroque orchestra, it has other strengths, especially if it is played as excellently as in this case. Julia and Christian Zielinski are masters of their craft, there is no doubt about that after listening to this CD. They make use of the guitar sound in a multi-faceted way and contain style-extravagant extravagances. Her play is as subtle as it is peppy and leaves nothing to be desired.
The polyphonic structures of many works sound surprisingly transparent and clear, the tempos are consistently adequate, and the interpretive stringency is excellent. For example, the B major Chaconne Handel (HWV 435) performs in a lively manner, in a Concerto by Weiss the guitars replace two lutes and in a Concerto Vivaldis even a baroque guitar (Olaf van Gonnissen) and a theorbo (Sergio Bermudez Bullido) are added but to ensure such a kind of orchestral sound and the change to the two solo instruments. All of this sounds harmonious, easy, sometimes musical music. A round thing! © 2019 Classic today
Tracklist:
01. Chaconne in G Major, HWV 435 (Arr. J. Zielinski & C. Zielinski for 2 Guitars)
02. Second livre de pièces de clavecin, Ordre 6 (Arr. J. Zielinski & C. Zielinski for 2 Guitars) [Excerpts]: No. 6, Les bergeries
03. Second livre de pièces de clavecin, Ordre 6 (Arr. J. Zielinski & C. Zielinski for 2 Guitars) [Excerpts]: No. 7, La commère
04. Second livre de pièces de clavecin, Ordre 6 (Arr. J. Zielinski & C. Zielinski for 2 Guitars) [Excerpts]: No. 2, Les langueurs tend
05. Troisième livre de pièces de clavecin, Ordre 18 in F Major (Arr. J. Zielinski & C. Zielinski for 2 Guitars): No. 6, Le tic-toc-cho
06. Lute Concerto in D Major (Arr. J. Zielinski & C. Zielinski for 2 Guitars): I. Adagio
07. Lute Concerto in D Major (Arr. J. Zielinski & C. Zielinski for 2 Guitars): II. Allegro
08. Lute Concerto in D Major (Arr. J. Zielinski & C. Zielinski for 2 Guitars): III. Adagio
09. Lute Concerto in D Major (Arr. J. Zielinski & C. Zielinski for 2 Guitars): IV. Gigue
10. Capriccio in B-Flat Major, BWV 992 (Arr. J. Zielinski & C. Zielinski for 2 Guitars): I. Arioso. Adagio
11. Capriccio in B-Flat Major, BWV 992 (Arr. J. Zielinski & C. Zielinski for 2 Guitars): II. Andante
12. Capriccio in B-Flat Major, BWV 992 (Arr. J. Zielinski & C. Zielinski for 2 Guitars): III. Adagiosissimo
13. Capriccio in B-Flat Major, BWV 992 (Arr. J. Zielinski & C. Zielinski for 2 Guitars): IV. Andante con moto
14. Capriccio in B-Flat Major, BWV 992 (Arr. J. Zielinski & C. Zielinski for 2 Guitars): V. Aria di Postiglione. Allegro poco
15. Capriccio in B-Flat Major, BWV 992 (Arr. J. Zielinski & C. Zielinski for 2 Guitars): VI. Fuga all' imitazione della cornetta di po
16. Concerto for 2 Mandolins in G Major, RV 532 (Arr. J. Zielinski & C. Zielinski for 2 Guitars, Baroque Guitar & Theorbo): I. Allegro
17. Concerto for 2 Mandolins in G Major, RV 532 (Arr. J. Zielinski & C. Zielinski for 2 Guitars, Baroque Guitar & Theorbo): II. Andant
18. Concerto for 2 Mandolins in G Major, RV 532 (Arr. J. Zielinski & C. Zielinski for 2 Guitars, Baroque Guitar & Theorbo): III. Alleg


FILE: 01. Chaconne in G Major, HWV 435 (Arr. J. Zielinski & C. Zielinski for 2 Guitars).flac
Size: 32349487 Hash: 2B4B137B87D4FAAAFB80521E79D3ED8F Accuracy: -m0
Conclusion: CDDA 100%
Signature: DD40CC552EF63C3C2FB5C77F30FA347934C8CD30
FILE: 02. Second livre de pièces de clavecin, Ordre 6 (Arr. J. Zielinski & C. Zielinski for 2 Guitars) [Excerpts]_ No. 6, Les bergeries.flac
Size: 14796435 Hash: 97FAD4CF3BC52DECE83FBEA55760B541 Accuracy: -m0
Conclusion: CDDA 100%
Signature: 0406CB1FC5E20D7E4A2480061BDCBFC0D6901C2D
FILE: 03. Second livre de pièces de clavecin, Ordre 6 (Arr. J. Zielinski & C. Zielinski for 2 Guitars) [Excerpts]_ No. 7, La commère.flac
Size: 8123620 Hash: C4273CD54725F7B6F26854040E11BFD4 Accuracy: -m0
Conclusion: CDDA 100%
Signature: D484992E5B9F79300797651299B5D35D764EF480
FILE: 04. Second livre de pièces de clavecin, Ordre 6 (Arr. J. Zielinski & C. Zielinski for 2 Guitars) [Excerpts]_ No. 2, Les langueurs tend.flac
Size: 9880229 Hash: 3946DD63B34260D9D5A485596AF77964 Accuracy: -m0
Conclusion: CDDA 100%
Signature: DFF206A9EA4E0457C5D58A5123F5FCBB42BA91D9
FILE: 05. Troisième livre de pièces de clavecin, Ordre 18 in F Major (Arr. J. Zielinski & C. Zielinski for 2 Guitars)_ No. 6, Le tic-toc-cho.flac
Size: 11223651 Hash: E646830BFE25FA3C806C82A58490D507 Accuracy: -m0
Conclusion: CDDA 100%
Signature: AB686E3C4A2AD728CB9ECE996CD75CEADD6CE2A5
FILE: 06. Lute Concerto in D Major (Arr. J. Zielinski & C. Zielinski for 2 Guitars)_ I. Adagio.flac
Size: 8876985 Hash: 60CAAD288AFE631A87E0104A7D7BF523 Accuracy: -m0
Conclusion: CDDA 100%
Signature: 9E2627693E9841268DB0DFDCD136A8DC93DE5EDD
FILE: 07. Lute Concerto in D Major (Arr. J. Zielinski & C. Zielinski for 2 Guitars)_ II. Allegro.flac
Size: 6866411 Hash: CE3A8819E8F885FE11056522F4A5E86C Accuracy: -m0
Conclusion: CDDA 100%
Signature: 12F5286EE6D496BE39A5F04F224A2A960D393128
FILE: 08. Lute Concerto in D Major (Arr. J. Zielinski & C. Zielinski for 2 Guitars)_ III. Adagio.flac
Size: 8120478 Hash: BFAE974E803A57FE35559D819E143256 Accuracy: -m0
Conclusion: CDDA 100%
Signature: 11F8EF660F5FC8FBC5D93670BAB231CD15DA2592
FILE: 09. Lute Concerto in D Major (Arr. J. Zielinski & C. Zielinski for 2 Guitars)_ IV. Gigue.flac
Size: 5984520 Hash: DFCE891ECD14FD877A77B35560C04DC1 Accuracy: -m0
Conclusion: CDDA 100%
Signature: D250E2D1F9A602BE0E4F5B3EEE09651624DA468B
FILE: 10. Capriccio in B-Flat Major, BWV 992 (Arr. J. Zielinski & C. Zielinski for 2 Guitars)_ I. Arioso. Adagio.flac
Size: 7181109 Hash: DFD3E017DB3FC0F4BEDA5A2197CB2588 Accuracy: -m0
Conclusion: CDDA 100%
Signature: D2054F9E2E2172D22A8EC6B3E20F700263D8F2FA
FILE: 11. Capriccio in B-Flat Major, BWV 992 (Arr. J. Zielinski & C. Zielinski for 2 Guitars)_ II. Andante.flac
Size: 6347854 Hash: D2AF789DDA0CFE1C2648BB8EF635E1A3 Accuracy: -m0
Conclusion: CDDA 100%
Signature: A1F9602F49235C2C4D283BA8D34868C15BA91814
FILE: 12. Capriccio in B-Flat Major, BWV 992 (Arr. J. Zielinski & C. Zielinski for 2 Guitars)_ III. Adagiosissimo.flac
Size: 8883734 Hash: B60257A92CADDE2CD7D9EBBB4BF2656E Accuracy: -m0
Conclusion: CDDA 99%
Signature: 53FE0F688ED045CE9490D056D4832A881731A597
FILE: 13. Capriccio in B-Flat Major, BWV 992 (Arr. J. Zielinski & C. Zielinski for 2 Guitars)_ IV. Andante con moto.flac
Size: 2477503 Hash: ADD59C427BA2C3BB4103132453BB1A49 Accuracy: -m0
Conclusion: CDDA 100%
Signature: E2D9C76BD42B7B636F58BC325B52BCC5E02EF2BA
FILE: 14. Capriccio in B-Flat Major, BWV 992 (Arr. J. Zielinski & C. Zielinski for 2 Guitars)_ V. Aria di Postiglione. Allegro poco.flac
Size: 3037616 Hash: B48CF0B95C4532148FCF8FAF3116FB44 Accuracy: -m0
Conclusion: CDDA 100%
Signature: 8FCC8013A5CD0732E2510FE8258B5BE2BD1DA3C5
FILE: 15. Capriccio in B-Flat Major, BWV 992 (Arr. J. Zielinski & C. Zielinski for 2 Guitars)_ VI. Fuga all' imitazione della cornetta di po.flac
Size: 10338118 Hash: BA81A628568402EFAC07610997F62A1A Accuracy: -m0
Conclusion: CDDA 100%
Signature: 1FC4F3FF6712F0B73C106EF379B688BE30AF0ABC
FILE: 16. Concerto for 2 Mandolins in G Major, RV 532 (Arr. J. Zielinski & C. Zielinski for 2 Guitars, Baroque Guitar & Theorbo)_ I. Allegro.flac
Size: 17970648 Hash: 481ECA5E2B18F772905A74B754513270 Accuracy: -m0
Conclusion: CDDA 100%
Signature: D8E2758A7F55B8819F1D1C1E82D6FA999ED980F8
FILE: 17. Concerto for 2 Mandolins in G Major, RV 532 (Arr. J. Zielinski & C. Zielinski for 2 Guitars, Baroque Guitar & Theorbo)_ II. Andant.flac
Size: 17340916 Hash: 5664AF8A8151A2392699C13C73004200 Accuracy: -m0
Conclusion: CDDA 99%
Signature: AD192CC8C5B5E99060E23DC13FF8ADDA938D17DA
FILE: 18. Concerto for 2 Mandolins in G Major, RV 532 (Arr. J. Zielinski & C. Zielinski for 2 Guitars, Baroque Guitar & Theorbo)_ III. Alleg.flac
Size: 14706731 Hash: 6FEB79918988A22BFC5C78E61E27E999 Accuracy: -m0
Conclusion: CDDA 100%
Signature: 20935360ECF2C447C9186FE0649BBFBCA3FF6A10