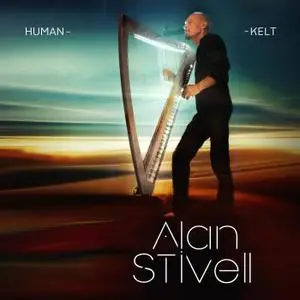 Alan Stivell - Human / Kelt (2018)
World, Celtic, Folk-rock | 01:14:25 | WEB FLAC (tracks) | 425 MB
Label: World Village
If there is a single savior of Celtic music, Alan Stivell is probably it. Since the end of the 1960s, he has done more to revive interest in the Celtic (specifically Breton) harp than anyone in the world and, in the process, almost singlehandedly made the world aware of native Breton Celtic music. Since 1971, he has been recording albums of extraordinary beauty and diversity, ranging from ancient Breton and Irish material to modern folk-rock and progressive rock.
He was born Alan Cochevelou, the son of a harp-maker. His father was the rediscoverer of the Breton harp, but he started his musical life on a somewhat more conventional instrument, taking up the piano at age five. He was given a harp by his father at age nine, and studied for the next several years under the direction of his father and Ms. D. Megevand, a concert harpist, freely mixing classical repertoire and arrangements of Breton, English, Irish, Scottish, and Welsh folk material.
Stivell was playing concerts at age 11, and he began taking up the more general study of traditional popular Celtic music, including the Scottish bagpipes, drum, Irish flute, and tin whistle, while in his teens. He ultimately became well-versed in all of these and won honors in national piping competitions in Scotland, and chose the professional name of Stivell, the Breton word meaning fountain, spring, or source. By the age of 21, while studying for his degree in English, he became an established folk musician, recording songs to his own harp accompaniment. While his singing is less effective than his harp or bagpipe playing, his voice is expressive, and most of his albums feature a mix of vocal and instrumental music. In 1967, he formed a group consisting of himself on harp, bagpipes, and Irish flute and Dan Ar Bras on electric guitar, backed by bass and drums. He released several albums during this period, including Reflections (1971), A l'Olympia (1972), Chemins de Terre (1972), Celtic Rock (1972), and E. Lagonned (1976). He left the group in the mid-'70s to concentrate exclusively on a solo career – by this time, he had become a major influence on a multitude of folk-rock musicians with his interweaving of electric and traditional instruments.
During the early '70s, he acquired a popular following in France and England. By the mid-'70s Americans – and not only those of Irish or, more rarely, Scottish, Welsh, and Breton descent, but those interested in things Celtic – were discovering Stivell in growing numbers, prompting labels such as Rounder to begin releasing his work (until then, available only as expensive imports) in the United States. Stivell's first major solo album, Renaissance of the Celtic Harp (1972), remains a favorite among fans of the stringed instrument, while his later albums also display his abilities with bagpipes and as a singer. For a time during the mid-'70s, his success placed traditional Breton and Celtic music on the English charts on a regular basis.
Stivell's biggest accomplishment, however, involved the rebirth and rediscovery of an instrument and an entire cultural history. His career brought to fruition the revival of the Breton harp that his father had begun in the 1930s and '40s. The harp had a long and honored place in the history of the Celtic peoples, first embraced (and possibly invented) by the primordial Irish people, who carried it to Scotland and Wales, and later to Brittany and the rest of the European mainland. Although preserved as an image in numerous works of art, the Breton harp had receded from memory and use well before the 20th century. Alan Stivell played his father's first modern Breton harp for the first time in 1953, and within 20 years there were over 100 players where there had been none. Stivell has also used harps from Ireland, Scotland, and Wales in his recordings and performances.
More recently, he has moved in two different directions simultaneously, into the realm of folk-rock with a band of Breton musicians, and serious music with his Celtic Symphony, a work for mixed ensemble of orchestra, Breton and Irish instruments, and voices. A somewhat enigmatic figure, given his focus on Breton culture, Stivell is one of the most compelling of folk musicians, and has achieved stature outside the folk music world, such that musicians like Kate Bush have appeared on his recent albums.
Stivell's music has found an audience among people who have never been anywhere near Brittany, Ireland, Scotland, or Wales. The Celtic peoples were among the westernmost settlers of Europe, and occupied some of the bleakest yet most starkly beautiful land in Europe – the Romans, in particular, couldn't understand why any sane race would want to live in those places. But, of course, the Romans are gone, buried, and seldom discussed save for their language and a handful of literary works and historical figures; by contrast, hardly anybody born outside of Scotland or Wales can speak those native languages (or would want to – and the last native speaker of Manx died some years ago), yet their music is still played, and their culture exerts a pull on people the world over. Celtic music has always had an element of loneliness, of the single harpist, piper, or drummer looking out across the vastness to the west (all that lay west was, of course, the Atlantic Ocean and America some 3,000 miles away), and Stivell, more than any other single musician, captures the inherent joy, wistfulness, and loneliness in this music.
Additionally, some of the more recent developments in music and audiences have expanded his audience even further. His harp recordings, with their enveloping lyricism and tightly interwoven patterns of variations, can appeal to more serious listeners of new age music. Alan Stivell's main audience, however, lies with fans of Celtic music and culture, and English folk music. Embracing ancient and modern elements, but (apart from his folk-rock work) making no compromises to modern melodic sensibilities, his music captures the mystery and strangeness of Breton, Irish, Welsh, and Scottish landscapes that are both ageless and timeless. It is haunting, mysterious, and beautiful, with no equivalent in modern popular music and few peers in the realm of commercial folk music. ~ Bruce Eder
Tracklist
:
01.
Alan Stivell - Setu • 52 bloaz [audio-préface / medley]
02.
Alan Stivell,FATOUMATA DIAWARA - DEN I [Mogo]
03.
Alan Stivell,Bob Geldof - DEN II [Simply Human]
04.
Alan Stivell,Francis Cabrel,Claude Sicre,Léa Antona,Orchestre symphonique de Bretagne - Com Una Gran Orquestra • Ideas
05.
Alan Stivell,Andrea Corr,Orchestre symphonique de Bretagne - Aardaigh Cuan
06.
Alan Stivell,Andrea Corr,Ochestre Symphonique de Bretagne - A Hed An Nos [All Through The Night]
07.
Alan Stivell,Bob Geldof - BZHg [self-remix / emadvesk]
08.
Alan Stivell,Bob Geldof - Brezhoneg 'Raok [new']
09.
Alan Stivell,Claude Lemesle - Printemps Automne Autant [as a haiku]
10.
Alan Stivell - MJ a Garan [50 Bloaz]
11.
Alan Stivell,Murray Head,Robert Le Gall - Reflets, Adskedoù, Reflections
12.
Alan Stivell,Angelo Branduardi,Vincenzo Zitello - Breselien • Brocéliande
13.
Alan Stivell,Donal Lunny - Son Ar Chistr - My cheers To You !
14.
Alan Stivell - Tri Martolod [new']
15.
Alan Stivell,Joanne Mac Iver & Eilidh Mairi Saunière,Ar vreudeur Morvan - Kelti[k]a
16.
Alan Stivell,Catrin Finch - Boudicca [Cacos ac Caesar !]
17.
Alan Stivell,Carlos Núñez,Dan Ar Braz,Orchestre symphonique de Bretagne - An Emglew [Le Pacte]
18.
Alan Stivell - Dor Tir Na Nóg [from Symphonie celtique]
19.
Alan Stivell,Úna ní Fhlannagàin - Éamonn An Chnoic I
20.
Yann Tiersen,Alan Stivell - Pourquoi es-tu venu si tard ? [Éamonn an chnoic II]
ANALYZER: auCDtect: CD records authenticity detector, version 0.8.2
Copyright © 2004 Oleg Berngardt. All rights reserved.
Copyright © 2004 Alexander Djourik. All rights reserved.


FILE: 1.20. Yann Tiersen,Alan Stivell - Pourquoi es-tu venu si tard [Éamonn an chnoic II].flac
Size: 36227022 Hash: E6CB028089DF7DB9FD50232312F1BA15 Accuracy: -m8
Conclusion: CDDA 100%
Signature: 3ACB2D8A52374507C8D01D57E477B7F7722B364E
FILE: 1.19. Alan Stivell,Úna ní Fhlannagàin - Éamonn An Chnoic I.flac
Size: 2508485 Hash: EDA24F89060ADC14BF72A06637B6CAF2 Accuracy: -m8
Conclusion: CDDA 100%
Signature: E13A493477BFBE12D5964762DEE6F99C76332590
FILE: 1.18. Alan Stivell - Dor Tir Na Nóg [from Symphonie celtique].flac
Size: 7848876 Hash: 1F487A3D500738A0E44CB8060A50D6E6 Accuracy: -m8
Conclusion: CDDA 100%
Signature: 0DFA030E30298F640C5C433419D59ACDEB3EC9C6
FILE: 1.17. Alan Stivell,Carlos Núñez,Dan Ar Braz,Orchestre symphonique de Bretagne - An Emglew [Le Pacte].flac
Size: 11383381 Hash: 1CD9C4E8EB882F62291F800813E73477 Accuracy: -m8
Conclusion: CDDA 99%
Signature: 6911BA64659E6CBA37CDE4BA1EE5B90C54E6918A
FILE: 1.16. Alan Stivell,Catrin Finch - Boudicca [Cacos ac Caesar !].flac
Size: 24160340 Hash: 3A8CA82994ECAAA158A0C2EE6F7E0491 Accuracy: -m8
Conclusion: CDDA 100%
Signature: 97AD688E486AA445235B210687221C6C3A179EDF
FILE: 1.15. Alan Stivell,Joanne Mac Iver & Eilidh Mairi Saunière,Ar vreudeur Morvan - Kelti[k]a.flac
Size: 27493467 Hash: 56E02D7599E773EEFCE89EB2063D65BC Accuracy: -m8
Conclusion: CDDA 100%
Signature: 7E1697839A2A27445AF7C7E5D4CDFD839CBA23A7
FILE: 1.14. Alan Stivell - Tri Martolod [new'].flac
Size: 29450755 Hash: 3194E2CE741C8CCD8ABA656323B22CBA Accuracy: -m8
Conclusion: CDDA 99%
Signature: 3E3FABB9FF17C0EF61F06517469E7802739AFC8D
FILE: 1.13. Alan Stivell,Donal Lunny - Son Ar Chistr - My cheers To You !.flac
Size: 31451496 Hash: 448BDCB0E64A8AC6B41B7D3316C0D3BD Accuracy: -m8
Conclusion: CDDA 100%
Signature: 4C182C1C36E6F14AEAA2D108CCEC2B0EFFE749F5
FILE: 1.12. Alan Stivell,Angelo Branduardi,Vincenzo Zitello - Breselien • Brocéliande.flac
Size: 30650180 Hash: 85DBB47644044D6FD9379DA04909AA17 Accuracy: -m8
Conclusion: CDDA 100%
Signature: 6380198887B13AFEFB9AE50A5FC43A5545514B14
FILE: 1.11. Alan Stivell,Murray Head,Robert Le Gall - Reflets, Adskedoù, Reflections.flac
Size: 32171252 Hash: E396E06301BD94CCD2060B4B8FBCB934 Accuracy: -m8
Conclusion: MPEG 95%
Signature: 6810247FF315B6E3F6E6400A3F22EB52C6584E68
FILE: 1.10. Alan Stivell - MJ a Garan [50 Bloaz].flac
Size: 23792824 Hash: A6422B0D0C82E9FC4A8FA051C566738F Accuracy: -m8
Conclusion: CDDA 100%
Signature: E3026A9B77E1FE585F060D00F5DC4EC0B2B541C8
FILE: 1.09. Alan Stivell,Claude Lemesle - Printemps Automne Autant [as a haiku].flac
Size: 1456768 Hash: 3149F091905CCEFA716D4BCD97741300 Accuracy: -m8
Conclusion: CDDA 100%
Signature: 3A30A526C7189CA91B6BB271B64BDE69FE99962C
FILE: 1.08. Alan Stivell,Bob Geldof - Brezhoneg 'Raok [new'].flac
Size: 27028749 Hash: 6477DBCAADBB0A049FDE880B1008902E Accuracy: -m8
Conclusion: CDDA 100%
Signature: 6278BD0DC36EFF94CC8D26E73B2F09BF9189066E
FILE: 1.07. Alan Stivell,Bob Geldof - BZHg [self-remix - emadvesk].flac
Size: 14375056 Hash: 5AB61CDDE70641759A4316B125EEC249 Accuracy: -m8
Conclusion: CDDA 99%
Signature: BB6FB18F61E00C3B91031D881059E3C552C96DC9
FILE: 1.06. Alan Stivell,Andrea Corr,Ochestre Symphonique de Bretagne - A Hed An Nos [All Through The Night].flac
Size: 25570615 Hash: F51DF5A44AF39E6EFA6A995F6B7E6419 Accuracy: -m8
Conclusion: CDDA 100%
Signature: 8BA3EDA51B2409ABA3F3076F0219DA8CEF71B45D
FILE: 1.05. Alan Stivell,Andrea Corr,Orchestre symphonique de Bretagne - Aardaigh Cuan.flac
Size: 30848940 Hash: 0C005D8DB79FA42EC3629DB29518F23A Accuracy: -m8
Conclusion: CDDA 100%
Signature: ACA765FA54E364E95F92E4624E5C3839D864DDE6
FILE: 1.04. Alan Stivell,Francis Cabrel,Claude Sicre,Léa Antona,Orchestre symphonique de Bretagne - Com Una Gran Orquestra • Ideas.flac
Size: 28521789 Hash: F705C448D30B3C45BA6A07C4447D5E4F Accuracy: -m8
Conclusion: CDDA 99%
Signature: 8F4D9509A54242A337178DB75813F68D830466AC
FILE: 1.03. Alan Stivell,Bob Geldof - DEN II [Simply Human].flac
Size: 19493303 Hash: FB0C0226C0BE0D80930CE43103132C1F Accuracy: -m8
Conclusion: CDDA 100%
Signature: 87DA512A5654786C6AAE575B716C43AE77349582
FILE: 1.02. Alan Stivell,FATOUMATA DIAWARA - DEN I [Mogo].flac
Size: 26477802 Hash: 3BB7A97E2D40784B7E94A02BB69338D6 Accuracy: -m8
Conclusion: CDDA 100%
Signature: 95D2687500EA2A2DB38A347785266B8D71ED13A2
FILE: 1.01. Alan Stivell - Setu • 52 bloaz [audio-préface - medley].flac
Size: 14917933 Hash: 17A73182FD30BA5CD82BFD985483EA33 Accuracy: -m8
Conclusion: CDDA 100%
Signature: AD94219D54128BE2E5E4439FF707959AFEC02AFC