Electric Light Orchestra - Live At Wembley '78 (1998)
EAC | Flac(Image) + Cue + Log & MP3 CBR 320Kbps
Eagle Records, EAMCD039 | ~ 468 or 137 Mb | Artwork(jpg) -> 9.61 Mb
Progressive Rock, Art Rock
Live at Wembley '78 is a live recording by Electric Light Orchestra (ELO). The sound on this album has led to accusations of the band Lip synching, as did the earlier video from which this CD was taken. However it has come to light that the sound used on the television broadcast of the Out of the Blue Concert in 1978 was a poorly mixed effort in mono sound that used a lot of the backing tapes that were used admittedly by the band due to sound problems caused by the huge metal and fibreglass stage set. The tapes were for the band's ears only, to help them keep time and should not have been heard by the audience.
Electric Light Orchestra - Live At Wembley '78 (1998):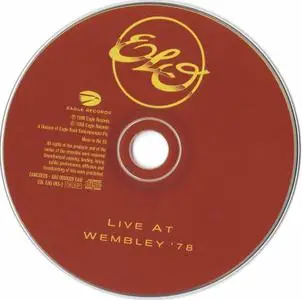 Tracklist:
01. Introduction - Tony Curtis (02:48)
02. Standin' In The Rain (03:35)
03. Night In The City (03:53)
04. Turn To Stone (03:52)
05. Tightrope (04:35)
06. Telephone Line (04:18)
07. Rockaria! (02:52)
08. Wild West Hero (03:10)
09. Showdown (03:13)
10. (1 Minute Talk) (00:54)
11. Sweet Talkin' Woman (03:52)
12. Mr. Blue Sky (03:39)
13. Do Ya (04:46)
14. Livin' Thing (03:57)
15. Roll Over Beethoven (08:35)
• Jeff Lynne - Vocals, Guitar
• Bev Bevan - Drums
• Richard Tandy - Keyboards
• Kelly Groucutt - Bass, Vocals
• Mik Kaminski - Violin
• Hugh McDowell - Cello
• Melvyn Gale - Cello
• Jake Commander - Backing vocals, acoustic guitar
Exact Audio Copy V0.99 prebeta 4 from 23. January 2008

Отчёт EAC об извлечении, выполненном 27. ноября 2010, 18:07

Electric Light Orchestra / Live At Wembley

Дисковод: HL-DT-STDVDRAM GSA-E40N Adapter: 2 ID: 0

Режим чтения : Достоверность
Использование точного потока : Да
Отключение кэша аудио : Да
Использование указателей C2 : Нет

Коррекция смещения при чтении : 667
Способность читать области Lead-in и Lead-out : Нет
Заполнение пропущенных сэмплов тишиной : Да
Удаление блоков с тишиной в начале и конце : Нет
При вычислениях CRC использовались нулевые сэмплы : Да
Интерфейс : Встроенный Win32-интерфейс для Win NT/2000
Обработка зазоров : Добавлено к предыдущему треку

Выходной формат : Пользовательский кодировщик
Выбранный битрейт : 128 kBit/s
Качество : Высокий
Добавление ID3-тэга : Нет
Утилита сжатия : C:\Program Files\Exact Audio Copy\FLAC\FLAC.EXE
Дополнительные параметры : -6 -V -T "ARTIST=%a" -T "TITLE=%t" -T "ALBUM=%g" -T "DATE=%y" -T "TRACKNUMBER=%n" -T "GENRE=%m" -T "COMMENT=%e" %s -o %d


TOC извлечённого CD

Трек | Старт | Длительность | Начальный сектор | Конечный сектор
––––––––––––––––––––––––––––––––––-
1 | 0:00.00 | 2:48.52 | 0 | 12651
2 | 2:48.52 | 3:35.15 | 12652 | 28791
3 | 6:23.67 | 3:53.32 | 28792 | 46298
4 | 10:17.24 | 3:52.49 | 46299 | 63747
5 | 14:09.73 | 4:35.30 | 63748 | 84402
6 | 18:45.28 | 4:18.67 | 84403 | 103819
7 | 23:04.20 | 2:52.47 | 103820 | 116766
8 | 25:56.67 | 3:09.71 | 116767 | 131012
9 | 29:06.63 | 3:13.49 | 131013 | 145536
10 | 32:20.37 | 0:54.52 | 145537 | 149638
11 | 33:15.14 | 3:52.65 | 149639 | 167103
12 | 37:08.04 | 3:39.16 | 167104 | 183544
13 | 40:47.20 | 4:46.28 | 183545 | 205022
14 | 45:33.48 | 3:57.13 | 205023 | 222810
15 | 49:30.61 | 8:35.52 | 222811 | 261487


Трек 1

Имя файла G:\ELO - All Live lossless\1978 - Live At Wembley\01 - Introduction Tony Curtis.wav

Длина предзазора 0:00:02.00

Пиковый уровень 99.0 %
Качество трека 99.9 %
CRC теста 1D463CF7
CRC копии 1D463CF7
Копирование… OK

Трек 2

Имя файла G:\ELO - All Live lossless\1978 - Live At Wembley\02 - Standin' In The Rain.wav

Пиковый уровень 100.0 %
Качество трека 99.9 %
CRC теста 590D3F85
CRC копии 590D3F85
Копирование… OK

Трек 3

Имя файла G:\ELO - All Live lossless\1978 - Live At Wembley\03 - Night In The City.wav

Пиковый уровень 97.0 %
Качество трека 99.9 %
CRC теста DBDE71EE
CRC копии DBDE71EE
Копирование… OK

Трек 4

Имя файла G:\ELO - All Live lossless\1978 - Live At Wembley\04 - Turn To Stone.wav

Пиковый уровень 98.0 %
Качество трека 100.0 %
CRC теста 6FF55F0A
CRC копии 6FF55F0A
Копирование… OK

Трек 5

Имя файла G:\ELO - All Live lossless\1978 - Live At Wembley\05 - Tightrope.wav

Пиковый уровень 100.0 %
Качество трека 100.0 %
CRC теста 53CE0A04
CRC копии 53CE0A04
Копирование… OK

Трек 6

Имя файла G:\ELO - All Live lossless\1978 - Live At Wembley\06 - Telephone Line.wav

Пиковый уровень 96.0 %
Качество трека 100.0 %
CRC теста 2DE400DE
CRC копии 2DE400DE
Копирование… OK

Трек 7

Имя файла G:\ELO - All Live lossless\1978 - Live At Wembley\07 - Rockaria.wav

Пиковый уровень 97.0 %
Качество трека 100.0 %
CRC теста 4B153E80
CRC копии 4B153E80
Копирование… OK

Трек 8

Имя файла G:\ELO - All Live lossless\1978 - Live At Wembley\08 - Wild West Hero.wav

Пиковый уровень 99.0 %
Качество трека 99.9 %
CRC теста D3F95CE1
CRC копии D3F95CE1
Копирование… OK

Трек 9

Имя файла G:\ELO - All Live lossless\1978 - Live At Wembley\09 - Showdown.wav

Пиковый уровень 100.0 %
Качество трека 100.0 %
CRC теста 246A4A02
CRC копии 246A4A02
Копирование… OK

Трек 10

Имя файла G:\ELO - All Live lossless\1978 - Live At Wembley\10 - (1 Minute Talk).wav

Пиковый уровень 96.0 %
Качество трека 100.0 %
CRC теста B2F472C5
CRC копии B2F472C5
Копирование… OK

Трек 11

Имя файла G:\ELO - All Live lossless\1978 - Live At Wembley\11 - Sweet Talkin' Woman.wav

Пиковый уровень 98.0 %
Качество трека 100.0 %
CRC теста AAF20019
CRC копии AAF20019
Копирование… OK

Трек 12

Имя файла G:\ELO - All Live lossless\1978 - Live At Wembley\12 - Mr. Blue Sky.wav

Пиковый уровень 100.0 %
Качество трека 100.0 %
CRC теста 3386EDAF
CRC копии 3386EDAF
Копирование… OK

Трек 13

Имя файла G:\ELO - All Live lossless\1978 - Live At Wembley\13 - Do Ya.wav

Пиковый уровень 99.0 %
Качество трека 100.0 %
CRC теста 65D10799
CRC копии 65D10799
Копирование… OK

Трек 14

Имя файла G:\ELO - All Live lossless\1978 - Live At Wembley\14 - Livin' Thing.wav

Пиковый уровень 100.0 %
Качество трека 100.0 %
CRC теста 63C8D439
CRC копии 63C8D439
Копирование… OK

Трек 15

Имя файла G:\ELO - All Live lossless\1978 - Live At Wembley\15 - Roll Over Beethoven.wav

Пиковый уровень 100.0 %
Качество трека 100.0 %
CRC теста 06D94F6C
CRC копии 06D94F6C
Копирование… OK

Ошибок не произошло

Конец отчёта


[CUETools log; Date: 09.09.2020 12:40:32; Version: 2.1.4]
[AccurateRip ID: 001d5651-014d6baf-e50d9e0f] disk not present in database.

Track Peak [ CRC32 ] [W/O NULL] [ LOG ]
– 100,0 [50C8EF5F] [5F1BA3FE]
01 100,0 [1D463CF7] [39AE2413] CRC32
02 100,0 [590D3F85] [28B9BB05] CRC32
03 100,0 [DBDE71EE] [CBF3A99F] CRC32
04 100,0 [6FF55F0A] [4B57E5DA] CRC32
05 100,0 [53CE0A04] [B5661C0E] CRC32
06 100,0 [2DE400DE] [AACD612A] CRC32
07 100,0 [4B153E80] [569ACEA1] CRC32
08 100,0 [D3F95CE1] [7681DDC0] CRC32
09 100,0 [246A4A02] [6FA2C9EF] CRC32
10 100,0 [B2F472C5] [974346BF] CRC32
11 100,0 [AAF20019] [4127A6B1] CRC32
12 100,0 [3386EDAF] [9E4A3C9C] CRC32
13 100,0 [65D10799] [237882BC] CRC32
14 100,0 [63C8D439] [FC14C0AF] CRC32
15 100,0 [06D94F6C] [2F348783] CRC32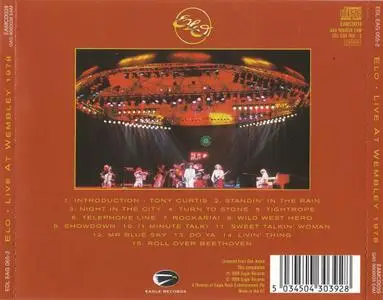 All thanks go to the original releaser