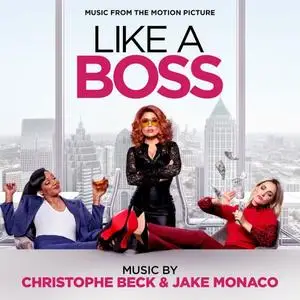 Christophe Beck - Like a Boss (2020)
FLAC tracks | 32:04 | 150 Mb
Genre: Soundtrack / Label: Paramount Music
Canadian composer Christophe Beck started piano lessons at five, and by eleven he was learning Bee Gees songs by ear and performing with his first-ever band, the unfortunately-named Chris and The Cupcakes. During high school he studied piano, saxophone, and drums, and wrote many tender 80's love ballads.While studying music at Yale, Beck wrote two musicals with his brother Jason (a.k.a. Gonzales, the Paris-based pianist-producer-TV Host-prankster), as well as an opera based on "The Tell-Tale Heart" by Edgar Allen Poe.
Track List:
01. Christophe Beck; Jake Monaco - Waking Up (0:57)
02. Christophe Beck; Jake Monaco - How's Business (1:02)
03. Christophe Beck; Jake Monaco - Stoner Baby (2:12)
04. Christophe Beck; Jake Monaco - You Have to Go (1:20)
05. Christophe Beck; Jake Monaco - Claire Luna is Fierce-T (1:48)
06. Christophe Beck; Jake Monaco - Elevator Plot (0:51)
07. Christophe Beck; Jake Monaco - Future Millionaire (1:24)
08. Christophe Beck; Jake Monaco - Ride or Die (2:41)
09. Christophe Beck; Jake Monaco - Drive to Cooking Party (0:35)
10. Christophe Beck; Jake Monaco - Ghost Pepper Attack (1:41)
11. Christophe Beck; Jake Monaco - Heal This Booty Hole and the Angry Carrot (1:46)
12. Christophe Beck; Jake Monaco - Good News, Bad News, Name Calling (1:13)
13. Christophe Beck; Jake Monaco - Escalatoré (1:13)
14. Christophe Beck; Jake Monaco - Balcony Hijinx (1:23)
15. Christophe Beck; Jake Monaco - Window Breaker (1:26)
16. Christophe Beck; Jake Monaco - Beauty and Bubbles / Mia Quits (4:34)
17. Christophe Beck; Jake Monaco - Like a Sister (1:26)
18. Christophe Beck; Jake Monaco - Toothpaste Sisters (0:45)
19. Christophe Beck; Jake Monaco - Reconciliation (1:33)
20. Christophe Beck; Jake Monaco - Presentation Video (1:35)
21. Christophe Beck; Jake Monaco - Not for Oviedo (0:39)
ANALYZER: auCDtect: CD records authenticity detector, version 0.8.2
Copyright © 2004 Oleg Berngardt. All rights reserved.
Copyright © 2004 Alexander Djourik. All rights reserved.


FILE: 01 - Waking Up.flac
Size: 5458298 Hash: CB86F068616A144FC320941DCCDF69F6 Accuracy: -m40
Conclusion: CDDA 99%
Signature: CCD21EF5163F881D94BD178F0E6D63CAD37F6216
FILE: 02 - How's Business.flac
Size: 5048222 Hash: 2401BE181F2F108B974E938CEBF7FC54 Accuracy: -m40
Conclusion: CDDA 100%
Signature: 337E5E493E894554F2703426921BF4338D420431
FILE: 03 - Stoner Baby.flac
Size: 11950546 Hash: 9B18A06C710927C190D851BF609DC679 Accuracy: -m40
Conclusion: CDDA 100%
Signature: 0E0D267277ED8491A3D86959B459A84A948C74B0
FILE: 04 - You Have to Go.flac
Size: 5825823 Hash: DD11CA34B3C1F666DE0CCA1711B04FAB Accuracy: -m40
Conclusion: CDDA 100%
Signature: 48224796AD29EE5A85BEA8B1EA914100501E4DC8
FILE: 05 - Claire Luna is Fierce-T.flac
Size: 8635665 Hash: 864922EA4C245962581CB24CF88EBA4C Accuracy: -m40
Conclusion: CDDA 100%
Signature: B9B419DCC9072C1ECE59DF8A4A13A51159CF3D8D
FILE: 06 - Elevator Plot.flac
Size: 3773052 Hash: A9C491850CB6D8D974484AF5DB361982 Accuracy: -m40
Conclusion: CDDA 99%
Signature: 282A1C0A25163B737C722B2DC640011370919432
FILE: 07 - Future Millionaire.flac
Size: 5683358 Hash: E8C373A5510B03EC7F3C0C0ECC1732F5 Accuracy: -m40
Conclusion: CDDA 100%
Signature: 1F555EE4A07F0BA0E389E3CEE290D30EF3914D51
FILE: 08 - Ride or Die.flac
Size: 11180048 Hash: 72DEDB0DA9105B1CE15896CEA1DD692A Accuracy: -m40
Conclusion: CDDA 100%
Signature: D0CC596AB79B9F09E9A6FD95B7F04E459F3CF21D
FILE: 09 - Drive to Cooking Party.flac
Size: 3422449 Hash: 62C63968AA1CFA4EEB994EB23712AB4B Accuracy: -m40
Conclusion: CDDA 100%
Signature: 8BB608E87FDDE318BB1FAD666C5484D71F194EE3
FILE: 10 - Ghost Pepper Attack.flac
Size: 9486027 Hash: 34DDBC817CB54BDC660852B1CFE4E218 Accuracy: -m40
Conclusion: CDDA 100%
Signature: 613FC2B30ED84B3ADE2078F117315390BBBE4CFE
FILE: 11 - Heal This Booty Hole and the Angry Carrot.flac
Size: 7970446 Hash: 07ACECFDF0FE7E389E6B31DBF8664D42 Accuracy: -m40
Conclusion: CDDA 100%
Signature: 070A383AD825C78F6C883257323EA1F183D63063
FILE: 12 - Good News, Bad News, Name Calling.flac
Size: 6975904 Hash: B6E4011D09A25664778246DA1467CD4A Accuracy: -m40
Conclusion: CDDA 99%
Signature: C2159E49DA77C3E3EE18DEC976BF6DBDCFA6080E
FILE: 13 - Escalatoré.flac
Size: 7810190 Hash: FF69634B31C5E39BB276B2FDCE2F9308 Accuracy: -m40
Conclusion: CDDA 100%
Signature: 1665EFDA98F97B9B88D2DB8465A7F5CDA5554376
FILE: 14 - Balcony Hijinx.flac
Size: 8335728 Hash: 78BFC13F91EE5CF1EC8C9FEA702D5EDE Accuracy: -m40
Conclusion: CDDA 100%
Signature: B9286253E4369BAE0197D08A4F1F3B1B15F88B52
FILE: 15 - Window Breaker.flac
Size: 5553426 Hash: D6F0EE58601CF3F136BA9C4C23473C40 Accuracy: -m40
Conclusion: CDDA 100%
Signature: 523812301DDF4E7496B7BCFA4761558200DC41E7
FILE: 16 - Beauty and Bubbles - Mia Quits.flac
Size: 20930969 Hash: D55DB8E3AD398954C5AB370B17B7D657 Accuracy: -m40
Conclusion: CDDA 100%
Signature: DBAC34778C617A21905167BF009054651040D8DD
FILE: 17 - Like a Sister.flac
Size: 6222793 Hash: CFF1B921FA2409008BC9DA16DFC6DB80 Accuracy: -m40
Conclusion: CDDA 100%
Signature: F6D56433A34AD51E731306972D196C482FA22D50
FILE: 18 - Toothpaste Sisters.flac
Size: 2419259 Hash: C7732DD67039585C07CC0B1FD4A65B0A Accuracy: -m40
Conclusion: CDDA 100%
Signature: 8534C95A566479A89C47E1A730664A84C9257A62
FILE: 19 - Reconciliation.flac
Size: 7798760 Hash: CA5D863D9104F29E2A668C2F8E990395 Accuracy: -m40
Conclusion: CDDA 99%
Signature: B95397C790A6D314563A54FF758EEF1D1AA82D9D
FILE: 20 - Presentation Video.flac
Size: 9999917 Hash: E8A24DB97A95E9D1FCECE6A444187C62 Accuracy: -m40
Conclusion: CDDA 100%
Signature: 15A160D587933D30C10AA95C0336B6565FEFDFE1
FILE: 21 - Not for Oviedo.flac
Size: 3673626 Hash: E33DD6AD9771050DC3B71B9BBA0A68D9 Accuracy: -m40
Conclusion: CDDA 100%
Signature: 39BA1213320C71574A2B065B45A2FFF41E9C12AC