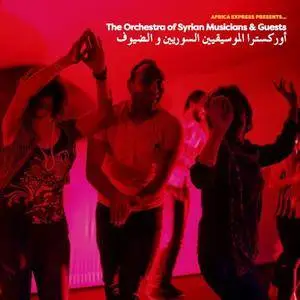 The Orchestra of Syrian Musicians & Guests - Africa Express Presents Orch of Syrian Musicians (2016)
World, Ethnic | MP3 CBR 320 kbps | 01:21:20 | 187 MB
Label: Transgressive Records
Following a series of acclaimed dates in the UK and Europe this summer, Africa Express today announces the release of a live album entitled Africa Express Presents 8230; The Orchestra of Syrian Musicians & Guests, which will be released on 9th December 2016 by Transgressive Records. The recordings were made in June when The Orchestra of Syrian Musicians, featuring current and former members of the Syrian National Orchestra for Arabic Music, came together for the first time since the conflict in their country flared up five years ago. They were joined by artists from Britain, Syria, Algeria, Lebanon, Mali, Mauritania, Senegal, Turkey, Tunisia and the United States including Bashy, Bassekou Kouyaté, Bu Kolthoum, Damon Albarn, Eslam Jawaad, Faia Younan, Julia Holter, Malikah, Mounir Troudi, Noura Mint Seymali, Paul Weller, Rachid Taha and Seckou Keita. The joyous and uplifting album showcases Syrian and Arabic music, alongside unique interpretations of some well-known Western songs. It features tracks recorded live at Southbank Centre's Royal Festival Hall - a show described in a 5 star review by the Evening Standard as "an epic paean to their lost homeland"- as well as songs from the storming opening slot on Glastonbury's Pyramid Stage and the Holland Festival in Amsterdam, Istanbul Jazz Festival and Roskilde Festival in Denmark. All profits will go to the 50 members of The Orchestra of Syrian Musicians.
Tracklist:
01. The Orchestra of Syrian Musicians – Intro (3:17)
02. The Orchestra of Syrian Musicians – 3azely (4:29)
03. Paul Weller – Wild Wood (4:06)
04. Faia Younan – Yah Mahla El Fus'ha (4:12)
05. Damon Albarn – Out of Time (3:59)
06. Mounir Troudi – Rakeb 3al Hamra (6:16)
07. Julia Holter – Feel You (3:44)
08. The Orchestra of Syrian Musicians feat. Bassekou Kouyate & Seckou Keita – Al Ajaleh (13:46)
09. The Orchestra of Syrian Musicians – Blackbird (3:10)
10. The Orchestra of Syrian Musicians – Old Damascus (5:57)
11. Noura Mint Seymali – Richa (5:55)
12. Damon Albarn feat. Eslam Jawaad, Malikah, Ceza & Bu Kolthoum – White Flag (5:40)
13. Rachid Taha – Ya Rayeh (7:01)
14. The Orchestra of Syrian Musicians – Oghneyat Men Baladi (9:58)