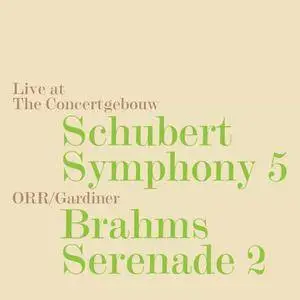 Orchestre Révolutionnaire et Romantique & John Eliot Gardiner - Schubert: Symphony No. 5, D. 485 - Brahms: Serenade No. 2, Op. 16 (Live) (2018)
WEB FLAC (tracks) - 259 Mb | MP3 CBR 320 kbps - 137 Mb | 00:59:44
Classical | Label: Soli Deo Gloria
Sir John Eliot Gardiner leads the Orchestre Révolutionnaire et Romantique in performances of Schubert's Symphony No. 5 in B-flat Major D.485 and Brahms's Serenade No. 2 in A Major, Op. 16 recorded live in concert at The Concertgebouw, Amsterdam. In Serenade No.2 a 20-year-old Brahms chooses to omit violins, creating an unusually dark sound, while the lively style of Schuberts Symphony No.5 seems to reflect the composers youthful exuberance.
Tracklist:
Symphony No. 5 in B-Flat Major, D. 485 By Franz Schubert
I. Allegro (Live)
II. Andante con moto (Live)
III. Menuetto. Allegro molto (Live)
IV. Allegro vivace (Live)
Serenade No. 2 in A Major, Op. 16 By Johannes Brahms
I. Allegro moderato (Live)
II. Scherzo. Vivace (Live)
III. Adagio non troppo (Live)
IV. Quasi menuetto (Live)
V. Rondo. Allegro (Live)
–––––––––––-

DON'T MODIFY THIS FILE

–––––––––––-

PERFORMER: auCDtect Task Manager, ver. 1.6.0 RC1 build 1.6.0.1
Copyright © 2008-2010 y-soft. All rights reserved

ANALYZER: auCDtect: CD records authenticity detector, version 0.8.2
Copyright © 2004 Oleg Berngardt. All rights reserved.
Copyright © 2004 Alexander Djourik. All rights reserved.


FILE: 9 - Orchestre Révolutionnaire et Romantique - Serenade No. 2 in A Major, Op. 16_ V. Rondo. Allegro (Live).flac
Size: 29984958 Hash: 6CF954BECE73A5E438EF1629143E8887 Accuracy: -m0
Conclusion: CDDA 99%
Signature: 039B8DF2A054D36B18C343E48165F43BD1B2FB43
FILE: 8 - Orchestre Révolutionnaire et Romantique - Serenade No. 2 in A Major, Op. 16_ IV. Quasi menuetto (Live).flac
Size: 16785593 Hash: AA6E17AB3AB33CA9AF109BB5BAF45863 Accuracy: -m0
Conclusion: CDDA 99%
Signature: 9A431B69D1CF42505EB01A5D5ECAF84DA5926F8E
FILE: 7 - Orchestre Révolutionnaire et Romantique - Serenade No. 2 in A Major, Op. 16_ III. Adagio non troppo (Live).flac
Size: 34413692 Hash: 9CB2E0D3F6239D520D40E0128CF717C0 Accuracy: -m0
Conclusion: CDDA 100%
Signature: 30BECFB214B838A072ED05E20949A7A777D23A2F
FILE: 6 - Orchestre Révolutionnaire et Romantique - Serenade No. 2 in A Major, Op. 16_ II. Scherzo. Vivace (Live).flac
Size: 12318390 Hash: AAB8B61D0B7317237BB53820137CD2FB Accuracy: -m0
Conclusion: CDDA 100%
Signature: 5BABC3940567DF57C1ADD023CC757F1674F6DB6A
FILE: 5 - Orchestre Révolutionnaire et Romantique - Serenade No. 2 in A Major, Op. 16_ I. Allegro moderato (Live).flac
Size: 37985278 Hash: 716FC3AF331BC9097A897285F84B9795 Accuracy: -m0
Conclusion: CDDA 100%
Signature: 43BB909BA4560849C816205981C462F55668286E
FILE: 4 - Orchestre Révolutionnaire et Romantique - Symphony No. 5 in B-Flat Major, D. 485_ IV. Allegro vivace (Live).flac
Size: 36866592 Hash: DFD074E5A86D231FEF233CDD3C0AA810 Accuracy: -m0
Conclusion: CDDA 100%
Signature: 18C03A60FA5053F6017EFC802E44A7563C5E4628
FILE: 3 - Orchestre Révolutionnaire et Romantique - Symphony No. 5 in B-Flat Major, D. 485_ III. Menuetto. Allegro molto (Live).flac
Size: 23562001 Hash: 825B77B7425D0F5DD93F720901E0327A Accuracy: -m0
Conclusion: CDDA 99%
Signature: 6FF052292952FDF4B563439E3B4FAE6DBF8B4651
FILE: 2 - Orchestre Révolutionnaire et Romantique - Symphony No. 5 in B-Flat Major, D. 485_ II. Andante con moto (Live).flac
Size: 44231588 Hash: 371523AF8D17C4CB3F0579073957D4E8 Accuracy: -m0
Conclusion: CDDA 100%
Signature: 2F8F94A197712CF863660764F5E8B6B41F711B87
FILE: 1 - Orchestre Révolutionnaire et Romantique - Symphony No. 5 in B-Flat Major, D. 485_ I. Allegro (Live).flac
Size: 35611917 Hash: 3230EBA223478E4E5A915BA1CADD8564 Accuracy: -m0
Conclusion: CDDA 100%
Signature: 52E5EA4F08CB12DDFE4FAFBD88EABDEBEB1F90F4