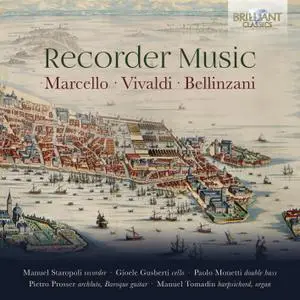 Manuel Tomadin, Gioele Gusberti, Paolo Monetti, Manuel Staropoli & Pietro Prosser - Marcello, Vivaldi & Bellinzani: Recorder Music (2019)
WEB FLAC (tracks) - 365 Mb | MP3 CBR 320 kbps - 171 Mb | Digital booklet | 01:12:50
Classical | Label: Brilliant Classics
18th-century Venetian sonatas for flute and recorder in opulently scored, historically informed performances.

Venice supported a healthy industry of both recorder manufacture and music for the instrument during the 18th century. Benedetto Marcello and the lesser-known Paolo Benedetto Bellinzani (1686 -1757) both composed stylish collections of sonatas for the Baroque flute which are excerpted here, interpolated with the arrangement of a concerto by Vivaldi, drawn from his 'L'estro armonico' collection and originally scored for two violins and orchestra.

The collections by Bellinzani and Marcello were among the first such dedicated to the recorder to be published in Italy; each sonata within them follows a Corellian template of four brief movements alternating slow and fast tempi, lively in spirit whatever the speed. The works by Bellinzani make an especially attractive discovery: In their day his compositions enjoyed great popularity, for their unusual combination of learned counterpoint and sensitively moulded melody.

This album marks Manuel Staropoli's third album for Brillliant Classics, after well-received collections of Vivaldi trio sonatas (BC94173) and the complete royal consort music written by Robert de Visée (BC95595). Having studied with luminaries of his instrument such as Bartold Kuijken and Dan Laurin, he is now a professor of Baroque flute himself at the Tartini Conservatoire in Triste.

Staropoli is joined here not by a conventional harpsichord accompaniment but a lavishly appointed basso continuo section, whose members are also established members of Italy's flourishing period-instrument scene. Manuel Tomadin's fine musicianship may be sampled on several previous Brilliant Classics releases such as the organ music of Krebs (BC95363), Lübeck (BC95453) and Erich, Druckenmüller and Saxer, reviewed in glowing terms by MusicWeb International: 'Tomadin is an excellent interpreter, who has much feeling for German Baroque organ music. He has made several fine recordings for Brilliant Classics, and this is another jewel in his crown.'

The recorder has a long history that closely links it to Venice. Since the dawn of instrumental music, this instrument reveals remarkable success due to its simplicity, but also versatility in imitating the human voice.

This new recording presents Sonatas for the recorder by Venetian composers: Benedetto Marcello, Paolo Bellinzani and Antonio Vivaldi, music of great beauty and radiance, like the city it was born in, Venice, La Serenissima.

Played by excellent Italian soloists: Manuel Staropoli as recorder soloist and a continuo group led by keyboard player Manuel Tomadin.
Tracklist:
01. Sonata No. 12 in F Major: I. Adagio
02. Sonata No. 12 in F Major: II. Minuet. Allegro
03. Sonata No. 12 in F Major: III. Gavotta. Allegro
04. Sonata No. 12 in F Major: IV. Largo
05. Sonata No. 12 in F Major: V. Ciaccona. Allegro
06. Sonata No. 7 in G Minor: I. Largo
07. Sonata No. 7 in G Minor: II. Presto
08. Sonata No. 7 in G Minor: III. Largo
09. Sonata No. 7 in G Minor: IV. Giga
10. Sonata No. 6 in G Major: I. Adagio
11. Sonata No. 6 in G Major: II. Allegro
12. Sonata No. 6 in G Major: III. Adagio
13. Sonata No. 6 in G Major: IV. A tempo giusto vivace
14. Concerto in D Minor, RV 565: I. Allegro
15. Concerto in D Minor, RV 565: II. Largo
16. Concerto in D Minor, RV 565: III. Allegro
17. Sonata No. 10 in F Major: I. Adaggio
18. Sonata No. 10 in F Major: II. Presto
19. Sonata No. 10 in F Major: III. Adaggio
20. Sonata No. 10 in F Major: IV. Gavotta
21. Sonata No. 8 in D Minor: I. Adagio
22. Sonata No. 8 in D Minor: II. Allegro
23. Sonata No. 8 in D Minor: III. Largo
24. Sonata No. 8 in D Minor: IV. Allegro
25. Sonata No. 12 in D Minor: I. Largo
26. Sonata No. 12 in D Minor: II. Allegro
27. Sonata No. 12 in D Minor: III. Cembalo
28. Sonata No. 12 in D Minor: IV. Follia
–––––––––––-

DON'T MODIFY THIS FILE

–––––––––––-

PERFORMER: auCDtect Task Manager, ver. 1.6.0 RC1 build 1.6.0.1
Copyright © 2008-2010 y-soft. All rights reserved

ANALYZER: auCDtect: CD records authenticity detector, version 0.8.2
Copyright © 2004 Oleg Berngardt. All rights reserved.
Copyright © 2004 Alexander Djourik. All rights reserved.


FILE: 28 - Manuel Tomadin, Gioele Gusberti, Paolo Monetti, Manuel Staropoli & Pietro Prosser - Sonata No. 12 in D Minor- IV. Follia.flac
Size: 41827508 Hash: 7C7EA91628709B1A174A215E19116DF3 Accuracy: -m8
Conclusion: CDDA 100%
Signature: 665777A10CF0F6E875CD5F604B000EE66811033B
FILE: 27 - Manuel Tomadin, Gioele Gusberti, Paolo Monetti, Manuel Staropoli & Pietro Prosser - Sonata No. 12 in D Minor- III. Cembalo.flac
Size: 7909032 Hash: 5A2C42F7DE5A0DF88A4CF52BABB02286 Accuracy: -m8
Conclusion: CDDA 43%
Signature: 927C08722B00F7E97D97AFA8A487C03AF9AC9DAD
FILE: 26 - Manuel Tomadin, Gioele Gusberti, Paolo Monetti, Manuel Staropoli & Pietro Prosser - Sonata No. 12 in D Minor- II. Allegro.flac
Size: 11278424 Hash: 122ADECED20419853FB30A9AB0C81849 Accuracy: -m8
Conclusion: CDDA 100%
Signature: 9CC35E86B8DC6542D0B633D8E5E959A6DE5F7E08
FILE: 25 - Manuel Tomadin, Gioele Gusberti, Paolo Monetti, Manuel Staropoli & Pietro Prosser - Sonata No. 12 in D Minor- I. Largo.flac
Size: 9530669 Hash: 7352C41BCAFBCFEE87AFB94B299E160B Accuracy: -m8
Conclusion: CDDA 100%
Signature: 911511EC4D2A769A8C5FD1D578A9BFF86EF7ED1F
FILE: 24 - Manuel Tomadin, Gioele Gusberti, Paolo Monetti, Manuel Staropoli & Pietro Prosser - Sonata No. 8 in D Minor- IV. Allegro.flac
Size: 22525162 Hash: 1DAA0C75AD96155804B202F555A0F9B0 Accuracy: -m8
Conclusion: CDDA 99%
Signature: 23EAE5025DE5EFE1D82D89FC3F8255BE091B1683
FILE: 23 - Manuel Tomadin, Gioele Gusberti, Paolo Monetti, Manuel Staropoli & Pietro Prosser - Sonata No. 8 in D Minor- III. Largo.flac
Size: 9061868 Hash: CF1F001012DF0602E456F0E6099402F2 Accuracy: -m8
Conclusion: CDDA 100%
Signature: 5DCFA162F1F41397886787D88A2F2B55F8194B66
FILE: 22 - Manuel Tomadin, Gioele Gusberti, Paolo Monetti, Manuel Staropoli & Pietro Prosser - Sonata No. 8 in D Minor- II. Allegro.flac
Size: 14968800 Hash: 454ECA30022276656F71C590375417A9 Accuracy: -m8
Conclusion: CDDA 58%
Signature: 890996720AB7B72B6C226A861995DA112B84B4D6
FILE: 21 - Manuel Tomadin, Gioele Gusberti, Paolo Monetti, Manuel Staropoli & Pietro Prosser - Sonata No. 8 in D Minor- I. Adagio.flac
Size: 18540492 Hash: 8A2E0330D94FB9AFEF310A770106E63B Accuracy: -m8
Conclusion: CDDA 94%
Signature: F3A9C67F306D1935CE6A6CDE77DA43CD96688A8C
FILE: 20 - Manuel Tomadin, Gioele Gusberti, Paolo Monetti, Manuel Staropoli & Pietro Prosser - Sonata No. 10 in F Major- IV. Gavotta.flac
Size: 8247825 Hash: 54D21A883C19B4883D381783D077F938 Accuracy: -m8
Conclusion: CDDA 99%
Signature: A59A142D4F2B19A1F3A8A7DC3F2366449F23DB3E
FILE: 19 - Manuel Tomadin, Gioele Gusberti, Paolo Monetti, Manuel Staropoli & Pietro Prosser - Sonata No. 10 in F Major- III. Adaggio.flac
Size: 4960368 Hash: EFD49F850C536B10DA66B76A1B5DF677 Accuracy: -m8
Conclusion: CDDA 99%
Signature: 2DB0B99F34E23F0A39D9EE3E77DA8FA368C589D3
FILE: 18 - Manuel Tomadin, Gioele Gusberti, Paolo Monetti, Manuel Staropoli & Pietro Prosser - Sonata No. 10 in F Major- II. Presto.flac
Size: 10783275 Hash: 67B8DFEE7838B510BDEEFCDD9BE9F0B7 Accuracy: -m8
Conclusion: CDDA 99%
Signature: FAC715C9118FD53ECB10D79859631AECDEA9EBD8
FILE: 17 - Manuel Tomadin, Gioele Gusberti, Paolo Monetti, Manuel Staropoli & Pietro Prosser - Sonata No. 10 in F Major- I. Adaggio.flac
Size: 18294219 Hash: 4C9E0DB5453B4F2337C711F220FF5467 Accuracy: -m8
Conclusion: CDDA 100%
Signature: BA954868FD438475F033DAE8FDCDB9A38759181B
FILE: 16 - Manuel Tomadin, Gioele Gusberti, Paolo Monetti, Manuel Staropoli & Pietro Prosser - Concerto in D Minor, RV 565- III. Allegro.flac
Size: 20002027 Hash: EDD8DAB6E6B3366C908C956DD8645306 Accuracy: -m8
Conclusion: CDDA 54%
Signature: 23BCD0DFD59CEF34D29F1CF76ACBDEA4743F65F2
FILE: 15 - Manuel Tomadin, Gioele Gusberti, Paolo Monetti, Manuel Staropoli & Pietro Prosser - Concerto in D Minor, RV 565- II. Largo.flac
Size: 17373977 Hash: 17945645B772ADD84422375F9D905431 Accuracy: -m8
Conclusion: CDDA 100%
Signature: 7E484971AD474E23847748392253D99CF84B31EC
FILE: 14 - Manuel Tomadin, Gioele Gusberti, Paolo Monetti, Manuel Staropoli & Pietro Prosser - Concerto in D Minor, RV 565- I. Allegro.flac
Size: 19971549 Hash: 2528998A1EE619C3FC0342804F042EF3 Accuracy: -m8
Conclusion: CDDA 94%
Signature: 54B368E94D229FA70B67896878DCE2EB6A9F0554
FILE: 13 - Manuel Tomadin, Gioele Gusberti, Paolo Monetti, Manuel Staropoli & Pietro Prosser - Sonata No. 6 in G Major- IV. A tempo giusto vivace.flac
Size: 15024491 Hash: 69D36181E038C52BAA3A1692ECDBDFA8 Accuracy: -m8
Conclusion: CDDA 99%
Signature: B80C9FA5F372DE45DA0CBE3F02DDE930C5CEF1B8
FILE: 12 - Manuel Tomadin, Gioele Gusberti, Paolo Monetti, Manuel Staropoli & Pietro Prosser - Sonata No. 6 in G Major- III. Adagio.flac
Size: 7026922 Hash: 515D6965D2FD9C4886E0AE7C1057DE9C Accuracy: -m8
Conclusion: CDDA 100%
Signature: CB6BD0063C383A7BCE295A103C58A3137FCB4C2C
FILE: 11 - Manuel Tomadin, Gioele Gusberti, Paolo Monetti, Manuel Staropoli & Pietro Prosser - Sonata No. 6 in G Major- II. Allegro.flac
Size: 16280195 Hash: D03CB0C6DC933A78D8611607B936A115 Accuracy: -m8
Conclusion: CDDA 100%
Signature: DF2805707F759F02606072DF2654E208DF58B7C9
FILE: 10 - Manuel Tomadin, Gioele Gusberti, Paolo Monetti, Manuel Staropoli & Pietro Prosser - Sonata No. 6 in G Major- I. Adagio.flac
Size: 17022161 Hash: 5A8DE1C9013478D1C95117E1D991B847 Accuracy: -m8
Conclusion: CDDA 100%
Signature: 4F9851E6BDB243052AE21C941D17EFB6D76D35C4
FILE: 09 - Manuel Tomadin, Gioele Gusberti, Paolo Monetti, Manuel Staropoli & Pietro Prosser - Sonata No. 7 in G Minor- IV. Giga.flac
Size: 8059178 Hash: FF077E14F233ED9CF75DCD26577CCB4C Accuracy: -m8
Conclusion: CDDA 100%
Signature: 7C3D4A6970DB643A734EBF6324517E91F88A3EBC
FILE: 08 - Manuel Tomadin, Gioele Gusberti, Paolo Monetti, Manuel Staropoli & Pietro Prosser - Sonata No. 7 in G Minor- III. Largo.flac
Size: 8407220 Hash: AA247F0236A0174EBCCE6AD774A2B5F7 Accuracy: -m8
Conclusion: CDDA 99%
Signature: D344174C4F9D7843CE8D0AC719F55524DAE59902
FILE: 07 - Manuel Tomadin, Gioele Gusberti, Paolo Monetti, Manuel Staropoli & Pietro Prosser - Sonata No. 7 in G Minor- II. Presto.flac
Size: 10230564 Hash: DE6EA6377650E65D808D2BEF37C394EF Accuracy: -m8
Conclusion: CDDA 94%
Signature: 65923978869898A75BB5B3FED533284CBB592A6C
FILE: 06 - Manuel Tomadin, Gioele Gusberti, Paolo Monetti, Manuel Staropoli & Pietro Prosser - Sonata No. 7 in G Minor- I. Largo.flac
Size: 9073497 Hash: A37182EDFB39FD876D1765C23472F4E4 Accuracy: -m8
Conclusion: CDDA 100%
Signature: 972BAD0E7E213521572AD598CCE66E1DD452A066
FILE: 05 - Manuel Tomadin, Gioele Gusberti, Paolo Monetti, Manuel Staropoli & Pietro Prosser - Sonata No. 12 in F Major- V. Ciaccona. Allegro.flac
Size: 20550308 Hash: BAE3D5B09428412831C5A496251B9E2D Accuracy: -m8
Conclusion: CDDA 100%
Signature: 7D139BD47983B1D4FA54F6ACC35E2988F10B8807
FILE: 04 - Manuel Tomadin, Gioele Gusberti, Paolo Monetti, Manuel Staropoli & Pietro Prosser - Sonata No. 12 in F Major- IV. Largo.flac
Size: 5111924 Hash: C365422E415D22D513043A25C8B50A9D Accuracy: -m8
Conclusion: CDDA 100%
Signature: D9141E423D309FA3CEDEC8EF23BA079FB53F4991
FILE: 03 - Manuel Tomadin, Gioele Gusberti, Paolo Monetti, Manuel Staropoli & Pietro Prosser - Sonata No. 12 in F Major- III. Gavotta. Allegro.flac
Size: 5074781 Hash: C971483222E353EEFA0AE50EB6E2EC6D Accuracy: -m8
Conclusion: CDDA 100%
Signature: DFE24E516FFBAA22910046FB2C793F1DB59DAD2B
FILE: 02 - Manuel Tomadin, Gioele Gusberti, Paolo Monetti, Manuel Staropoli & Pietro Prosser - Sonata No. 12 in F Major- II. Minuet. Allegro.flac
Size: 4482374 Hash: E377B27A719BECA039527DFE50AD4784 Accuracy: -m8
Conclusion: CDDA 100%
Signature: B0EC0B4A731EDCD1F18EBC1BC6D89B56EF1FF42F
FILE: 01 - Manuel Tomadin, Gioele Gusberti, Paolo Monetti, Manuel Staropoli & Pietro Prosser - Sonata No. 12 in F Major- I. Adagio.flac
Size: 16634041 Hash: C943398348AF118A4940C12B64E3896F Accuracy: -m8
Conclusion: CDDA 100%
Signature: 34F0FE7641D2D29F62278A556A42F257D2C08623