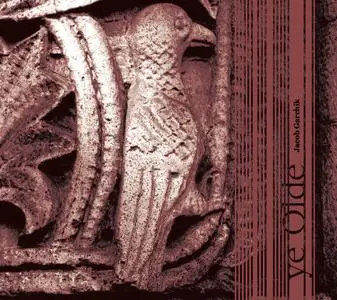 Jacob Garchik - Ye Olde (2015)
WEB FLAC (tracks) ~ 211.28 Mb | 36:48 | Cover
Modern Creative, Post-Rock, Fusion | Label: Yestereve Records
From trombonist and composer Jacob Garchik comes a fantastical and sublime work of the imagination. Ye Olde is a superband of three of Brooklyn's baddest guitar heroes, let loose in a funhouse, playing ping pong with our ears.
Over the past 21 years in New York City, Garchik has created an eclectic career, working with Henry Threadgill, Laurie Anderson, Natalie Merchant, John Hollenbeck, and Lee Konitz; crafting over 50 arrangements as the "in-house" arranger for the Kronos Quartet; leading his award-winning jazz trio; creating his acclaimed solo project The Heavens: The Atheist Gospel Trombone Album; and co-leading Brooklyn's first Mexican brass band, Banda de los Muertos.
Ye Olde, his fourth CD, draws from such varied influences as prog rock concept albums, Richard Strauss's tone poems, and 90s game consoles. Garchik envisions Ye Olde as a "band" of heroes, traversing a Brooklyn that never was, taking part in surreal adventures amidst a landscape of ruined castles/apartment buildings. To help his quest he brings along Mary Halvorson (Anthony Braxton, Marc Ribot's Sun Ship), Brandon Seabrook (Gerald Cleaver's Black Host, Ben Allison), Jonathan Goldberger (Red Baraat, Bizingas), Vinnie Sperrazza (James Williams, Stew) and a pile of analog electronics.
Track List:
1. Ye Olde of Flatbush (03:04)
2. The Sinister Scheme of Mortise Mansard (02:11)
3. A Clue Wrought In Stone (00:16)
4. The Lady of Duck Island (03:29)
5. And Meanwhile (00:22)
6. The Elders of Ocean Pathway (03:52)
7. Stained Glass Transoms Illuminate a Hidden Crypt (00:45)
8. The Opossum King of Greenwood Forest (03:21)
9. Crenulated Corbels (00:18)
10. Post-Modern Revival (04:26)
11. While Meanwhile (00:29)
12. The Battle of Brownstone Bulge (05:59)
13. Refuge in the Ruins of Castle Martense (03:54)
14. The Throne Room of Queen Anne (04:22)
Jacob Garchik - the Barrel Maker - trombone, alto horn, tenor horn
Brandon Seabrook - the Trickling Stream - guitar
Mary Halvorson - the Guardian of the Rock - guitar
Vinnie Sperrazza - the Merchant of Iron - drums
Jonathan Goldberger- the Mountain of Gold - guitar, baritone guitar
–––––––––––-
DON'T MODIFY THIS FILE
–––––––––––-
PERFORMER: auCDtect Task Manager, ver. 1.6.0 RC1 build 1.6.0.1
Copyright © 2008-2010 y-soft. All rights reserved
http://y-soft.org
ANALYZER: auCDtect: CD records authenticity detector, version 0.8.2
Copyright © 2004 Oleg Berngardt. All rights reserved.
Copyright © 2004 Alexander Djourik. All rights reserved.
FILE: 14. The Throne Room of Queen Anne.flac
Size: 25978709 Hash: 340A5EEFBBC62D29A3C8C1110EEE8FFB Accuracy: -m0
Conclusion: CDDA 100%
Signature: 60F36326C2ACFA559866B29A590E26A27C80C4F5
FILE: 13. Refuge in the Ruins of Castle Martense.flac
Size: 16984180 Hash: 29CB40DF898186C4844F217C730760B1 Accuracy: -m0
Conclusion: CDDA 100%
Signature: 02BFDEEB2F86C69A8B86520AC21CD13CE5396BD2
FILE: 12. The Battle of Brownstone Bulge.flac
Size: 40335496 Hash: D74E3C168BF2C7B45BF4AC9DC35F1C86 Accuracy: -m0
Conclusion: CDDA 100%
Signature: 66BE225DEF96CD2CEB5F307CC1BD4D93D4AF4FFC
FILE: 11. While Meanwhile.flac
Size: 1981936 Hash: 5F7351DCE59E01AFB8E9B2484E890267 Accuracy: -m0
Conclusion: CDDA 100%
Signature: 2B96805F97A37D159726531ECE604E96CBCEC5EE
FILE: 10. Post-Modern Revival.flac
Size: 28054853 Hash: D9A8E7EBE8D92F7A8B6DB98ED187C295 Accuracy: -m0
Conclusion: CDDA 100%
Signature: 65B4BA2312C7C3451D3B4190721927423D22C356
FILE: 09. Crenulated Corbels.flac
Size: 1387118 Hash: 272AC5985DE9793E4498403A0C282735 Accuracy: -m0
Conclusion: CDDA 100%
Signature: 652188B48E204719EDB5B69127EA4491496AF33C
FILE: 08. The Opossum King of Greenwood Forest.flac
Size: 18694269 Hash: 80454E9B971498A48505388C38342DD8 Accuracy: -m0
Conclusion: CDDA 100%
Signature: D7C26E4E7E1B96B751D07C1379B94137A780A515
FILE: 07. Stained Glass Transoms Illuminate a Hidden Crypt.flac
Size: 2996486 Hash: 07E2A9432211360C11890B537928AFA5 Accuracy: -m0
Conclusion: CDDA 99%
Signature: FE68FDEF6161D545A6704CC35282AA7B5C15CEA9
FILE: 06. The Elders of Ocean Pathway.flac
Size: 26889085 Hash: 843EF50FBDFB5B749802D4F7BCB1342B Accuracy: -m0
Conclusion: CDDA 100%
Signature: 5A269C8BDC778AE4F50E57B8FB6E8033E3B32704
FILE: 05. And Meanwhile.flac
Size: 1432827 Hash: BAFD22BDB6A6C17426E61D9426D7B76C Accuracy: -m0
Conclusion: CDDA 100%
Signature: 7061AD244423D4860AE1610935E4747D9DB03FA3
FILE: 04. The Lady of Duck Island.flac
Size: 23709573 Hash: 586AA3177F96D77B1CFDD0116BB84E47 Accuracy: -m0
Conclusion: CDDA 100%
Signature: 0984972B3030E0267C37F58B34CACAF0C95EB170
FILE: 03. A Clue Wrought in Stone.flac
Size: 1074484 Hash: 5F73CE8E6ECA2BBF2A47C8FF03CA7E58 Accuracy: -m0
Conclusion: CDDA 100%
Signature: 8BA7E0460238D6C247969489AD4E0975F29E16C9
FILE: 02. The Sinister Scheme of Mortise Mansard.flac
Size: 12682458 Hash: 5E7E3C83807CB849A63B03A3C8EEAE5A Accuracy: -m0
Conclusion: CDDA 100%
Signature: B6CCAA7C7067B25530A733CA3F19262CFE20C2BF
FILE: 01. Ye Olde of Flatbush.flac
Size: 19013912 Hash: 0516763BA3CB69264D0562AF397398AA Accuracy: -m0
Conclusion: CDDA 100%
Signature: 4C15CFF82DC09C5F0852D938095354781D16D337
All thanks go to the Electr0man