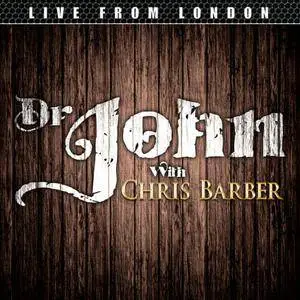 Dr. John With Chris Barber - Live From London
Blues | MP3 CBR 320 kbps | 54:28 min | 134 MB + 5% Recovery
Label: The Store For Music Ltd | Tracks: 10 | Rls.date: 2016
The "Live From London" series presents legendary musician Dr. John and the Chris Barber Jazz And Blues Band performing at the famous Marquee Club as part of the club's 25th anniversary celebrations.
His distinctive voice, songwriting talents and musicianship have earned Dr. John five Grammy Awards and booked his place in the Rock And Roll Hall of Fame. This wonderfully upbeat and energetic performance includes the classic tracks New Stack-A-Lee, Little Liza Jane, Memories Of Smiley and many more.
TRACKLIST
1. New Stack-A-Lee ( 3:38)
2. New Orleans Medley (13:50)
3. Right Place Wrong Time ( 4:52)
4. You Lie Too Much ( 4:57)
5. Memories Of Smiley ( 4:57)
6. Stranded ( 5:56)
7. The Wicked Shall Cease ( 7:47)
8. Mac's Boogie Woogie ( 1:58)
9. Little Liza Jane ( 4:08)
10. When The Saints Go Marching In ( 2:17)