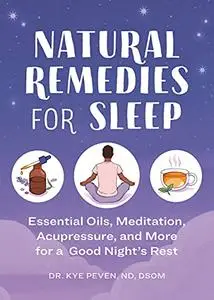 Natural Remedies for Sleep: Essential Oils, Meditation, Acupressure, and More for a Good Night's Rest
by Peven ND, Dr Kye
English | 2021 | ISBN: B09B15K7WL| 112 pages | PDF EPUB AZW3 | 13.52 MB
Discover non-pharmaceutical solutions for better sleep
A good night's sleep can do wonders for your physical and mental health. But if you struggle with falling or staying asleep, your frustration may have you looking to sleep medicine for help. This natural remedies book will show you a better way. Natural Remedies for Sleep provides the knowledge, tools, and natural solutions for how to sleep smarter. Explore why we sleep, along with cognitive behavioral therapy (CBT) techniques, meditation, essential oils, acupressure, and more to help you get the full, consistent rest you deserve.
Sleep 101—Learn the basics of what good sleep is, why we need it, some common sleep issues, and the short- and long-term benefits of a dependable night's sleep.
Sleep tool kit—Good sleep takes planning—discover a list of the resources and items you need for getting a better night's sleep, and creating a smart sleep routine for yourself.
Sleep scenarios—Find suggested natural sleep remedies for adults and techniques for overcoming a range of sleep problems and scenarios, such as insomnia, interrupted sleep patterns, and digestion issues.
Fall asleep and stay asleep with the helpful and all-natural techniques and resources in this empathetic book.