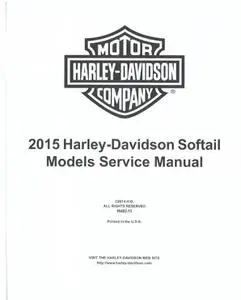 Harley Davidson, "Softail 2015 Service Manual - Harley Davidson CMI 07/14"
English | 2014 | ASIN: N/A | 626 pages | PDF | 37.6 MB
This PDF Service Manual was created especially for the current repair and routine maintenance of the Harley Davidson Motorcycles Softail Models 2015. It contains detailed information about the repair, step by step instructions for repair and maintenance, service instructions, intended for Harley Davidson products.
The service repair manual includes detailed illustrations, pictures, diagrams, specifications. All images help to get a detailed description with pictures of Harley Davidson Motorcycles, using which you can determine the installation location of parts. Particular attention should be paid to certain precautions that must be strictly observed in the standard working area to avoid unforeseen technical breakdowns or injuries.
You can study this pdf manual using screenshots and a list of content, which is presented in the manual description. You can also follow the link 'Harley Davidson pdf manual instant preview', and preview the pages of this manual.
This pdf manual is a system of assistance in service and repair that allows you to troubleshoot and solve problems.