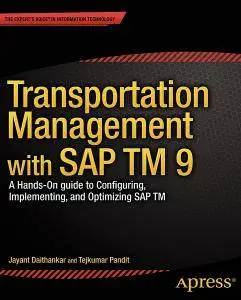 Transportation Management with SAP TM 9 - Jayant Daithankar, Tejkumar Pandit
2014 | ISBN: 1430260254 | PDF | 318 pages | 14 Mb
The implementation of a TMS solution is a highly complex and mission critical project. If executed correctly a good TMS can deliver a number of benefits to the organization in terms of optimization, greater efficiency, reduced errors and improved revenue through accurate invoicing. However a number of projects fail to realize these benefits for a host of reasons such as an incorrect product selection, over customization of the system and lack of detailed processes. The evaluation and selection of the right transportation management system is a very critical step in the successful implementation of a TMS product as well as ensuring that the organization is able to realize the benefits expected from the system.
Transportation Management with SAP TM 9 also acts as a step by step implementation guide with details of configuration required to set up a TM9 system. This book also covers the upgrade of SAP TM8 to SAP TM9 which will be useful for existing clients who are on TM 8. Nonavailability of SAP TM skilled resources is a major challenge faced by organizations and the book provides a detailed competency building plan along with skill set requirements to create a competent and trained workforce to manage-transformation.The current book available in the market on SAP TM is based on Version 6 release which does not cover air freight processes. Our book covers end-to-end air freight configuration scenarios for logistic companies.