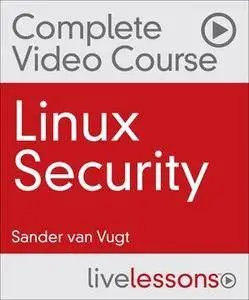 Linux Security: Red Hat Certificate of Expertise in Server Hardening (EX413) and LPIC-3 303 (Security) Exams
MP4 | Video: AVC 1280x720 | Audio: AAC 44KHz 2ch | Duration: 6 Hours 45M | 15 GB
Genre: eLearning | Language: English
Linux Security Complete Video Course teaches you everything you need to know to build a safe Linux environment. Taught by best-selling author and trainer Sander van Vugt, Linux Security Complete Video Course covers every aspect of Linux security, including Linux operating system security, managing Linux user security, securing Linux services, and securing Linux infrastructure.
The topics in this course cover all the exam objectives and prepare you for the two most significant certifications in the field of Linux security: the Red Hat RHCA Server Hardening (EX413) exam and the LPIC-3 exam 303 "Linux Security" exam. Even if you're preparing for just one of the exams, it's recommend that you watch all the lessons in this course, which lays out a framework for understanding Linux security, mitigating threats, and responding to incidents.
The material provided in this course is designed to help you learn and prepare in the best possible way. Each lesson provides an end-of-lesson lab that walks you through real-world scenarios as you learn. They also act as assignments to help you prepare for the scenarios you will encounter on the Red Hat Server Hardening exam. These labs are provided as text as well as video solutions so you can work through them on your own and then compare your work to the author's.
The video lessons cover the following topics:
Module 1: Linux Operating System Security
Lesson 1: Keeping Linux up-to-date
Lesson 2: Managing file system security properties
Lesson 3: Securing server access
Lesson 4: Configuring system logging
Lesson 5: Managing system auditing
Lesson 6: Managing mandatory access control (MAC)
Lesson 7: Managing kernel security
Module 2: Managing Linux User Security
Lesson 8: Managing Linux permissions and attributes
Lesson 9: Managing user accounts
Lesson 10: Installing central authentication
Module 3: Securing Linux Services
Lesson 11: Securing services
Lesson 12: Securing network file systems
Lesson 13: Applying secure remote access solutions
Module 4: Securing Linux Infrastructure
Lesson 14: Sniffing and port scanning
Lesson 15: Configuring analyzing and intrusion detection tools
Lesson 16: Managing firewalls
Lesson 17: Managing certificates and public key infrastructures
Lesson 18: Managing GPG