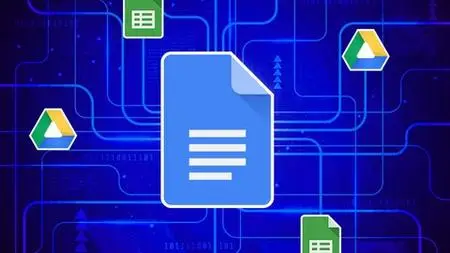 Master the Google Docs Word Processor | 2020 G Suite Updates
Video: .mp4 (1280x720, 30 fps(r)) | Audio: aac, 44100 Hz, 2ch | Size: 1.29 GB
Genre: eLearning Video | Duration: 102 lectures (1h 29m) | Language: English
Goodbye Microsoft Word software. Hello Google Drive's cloud-based professional productivity app for text documents.
What you'll learn
A full understanding of all Google Docs features complete with the software's most recent updates
The entire functionality of the Chart Editor as accessed through Google Sheets
A firm grasp of file creation, management, and deletion through Google Drive
Insight into the G Suite ecosystem and the dynamics throughout
Requirements
Familiarity with G Suite is helpful but not necessary
Description
Our video courses use a Question & Answer format. No need to sift through 8 hours of long lectures looking for a single piece of information.
Similar to Microsoft Word or Apple Pages, most people use Google Docs for writing simple documents, never realizing all the time-saving ins and outs of the free online productivity software. In addition to simple functions like saving a document locally as a PDF or adjusting your Google Drive storage plan, this course will show you how to fully use the cloud-based software to quickly create slick, professional documents by utilizing the following:
Little-Known Features
Enable voice typing
Access the script editor section for computer programmers
Place an automatically-created table of contents into the document
Translate a full document
Add letters with accents or special characters
Save headings as a default style from templates
Transition between editing and suggesting modes
Find the word count
Document Format & Structure
Place a page number on every page but the title page
Create bullet-point lists
Format text into columns
Check the document's spelling & grammar
Tables & Charts
Insert tables with adjustable border color, size, style
Utilize the chart editor in Google Sheets to customize charts
Add donut holes and border strokes to pie charts
Slant the labels on the X-axis of a bar chart
Adjust a chart's gridline count and color
Create additional rows and columns
Merge cells in a table
Storage Management & Permissions
Select a new document from a template
Adjust sharing privileges to prevent editors from changing access and adding new people
Disable download, print, and copy options for commenters and viewers
Change storage plans
AND MUCH, MUCH MORE!!!
With over 100 lessons on very focussed topics, this course will save you plenty of time by specifically answering each and every question you could possibly have about this ubiquitous professional software.
Who this course is for:
Business professionals wanting to better understand the capabilities of the software
Computer programmers who want access to Google's free script editor within Google Docs
High school or college students
Anyone considering transitioning to a cloud-based word processor