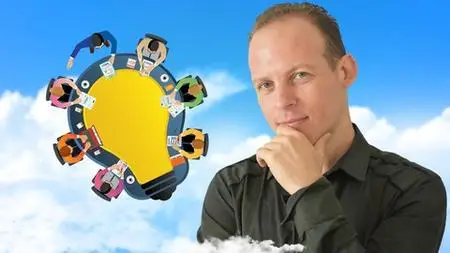 Business Model Generation With Business Model Canvas - 2019
.MP4 | Video: 1280x720, 30 fps(r) | Audio: AAC, 44100 Hz, 2ch | 600 MB
Duration: 1.5 hours | Genre: eLearning Video | Language: English
Alexander Osterwalder's Business Model Canvas innovation: Get your business running efficiently with optimal strategies.
What you'll learn
Create a good business model for your business
Be more comfortable in business planning and business modeling
Learn how to work with the business model canvas
Updated and improved video and audio quality in 2019
Requirements
Please be open to applying some of the ideas in this course
Description
Learn to model every aspect of your business to create a well-oiled machine of an organization that succeeds (updated in 2019).
In the course, I'll take you through my simplified 3-tier business model to help you get comfortable in how you think and create a strategy around your business model.
Once you are more comfortable in business modeling, I'll walk you through the standard business model canvas. As I walk you through the standard business model canvas, you will get practical tips and examples for how to apply the elements of the business model canvas to your business.
After the business model canvas, you will learn about common business models effectively used by common businesses, elements of which you will be able to apply to your company.
This way you get multiple theoretical and practical examples.
At the end of the course you will be able to create a better business model and strategy for your business.
INSTRUCTOR BACKGROUND: THOUGHT LEADER IN BUSINESS PLANNING
My business plan book 'How To Write A Business Plan' is consistently the top business plan book on Amazon. My book is used by a number of universities and high schools, and I regularly get invited by these institutions to give talks about starting a business.
I've been an entrepreneur for 20 years, have personally coached over 1,000 entrepreneurs, taught 150,000 students online, and helped millions of entrepreneurs worldwide, some of whom created 6 and 7-figure businesses, and I can help you too.
START PLANNING NOW AND START YOUR BUSINESS SOONER
Upon completion of this course, you will be able to write a good business plan the very same day. The sooner you plan, the sooner you will start your business, and ultimately reach all your goals. So get started today by enrolling in this course.
BONUSES INCLUDED
* Extra freebies and downloadable worksheets
* Free 15-minute coaching call after you complete the course
* Personal invitation to my Facebook community after course completion
* My list of 50 business-success skills after course completion
* Automatic entry to be selected for my student of the month status
Invest in your future and enroll now.
Who this course is for:
First-time entrepreneurs
People who see the value of being more organized in their planning