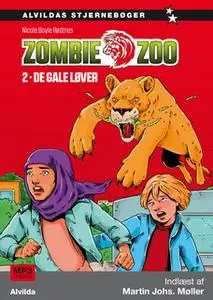 «Zombie zoo 2: De gale løver» by Nicole Boyle Rødtnes
Dansk | ISBN: 9788741503448 | EPUB | 2.9 MB
Dyr kan ikke blive til zombier. Eller kan de?
De voksne gav løverne en død zombie. Men det skulle de ikke have gjort. For nu er der noget helt galt med løverne.
Og pludselig er Milo, Samir og Afia i stor fare.
Zombie Zoo er en letlæst gyser til alle 8-11-årige, der er vilde med zombier. Den foregår i samme univers som Zombie-jæger-bøgerne, men er lettere at læse. Bøgerne kan læses uafhængigt af hinanden.
Bøgerne indgår i serien Alvildas stjernebøger. Denne bog er lix 12 og har to stjerner.