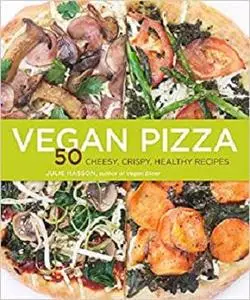 Vegan Pizza: 50 Cheesy, Crispy, Healthy Recipes by Julie Hasson
English | September 3, 2013 | ISBN: 144942712X | 144 pages | MOBI | 2.63 Mb
Everything you need to know to create delicious, healthy pizza at home without any meat or dairy products.
"Vegans, rejoice—Julie Hasson has given pizza a plant-strong makeover. With a dazzling array of globally inspired toppings, pizza night will be healthier—and more fun—than ever before!"
—Nava Atlas, author of Wild About Greens and
Vegan Holiday Kitchen
"Julie Hasson has brought her incredibly talented baking skills and vegan ethos over to the savory side with this compelling and thorough take on vegan artisan pizza. Classic pizzas such as garlic, sausage, and onion pizzas are reimagined and every bit as flavorful and toothsome as their traditional counterparts. i'm ready to make seasonal, vegetable-laden pizzas such as a corn, pesto, zucchini, and tomato pizza or even a sweet potato and kale pizza for my next pizza party. These are appealing, fun, and doable recipes for the vegan pizzaiolo at home."
—Diane Morgan, author of 
Roots: The Definitive Compendium
"Julie Hasson has broken all the rules for pizza and taken it to uncharted territory. no longer is it about gooey cheese and tired toppings—it's about combinations of flavors so fun and original that it boggles the mind. How about a Korean Bibimbap or Chili Mac pizza? or one that marries peanut butter with barbecue sauce for a peanut Barbecue pizza? if you want the classics, you'll find those, too. after reading Julie's recipes, who needs pepperoni?"
—Miyoko Schinner, author of Artisan Vegan Cheese and cohost of
Vegan Mashup
Love a warm, crisp, chewy thin-crust pizza with creamy, melty cheese? Just because you're vegan doesn't mean that you can't bake amazing pizzas right in your own oven. Julie Hasson offers 50 deliciously innovative recipes and simple techniques that will have you making artisan-style, thin-crust vegan pizzas right in your own kitchen. 
Vegan Pizza
is filled with 50 modern recipes from easy-to-make pizza dough (including spelt, whole wheat, and gluten-free crusts), creamy dairy-free cheese sauces, vibrant-flavored pestos and spreads, and meatless and wheat-less burger crumbles. Also included are inventive toppings and pizzas that run the gamut from comfort food pizzas like Chili Mac Pizza, Barbeque Pizza and Eggplant Parmesan Pizza, to fresh vegetable-laden pizzas like Sweet Potato and Kale Pizza, Corn, Zucchini and Tomato Pizza and Asparagus, Tomato and Pesto Pizza. There is even a chapter dedicated to dessert pizzas too, from Babka Pizza, to Berry Pie Pizza and Coconut Caramel Dream Pizza.
With helpful information and tips on equipment and techniques,
Vegan Pizza
shares the secrets to fabulous, easy-to-make, dairy-free, meat-free thin-crust artisan pizza that tastes like it came from your neighborhood pizzeria. Now home cooks everywhere can get baking and make fabulous vegan pizzas in their own kitchens.
Feel Free to contact me for book requests, informations or feedbacks.
Without You And Your Support We Can't Continue
Thanks For Buying Premium From My Links For Support