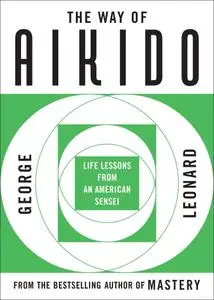 The Way of Aikido: Life Lessons from an American Sensei by George Leonard
English | June 1st, 2000 | ISBN: 0452279720, 0525944133 | 224 pages | EPUB | 0.47 MB
"This book is a warmhearted handshake, a graceful and practical invitation to enter and blend with the ahhh of the world. It is as natural and wise an introduction to the spirit of the martial arts as you can find on paper."—Jack Kornfield, bestselling author of A Path with Heart
In his bestselling Mastery, renowned spiritual and martial arts teacher George Leonard taught hundreds of thousands of people how to use Zen philosophy to reach mastery in any field. Now, he brings together his extraordinary knowledge and experience into a book that translates the principles of aikido directly into our everyday lives.
Aikido is more philosophy and meditation than a technique or a series of purely physical maneuvers. Leonard shares the secrets of this remarkable Eastern philosophy, which is the basis for the most radical and demanding of all martial arts. Through mind-body exercises inspired by aikido yet designed for non-practitioners, he demonstrates the fundamental understanding behind aikido and shows how it can be applied to help set us on the path to composure, self-sufficiency, and spiritual centeredness.
Combining illuminating personal anecdotes with practical advice, this award-winning author describes the ways in which aikido can help turn life's unanticipated blows into gifts and transform discord into harmony, anxiety and pain into vital energy. Exhilarating, enlightening, and filled with unique wisdom, The Way of Aikido is an inspiring lesson in balance, confidence, and power.
"The Way of Aikido does no less than open the door to the universe and invite you through to become one with it, to become balanced, powerful, energetic, alert, and present."—Susan Trott, author of The Holy Man and Crane Spreads Wings
Enjoy
My Blog
. No any convert or low quality!