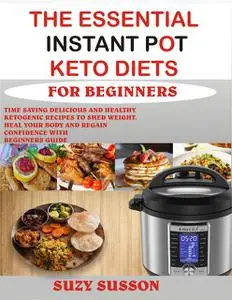 «The Essential Instant Pot Keto Diets for Beginners» by Suzy Susson
English | EPUB | 4.4 MB
Do you know you can easily lose weight by simply cooking with your instant pot?
Suzy Susson brings The Essential Instant Pot Keto Diets for Beginners to you.
Every recipe gives:
·         Cook time information: This is superb for busy parents.
·         Nutritional information: Will help you keep track of daily calorie consumption.
·         Affordable ingredients: Super affordable and quality ingredients.
·         Servings: Helps you prepare the right quantity of meal to suit your diet.
Scientific research shows the benefit of keto diet is not just in reducing the risk of heart disease, but also weight loss and reduction of risk of diabetes. Keto improves your overall health and daily function. You will learn how to effectively manage and improve your weight loss program and savor your choice recipes with instant pot on ketogenic diet.
This book is an easy to follow & user friendly guide that will help you achieve your desired weight loss target. The recipes in this book will help you achieve weight loss in the fastest, healthiest & fastest possible way.
In this book you will find  delicious recipes for;
Dessert, meat, poultry, soup, kitchen staples, fish & seafood, side dishes, snacks & appetizers, breakfast, lunch, dinner and also; Keto basics, keto 101, instant pot settings, introduction to instant pot