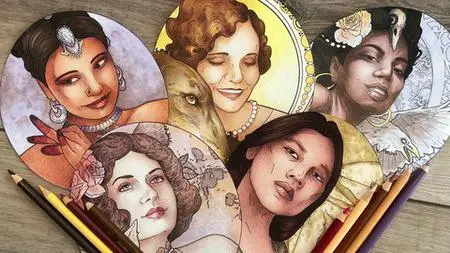 Skin Tone Mastery // For Colorists
Published 2/2023
MP4 | Video: h264, 1280x720 | Audio: AAC, 44.1 KHz
Language: English | Size: 7.02 GB | Duration: 5h 40m
5 skin tone types to arm you for any type of coloring
What you'll learn
Color skin realistically
Master 5 different skin tone types
Work with provided and proven color charts
Build your own color charts for skin tones
Requirements
Basic coloring skills
Description
I created this course to cover as many skin tone possibilities as is humanly possible to teach in under 6 hours. The students who have already completed Skin Tone Mastery have transformed from good casual colorists to outstanding professional colorists. JOIN them. In this course I teach a lot of theory as well as technique. I structured it in 5 sessions (or lessons) starting with the most pale skin tone and ending with the darkest, espresso, skin tone. Every step of the way I will guide you with visual demos, my choices or colors, my shading and layering technique and much more. For each skin tone I offer my own personal, already proven, color chart that your'e welcome to use on your own coloring. But that wasn't enough for me. I want to teach you how to make your own artistic decisions, so I will also teach you how to build your own color charts for any skin tone you may wish to color. In addition to printable charts and games, every lesson comes with two versions of a portrait illustration, making a total of 10 unique coloring character pages for you to practice on. Please follow the lessons in order, as the lessons are built one on top of the other. It's very important not to skip through the course. Every video segment is where it is in the timeline for a reason. Please take your time to practice the charts and the colorings that I assign. Theory is great, but we only really learn when we apply it.If you already took my Realistic Skin Tone Coloring course, you will find this one to be radically different.Here, I teach on white paper and on models that are drawn in line form instead greyscale, covering more of your traditional coloring book needs.Here I teach five new skin tones, and go way deeper into theory and technique. The two courses are excellent compliments to each other, but neither is necessary to succeed in the other. They are just two separate approaches to coloring skin tones. I recommend that you take them both to broaden your skills, and to narrow down your own coloring style and preference. I'll see you in class!
Overview
Section 1: Introduction
Lecture 1 Intro
Section 2: Lesson 1: Categorizing Skin Tones
Lecture 2 How many skin tones are there?
Section 3: Lesson 1: CREAM // Picking pencils
Lecture 3 Pencil selection
Section 4: Lesson 1: CREAM // Technique and colors
Lecture 4 Starting light
Section 5: Lesson 1: CREAM // Brands
Lecture 5 Pencil brands
Section 6: Lesson 1: CREAM // First dark color
Lecture 6 And what about makeup?
Section 7: Lesson 1: CREAM // Why so many colors
Lecture 7 Using many hues
Section 8: Lesson 1: CREAM // Shadows and makeup
Lecture 8 Adding shadows
Lecture 9 Many colors
Section 9: Lesson 1: CREAM // Final colors
Lecture 10 cream final colors
Section 10: Lesson 1: CREAM // Bringing it all together
Lecture 11 Background and details
Section 11: Lesson 1: CREAM // Build a color chart
Lecture 12 How to build your charts
Section 12: Lesson 1: CREAM // HOMEWORK
Lecture 13 Homework 1
Section 13: Lesson 2: PEACHES // First color
Lecture 14 Primer color for peaches
Section 14: Lesson 2: PEACHES // Orange undertone
Lecture 15 What makes peaches so golden
Section 15: Lesson 2: PEACHES // Building up brown pigments
Lecture 16 Adding brown
Section 16: Lesson 2: PEACHES // Purple shadows
Lecture 17 Adding purple
Section 17: Lesson 2: PEACHES // More purple
Lecture 18 Building up purple
Section 18: Lesson 2: PEACHES // Color charts
Lecture 19 What kind of charts are there
Section 19: Lesson 2: PEACHES // Make-up
Lecture 20 What if I want to add makeup?
Section 20: Lesson 2: PEACHES // Final details
Lecture 21 Finalizing Peaches
Section 21: Lesson 2: PEACHES // HOMEWORK
Lecture 22 Charts and homework 2
Section 22: Lesson 3: CARAMEL // Pale rose undertone
Lecture 23 Pale rose
Section 23: Lesson 3: CARAMEL // Most important layer
Lecture 24 Maing caramel
Section 24: Lesson 3: CARAMEL // Layers
Lecture 25 Layers are important
Section 25: Lesson 3: CARAMEL // Flow state
Lecture 26 Secret to successful coloring
Section 26: Lesson 3: CARAMEL // Strong purple
Lecture 27 Adding purple to caramel
Section 27: Lesson 3: CARAMEL // Yellow, white, black
Lecture 28 Balancing colors
Section 28: Lesson 3: CARAMEL // HOMEWORK
Lecture 29 Final details and homework 3
Section 29: Lesson 4: Color matching and gradients
Lecture 30 Color matching and gradients
Section 30: Lesson 4: Color matching game
Lecture 31 Match these pigments
Section 31: Lesson 4: Background color
Lecture 32 Why background matters
Section 32: Lesson 4: TOFFEE // Primer color
Lecture 33 How to prime toffee
Section 33: Lesson 4: TOFFEE // Light brown
Lecture 34 Adding reddish brown
Section 34: Lesson 4: TOFFEE // Deep purple
Lecture 35 Important shadow work
Section 35: Lesson 4: TOFFEE // A natural look
Lecture 36 Earthy tones
Section 36: Lesson 4: TOFFEE // Go dark
Lecture 37 Don't be afraid to go dark
Section 37: Lesson 4: TOFFEE // Blender option
Lecture 38 Adding warmth
Section 38: Lesson 4: TOFFEE // HOMEWORK
Lecture 39 Final detail and homework 4
Section 39: Lesson 5: ESPRESSO // Undertone
Lecture 40 Starting light
Section 40: Lesson 5: ESPRESSO // Crazy color choice
Lecture 41 Why add so much violet
Section 41: Lesson 5: ESPRESSO // Strong brown
Lecture 42 Pick strong dark brown
Section 42: Lesson 5: ESPRESSO // A touch of red
Lecture 43 Ruby red
Section 43: Lesson 5: ESPRESSO // Building up shades
Lecture 44 Adding black
Section 44: Lesson 5: ESPRESSO // Blenders
Lecture 45 Two kinds of blenders
Section 45: Lesson 5: ESPRESSO // HOMEWORK
Lecture 46 Homework 5
Colorists of all skill levels