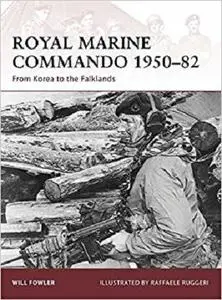 Royal Marine Commando 1950-82: From Korea to the Falklands (Warrior) by Will Fowler
English | April 21, 2009 | ISBN: 1846033721 | 64 pages | PDF | 18 Mb
One of the most prestigious and versatile units of the British armed forces, the Royal Marine Commandos were a specialized fighting force, serving in many theaters, including the Korean War (1950-1953), the Malayan Emergency (1947-1960), East Africa, Cyprus, Suez, Northern Ireland and the Faulklands, and performing a number of roles from counter-terrorism and counter-insurgency to conventional combined arms fighting. During the period covered in this account, conscription to the Royal Marines came to an end and the unit became a professional and dedicated force. The author provides a detailed look at the service life of a Royal Marine Commando in a time of great change, exploring the developments that took place in recruitment, training, equipment, weaponry, dress and tactical deployment in the post-World War II period. The elite nature of the Royal Marines is maintained by the toughness of the Commando entry course at Lympstone in Devon - where successful entrants are awarded the distinctive green Commando beret. One major aspect of the course is that squads should work together, supporting the weakest members - a key ethos that is explored in this fascinating story.
Feel Free to contact me for book requests, informations or feedbacks.
Without You And Your Support We Can't Continue
Thanks For Buying Premium From My Links For Support