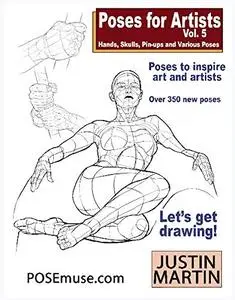 Poses for Artists - Hands, Skulls, Pin-ups & Various Poses: An essential reference for figure drawing and the human form. (Inspiring Art and Artists) by Justin Martin
English | 2019 | ISBN: N/A | ASIN: B07SZPCLN3 | 194 pages | EPUB | 26 Mb
This book of 200+ poses was created by an artist who understands that sometimes, you just need a creative nudge to help get the pencil moving and break that pesky block. By simplifying the human form, we hope to remove the inevitable anxiety that comes with drawing a person, and speed-up your art, over time, increasing your own understanding of human anatomy, proportions and movement.