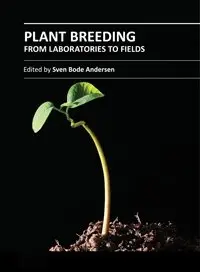 "Plant Breeding from Laboratories to Fields" ed. by Sven Bode Andersen
ITAe | 2013 | ISBN: 953511090X | 297 pages | PDF | 8 MB
This book illustrates this development in quantitative genetic tools.
During the last 50 years plant breeding has entered a molecular era based on molecular tools to analyse DNA, RNA and proteins and associate such molecular results with plant phenotype. These marker trait associations develop fast to enable more efficient breeding.
Contents
Preface
Section 1 Genomics and Marker Assisted Breeding
1 Genomic in situ Hybridization in Triticeae: A Methodological Approach
2 SRAP Molecular Marker Technology in Plant Science
3 Molecular Markers and Marker-Assisted Breeding in Plants
4 Genetic Dissection of Blackleg Resistance Loci in Rapeseed (Brassica napus L.)
5 Marker Assisted Selection for Common Bean Diseases Improvements in Tanzania: Prospects and Future Needs
Section 2 Crop Breeding for Complex Phenotypes
6 Breeding for Drought Resistance Using Whole Plant Architecture — Conventional and Molecular Approach
7 Breeding to Improve Symbiotic Effectiveness of Legumes
8 Opium Poppy: Genetic Upgradation Through Intervention of Plant Breeding Techniques
9 Castor Breeding
10 Participatory Plant Quality Breeding: An Ancient Art Revisited by Knowledge Sharing. The Portuguese Experience
with TOC BookMarkLinks