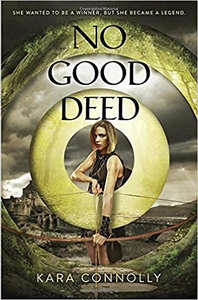 No Good Deed - Kara Connolly
English | 2017 | 352 Pages | ISBN: 0385743939 | EPUB | 3.48 MB
Ellie Hudson is the front-runner on the road to gold for the U.S. Olympic archery team. All she has to do is qualify at the trials in jolly old England. When Ellie makes some kind of crazy wrong turn in the caverns under Nottingham Castle yes, that Nottingham she ends up in medieval England. Ellie doesn't care how she got to the Middle Ages; she just wants to go home before she gets the plague. But people are suffering in Nottingham, and Ellie has the skills to make it better. What's an ace archer to do while she's stuck in Sherwood Forest but make like Robin Hood?
Pulled into a past life as an outlaw, Ellie feels her present fading away next to daring do-gooding and a devilishly handsome knight. Only, Ellie is on the brink of rewriting history, and when she picks up her bow and arrow, her next shot could save her past or doom civilization's future.
Download Links