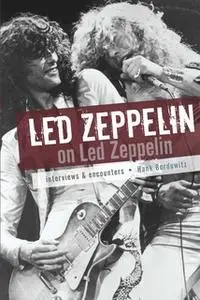 «Led Zeppelin on Led Zeppelin» by Jeff Burger
English | ISBN: 9781783233892 | EPUB | 0.7 MB
Few bands have made as much of an impact on popular and rock music than Led Zeppelin. With rumours and speculation abound, often it's hard to tell the facts from the fiction. Now, with
Led Zeppelin On Led Zeppelin you can hear the truth in their own words, in interviews ranging from 1957 to 2012, this level of insight has never been seen before.
Led Zeppelin On Led Zeppelin tells the story of the British band that rocketed to stardom in the late 1960s and went on to become one of the most influential and biggest-selling rock bands of all time. Through the eyes of Robert Plant, Jimmy Page, John Paul Jones and John Bonham, the band takes shape, takes charge of the charts and changes music forever.
Any band is made up of its individual parts, but occasionally some very special musicians come together and create something that is more than the sum of its parts. Led Zeppelin On Led Zeppelin aims to encapsulate the band's mindset and creative process as they crafted some of the greatest songs and the greatest albums ever. This book will offer invaluable insight, some never seen before, into what made the band tick, and how they became the most popular band in the world.
Led Zeppelin On Led Zeppelin provides an unparalleled amount of detail and information on this most monumental of rock bands. For fans of Led Zeppelin in particular or fantastic rock music in general, this is one book you aren't going to want to miss.