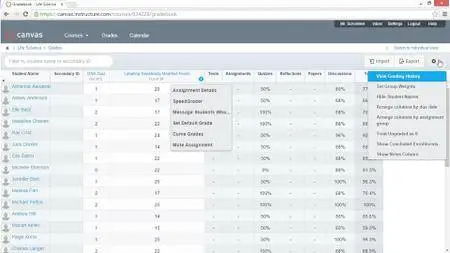 Learning Canvas 2015
MP4 | Video: 720p | Duration: 2:16:17 | English | Subtitles: VTT | 354.0 MB
Canvas is an open-source learning management system (LMS) for K–12 and higher-education used by learning institutions around the world. This course provides the skills and knowledge instructors need to build a course, add students, and facilitate online learning and digital literacy through Canvas. Author Oliver Schinkten shows how to build a teacher profile, create a class, add assignments and quizzes, and use SpeedGrader to streamline the grading process. He also explores how to reinforce collaboration with online discussions, enlist co-teachers, and access your class on the go with the Canvas and SpeedGrader apps for iOS.
Topics include:
Setting up a teacher account and profile
Creating the course and syllabus
Adding a grading profile
Creating student groups
Setting up conferences
Creating assignments and quizzes
Building test question banks
Exploring the grading tools (including SpeedGrader)
Adding co-teachers
Duplicating a course
Working with modules
Publishing a course