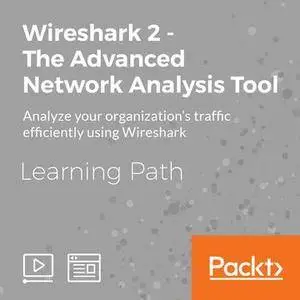 Learning Path: Wireshark 2 - The Advanced Network Analysis Tool
HDRips | MP4/AVC, ~461 kb/s | 1280x720 | Duration: 09:40:04 | English: AAC, 128 kb/s (2 ch) | 2.46 GB
Genre: Development / Programming
Analyze your organization's traffic using Wireshark
Wireshark is a open source software that works as a packet analyzer. It basically lets you control, capture, and dynamically browse the traffic running on the organization's network. The user-friendly feature of Wireshark makes it one of the most popular tools for network analysis.
This Learning Path will brush through the basic networking concepts, and then introduce you to the user interface of Wireshark. Later it moves on to the different ways to create and use the capture and display filters in Wireshark. Also, you'll be mastering its features, analyzing different layers of the network protocol, and looking for any anomalies.
By the end of this Learning Path, you will be able to use Wireshark for network security analysis and configure it for troubleshooting purposes.
This path navigates across the following products (in sequential order):
Network Analysis Using Wireshark 2 (4h 16m)
Mastering Wireshark 2 (5h 23m)
Welcome to the best eLearning video (English, German, French, Spanish language) and many more:
LINK
Do not forget to check my blog! Updated regularly! Add in bookmarks my blog :)
PM me if Links not working!
No mirrors pls!