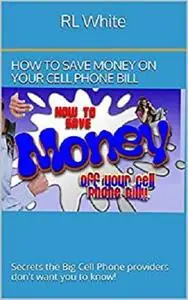 How to save money on your Cell Phone Bill: Secrets the Big Cell Phone providers don't want you to know! by RL White
English | September 9, 2014 | ASIN: B00NGSSDNY | 10 pages | AZW3 | 0.22 MB
Our family of six had a monthly cell phone bill was more than our car payment. My wife and I had had it! After weeks of research we discovered how to cut our MONTHLY cell phone bill $359.00!! This was many hours of research but it is very simplified and shared with you. No gimmicks, tricks, illegal or difficult, just knowledge on how and where to get these services and products. Hope you enjoy and save as much or more than we did!