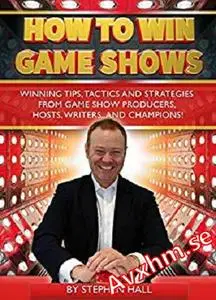 How To Win Game Shows: Winning Tips, Tactics and Strategies from Game Show Producers, Hosts, Writers … and Champions! by Stephen Hall
English | January 29, 2019 | ASIN: B07N8D7C6C | 198 pages | MOBI | 3.76 Mb
Do you dream of competing on a game show?
The excitement! The glamour! The cash and fabulous prizes!
What if there was a resource that compiled all of the most powerful game show tips and hints – from both sides of the camera - in one place?
Now there is. Two-time game show champion Stephen Hall has been blogging at HowToWinGameShows.com since 2013, where he's distilled all of his own best game show winning tips, along with tips from game show hosts, game show producers, game show writers… and game show champions! Now they're all here, in one handy cross-referenced volume.
How To Win Game Shows: The eBook!
You'll get all the insider tips on:
- Game show training
- Game show strategy
- How to read your opponents 
- Handling those intimidating studio record days 
- How to keep your cool under pressure
- How to think like a game show question writer
- Not just playing the game, but 'playing the format'
Stephen shares the strategies he used to win 'Australia's Brainiest Quizmaster', and his own tips and hints gleaned from his winning streak on 'Temptation', which netted him $672,357 worth of cash and prizes! There's also…
Loads of insider information from the hosts of 'The Einstein Factor', 'Temptation' and 'Blockbusters'…
Exclusive interviews with quiz show question writers, for insider insights into how quiz show questions are put together… 
Behind-the-scenes tips from the producers of 'Family Feud', 'The Price Is Right', and 'Who Wants To Be A Millionaire'…
And exclusive interviews with other game show champions who, between them, have won OVER 4 MILLION DOLLARS in cash and prizes!
For the first time, all together, all in one place - all the winning tips and hints from the people who make your favourite game shows… And the people who win them!