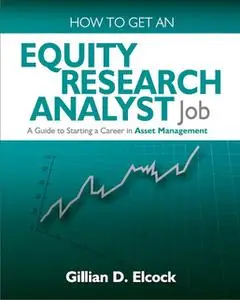 «How To Get An Equity Research Analyst Job» by Gillian Elcock
English | ISBN: 9781907722127 | EPUB | 0.5 MB
Get an Insider's Edge to Starting Your Career as an Equity Research Analyst
Do you want to get a job in the asset management industry, analyzing stocks or managing portfolios? It is a highly competitive process, with hundreds of university graduates, MBA students, and others trying to get into the industry every year, but not many available positions.
How do you go about convincing a company to give you a job? What will the interviews by like and how should you prepare? Should you apply for sell-side research roles as well as buy-side ones? What are the real differences between the buy and sell side?
This book, written by an experienced equity research analyst, will answer these questions and more.
It will guide you every step along the way, from choosing which companies to target, to mastering the specialized interview process, so that you can stand out from the pack. It includes:
An overview of the asset management industry, also known as the "buy side".
Description of the role of the equity research analyst, including a comparison of the buy side and sell side jobs.
Tips on preparing a great resume and cover letter.
Details about all the most common interview types you are likely to encounter, and how best to prepare for them.
Advice on how to be successful once you start your career as an equity research analyst.