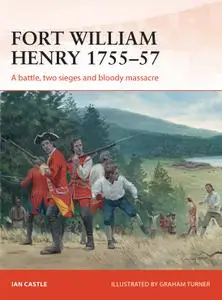 Fort William Henry 1755-57: Campaign Series, Book 260 (Campaign) by Ian Castle
English | November 19th, 2013 | ISBN: 178200274X | 96 pages | EPUB | 16.83 MB
After the British garrison of Fort William Henry in the colony of New York surrendered to the besieging army of the French commander Marquis de Montcalm in August 1757, it appeared that this particular episode of the French and Indian War was over. What happened next became the most infamous incident of the war - and one which forms an integral part of James Fenimore Cooper's classic novel The Last of the Mohicans - the 'massacre' of Fort William Henry.
As the garrison prepared to march for Fort Edward a flood of enraged Native Americans swept over the column, unleashing an unstoppable tide of slaughter. Cooper's version has coloured our view of the incident, so what really happened? Ian Castle details new research on the campaign, including some fascinating archaeological work that has taken place over the last 20 years, updating the view put forward by The Last of the Mohicans.
Enjoy
My Blog
. No any convert or low quality!