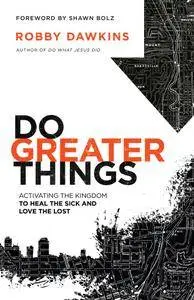 Do Greater Things: Activating the Kingdom to Heal the Sick and Love the Lost by Robby Dawkins
English | January 2nd, 2018 | ISBN: 0800798589 | 240 pages | EPUB | 6.15 MB
How to Heal the Sick, Cast Out Demons, Raise the Dead–and More!
So why do so many Christians live powerless lives? Why do they operate with so little faith?
Having gone through his own journey from doubt to belief, Chicagoland pastor Robby Dawkins now ministers and speaks internationally, and where he goes, miracles happen. In these pages he shares incredible stories of God using ordinary people to do the impossible. And he shows that, when you begin to have faith in the power of God, take him at his Word, and understand his love for you, you will see his power released in healings, financial blessings, and miracles of all kinds.