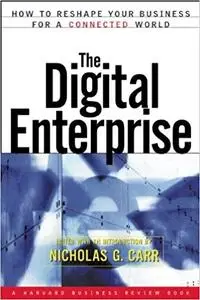 The Digital Enterprise : How to Reshape Your Business for a Connected World by Nicholas G. Carr
English | 2001 | ISBN: 1578515580 | 249 Pages | PDF | 42.6 MB
E-commerce trends-from online portals to business-to-business exchanges-have captured plenty of headlines, but it's now becoming clear that these trends are merely sideshows to the Internet's main event.
In this bold and authoritative collection of Harvard Business Review articles, editor and new-economy expert Nicholas G. Carr argues that the real story of the digital age is happening below the surface of commerce. Digital technologies are reshaping the very infrastructure of business, requiring radically different ways of organizing, structuring, and operating companies of all kinds. The result is the formation of an entirely new kind of organization Carr calls the digital enterprise.
Revealing the insights of cutting-edge business thinkers, top corporate executives, and leading entrepreneurs including Gary Hamel, John Hagel, Clayton Christensen, EMC's Michael Ruettgers, and venture capitalist Vinod Khosla, The Digital Enterprise takes leaders beyond Internet hype to answer fundamental strategic questions such as: Where will profits reside in this new digital infrastructure? Who will capture them? How will your business need to be reshaped to exploit new opportunities ahead of competitors?
Each article explores the form and economics of this new landscape, illuminating the workings of the digital enterprise and exploring its influence on the day-to-day decisions today's executives and entrepreneurs need to make. Part I, "Remodeling Business," provides new frameworks that break down how business is conducted at the most basic level-from how the value chain is constructed to how companies determine their positioning and scope in the competitive arena. Part II, "Remaking Markets," examines how the Internet is changing both the consumer and business-to-business marketplaces-from the evolution of the next generation of e-commerce to the new mobile technologies that will become the heart of consumer marketing. Part III, "Reimagining Management," explores the operational implications of the Internet-from how to manage and motivate talent to how to adapt internal processes to meet the competitive pace of the digital age.
Affirming not only the challenges, but also the enormous rewards that lie ahead for today's organizations, this essential book is every manager's guide to building a successful digital enterprise.