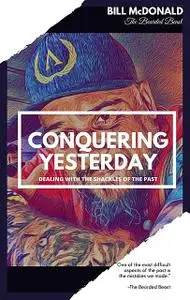 «Conquering Yesterday» by Bill McDonald
English | EPUB | 0.4 MB
This is not a magic wand; in fact, nothing is going to change about your life if you fail to go beyond just reading this book. You will have to courageously decide to learn from it and put it into practice before any of the principles work for you.
What you have right now may be the compass you need to steer your life from the dictatorship of your past and give yourself the chance to heal properly, escape the shackles of your yesterday and move onto the greatness you truly desire.
There comes a time when you get to the point where you have just had enough. Not only are you at your wit's end, but you are also at a point where you know you badly need a change and you are ready to do anything to get that change. This is a critical point, and I want you to be able to harness the power of that moment and completely turn your life around.
However, before we continue, there is a critical need to identify how you got here. A wise man once said that if you fail to recognize how you got here, you may not be able to make it far from here. Getting to the point of seeking help is one thing but being able to identify what brought you for help is another. Every pain is real, and I will not try to take anything away from it; however, pain cannot be diagnosed or treated if the source is not identified and removed.