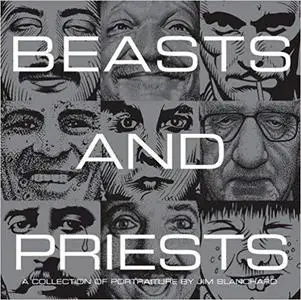 Beasts and Priests by Jim Blanchard
English | May 17, 2006 | ISBN: 1560977035 | 64 pages | PDF | 19.60 Mb
An eye-popping collection of pop portraiture.
Beasts and Priests
collects for the first time more than ten years' worth of pointillist portraiture of the world's most legendary scene-makers as rendered by
HATE
collaborator and
Glam Warp
creator Jim Blanchard. Much of the black-and-white ink work here has previously seen print in some of the world's better alternative magazines and news weeklies, and the large color portraits made with brightly colored industrial stickers have appeared in the more popular art galleries of North America, such as Seattle's critically important Roq La Rue gallery. Portrait subjects include: Duke Ellington, Redd Foxx, Frances Farmer, Patti Page, Shane MacGowan, Lemmy Kilmister, Ron Jeremy, Marcel Proust, Frank Sinatra, Nell Carter, Dean Martin, Tom Jones, Curtis Mayfield, Terry Southern, Jackie Gleason, Amos Milburn, Willie Nelson, Henry Kissinger, Courtney Love, Clint Eastwood, Steve McQueen, Elvis Presley, Raquel Welch, Brigitte Bardot, Mil Mascaras, Andy Warhol, Lee Marvin, Isaac Hayes, Johnny Cash, Bon Scott, Lee Hazlewood, Raymond Chandler, Ennio Morricone, Bill Hicks, Lenny Bruce and Jim Goad.
Blanchard's work is often twisted, mutated and ultimately sickly gorgeous, with a pervasive psychedelic tone. Heavily influenced by such underground greats as Robert Williams and Victor Moscoso, Blanchard fuses meticulous craftsmanship with a pop underground sensibility to produce some of the most vivid and striking cartoon art in the world.