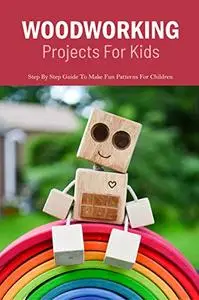 Woodworking Projects For Kids: Step By Step Guide To Make Fun Patterns For Children by Kumar Mullangi
English | 2020 | ASIN: B08HRVBFQT | 55 Pages | PDF/EPUB/AZW3/MOBi | 25.1 MB

Few things are as fun and entertaining, yet rewarding, as finishing a project with your kids. They get the joy of using their imaginations and using tools like adults, parents get the joy of spending time with the youngsters doing something positive, that teaches and that creates something the family can enjoy for a long time.
These projects are all perfect for kids. They offer a range of difficulties. You can create a progression of projects so that if your kids really like working with their hands, you can move from one to the next with increasing difficulty. Some are very simple and feature only wood, paint and glue. Some require some power tools. That also means they also require a range of adult supervision. The great thing is that at their simplest, kids can focus their creativity on the grounds that there are no wrong answers.
Each one has its own different needs in terms of supplies and fasteners. They also include how-to instructions and photos of raw materials and what the finished product should look like. Pick the right one for your kids and turn a rainy day special.