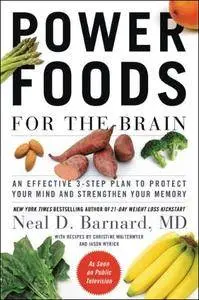 Power Foods for the Brain: An Effective 3-Step Plan to Protect Your Mind and Strengthen Your Memory [Audiobook] by Neal Barnard
English | February 19, 2013 | ASIN: B00B518F1Y | M4B@64 kbps + PDF | 5 hrs 22 mins | 150 MB
Narrator: Jeremy Arthur
Could that glass of milk affect your memory? Is that aluminum can increasing your risk for Alzheimer's disease? Can a banana be a brain booster? Everyone knows that good nutrition supports your heart and overall health, but did you know that certain foods can protect your brain and optimize its function? In Power Foods for the Brain, Dr. Neal Barnard reveals the suprising mealtime choices that can make a major difference in preserving and enhancing memory and brain health.
Leading health expert Dr. Neal Barnard has gathered the most important research and studies from all over the world to create a program outlining the specific food choices that can boost brain health, reducing the risk of Alzheimer's disease, stroke, and other causes of memory loss. In addition, these power foods will help listeners tackle the minor malfunctions of their busy day-to-day lives, including low energy, poor sleep patterns, irritability, and memory lapses. The plan includes information on:
The best foods to increase cognitive function and boost folate, vitamin B6, and vitamin B12
The dangers dairy products and meats may have on memory
The role alcohol plays in Alzheimer's risk
The latest research on certain toxic metals, like aluminums found in cookware, soda cans, and common antacids
In addition to revealing the surprising role nutrition and the power foods play on preserving brain health, Power Foods for the Brain will also include 50-75 recipes to put them to work, as well as quick time-saving kitchen tips.