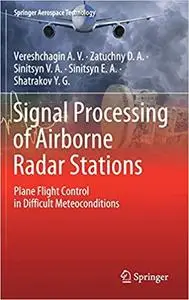 Vereshchagin A. V., "Signal Processing of Airborne Radar Stations: Plane Flight Control in Difficult Meteoconditions Ed 202"
English | ISBN: 9811399875 | 2020 | 218 pages | PDF | 8 MB
This book highlights new methods and parametric algorithms for the digital coherent processing of signals in airborne radar systems located on air vehicles. Using the autoregressive (AR) model, it delivers more accurate danger assessments for flight in wind shear and atmospheric turbulence, while also suggesting how they could be implemented. Given its scope, the book is intended for technical experts whose work involves the development, production and operation of airborne radio-electronic systems.