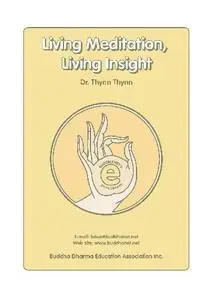 Living Meditation, Living Insight By Dr Thynn Thynn
1998 | 107 Pages | ISBN: 0970896409 | PDF | 1 MB
It is a handbook on how to practice meditation (mindfulness) in everyday life in the Theravada Buddhist tradition as taught in Burma. The second section of the book describes the meditative process and the last section deals with mindful creative living. It is written in a dialogue form mostly and has a direct and succinct reading for readers as expressed by most who had read the book. It was self published by the author in 1992 and thereafter it has been reprinted five times.