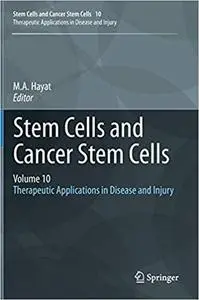 M.A. Hayat, "Stem Cells and Cancer Stem Cells, Volume 10: Therapeutic Applications in Disease and Injury"
English | ISBN: 9400762615 | 2013 | 298 pages | EPUB, PDF | 3 MB + 6 MB
Presenting contributions by 66 experts representing 13 countries, Volume 10 of the series Stem Cells and Cancer Stem Cells synthesizes current understanding of the causes, diagnosis, and therapy of major human diseases and debilitating tissue and organ injuries, using cell-based treatment. This volume presents contemporary research into generation, preservation, and uses of stem cells in fighting disease and tissue/organ injuries.
The contents of the volume are organized into five sections. Mesenchymal Stem Cells section includes chapters on the use of stem cells in bone regeneration, studies and trials of stem cells in autoimmune diseases, and differences between adipose tissue-derived mesenchymal stem cells and bone marrow-derived mesenchymal stem cells as regulators of immune response. Induced Pluripotent Stem Cells section offers chapters on drug discovery using human IPSC-based disease models, and on generation of antigen-specific lymphocytes from IPSCs. Neural Cells and Neural Stem Cells section discusses use of bacterial artificial chromosomes in the genetic identification of stem cell-derived neural cell types, and use of moderate low temperature to preserve the stemness of neural stem cells. The section, Role of Stem Cells in Disease, discusses stem cell support in high-dose chemotherapy of Non-Hodgkin's Lymphomas; potential targets for drug resistant leukemic stem cells, bone marrow stem cell therapies for diabetes mellitus. This section also discusses the use of stem cells in treating thyroid, breast and bone cancers, hempophilia and Parkinson's Disease. The section, Stem Cell Transplantation, includes chapters on reducing fungal infection in allogenic stem cell transplantation patients, use of Bulsufan/Fludarabine for conditioning in haematopoietic stem cell transplantation, and interleukin-7 receptor alpha polymorphisms in allogeneic stem cell transplantation.
The editor, M.A. Hayat, is a Distinguished Professor in the Department of Biological, Sciences at Kean University, Union, New Jersey, USA.