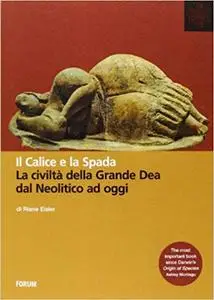 Riane Eisler, "Il calice e la spada. La civiltà della grande dea dal neolitico ad oggi"
Italiano | ISBN: 8884206804 | 2011 | 416 pages | PDF | 15 MB
Riane Eisler ci propone una nuova teoria dell'evoluzione culturale sulla base di due modelli: quello androcratico, violento e autoritario (simboleggiato dalla spada) e quello mutuale e gilanico (il calice), fondato sulla collaborazione tra i sessi, considerati di pari importanza anche se con diverso ruolo. Dimostrando che la guerra tra gli uomini e tra i sessi non è determinata divinamente o biologicamente, e che il modello maschile/androcratico non è l'unica opzione sociale e culturale a nostra disposizione, l'autrice ricerca nel passato, anche archeologico, gli strumenti per costruire un futuro migliore e un destino di civiltà di tipo nuovo, che sappia resistere agli integralismi e alle barbarie per una convivenza equa e pacifica di etnie e generi. Questa terza edizione italiana è arricchita da una postfazione scritta per l'occasione dall'autrice, come segno di una collaborazione proficua e di lunga data con il Partnership Studies Group dell'Università di Udine. Inoltre, appare qui, per la prima volta, un interessante e utile glossario mutuale, a cura di Stefano Mercanti, che è strumento essenziale per riflettere sul senso delle cose e trasformare il nostro modo di pensare e dire la realtà. The Chalice and the Blade è stato tradotto in più di ventidue lingue e ha venduto nel mondo oltre 500.000 copie.