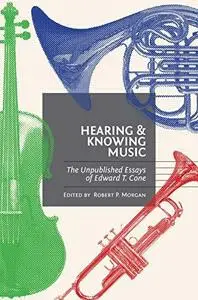 Hearing and knowing music : the unpublished essays of Edward T. Cone By Morgan, Robert P.; Cone, Edward T
2009 | 215 Pages | ISBN: 0691140111 | PDF | 3 MB
Edward T. Cone was one of the most important and influential music critics of the twentieth century. He was also a master lecturer skilled at conveying his ideas to broad audiences. Hearing and Knowing Music collects fourteen essays that Cone gave as talks in his later years and that were left unpublished at his death. Edited and introduced by Robert Morgan, these essays cover a broad range of topics, including music's position in culture, musical aesthetics, the significance of opera as an art, setting text to music, the nature of twentieth-century harmony and form, and the practice of musical analysis. Fully matching the quality and style of Cone's published writings, these essays mark a critical addition to his work, developing new ideas, such as the composer as critic; clarifying and modifying older positions, especially regarding opera and the nature of sung utterance; and adding new and often unexpected insights on composers and ideas previously discussed by Cone. In addition, there are essays, such as one on Debussy, that lead Cone into areas he had not previously examined. Hearing and Knowing Music represents the final testament of one of our most important writers on music.